Hangzhou Attractions

West Lake
: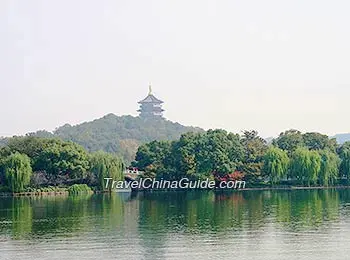 West Lake

See more about
Top 10 Things to Do in Hangzhou
12 Best Places to Visit in Hangzhou

Hangzhou, a city famous for its scenic splendor, attracts more than 20 million tourists from home and abroad every year. Its unique environment endowed by nature and those who have lived here, is an accumulation of several thousand years that has formed many world renowned natural, historical and cultural features.

Whenever talking about this city, the famous West Lake can never be far from one's thoughts. Held on three sides in the embrace of hilly peaks, this water wonderland has been an attraction for centuries and it is small wonder that it was a favorite imperial retreat. The lake and its environs have all the elements of a traditional Chinese garden but on a grand scale. The natural setting of strangely shaped peaks, serene forests and springs, dense foliage and a myriad of blossoms especially in springtime are enhanced by a treasury of sculpture and architectural features. The largest part of West Lake is known as the Outer Lake and it is bounded by the North Inner Lake, Yuehu Lake, West Inner Lake and Lesser South Lake.

The Solitary Hill lies between the Outer Lake and the North Inner Lake and is an ideal spot from which to admire the vista. For those who have a love of sculpture and art and those who have a particular interest in Buddhism the Peak Flown From Afar and the Temple of the Soul's Retreat are the must see attractions. The nearby Mausoleum of General Yue Fei is a monument to the patriot who was murdered in 1141 at the behest of his archrival Qin Hui, the Song prime minister. These buildings together with others in the vicinity of the lake such as the slender 13 storey high Six Harmonies Pagoda adds to the calm and beauty of their surroundings.
| | |
| --- | --- |
| Gorgeous Cruise boats on West Lake | Lingyin Temple |
Beautiful Hangzhou is always ready to offer visitors more things to do. If you have more time to travel in the city and want to see other places of wonderful landscape, you can visit the following scenic spots. Botanical Garden is both a park embracing beautiful plants and a research base to study botany. Running Tiger Spring is famed for its unique fountain of high water quality. Mt. Putuoshan Scenic Spot is held sacred by Buddhists and it was here that over the centuries a once large Buddhist community was to evolve. Red Carp Pond is the heart of Viewing Fish at Flower Harbor Park (Huagang Guanyu), one of the ten places of interests at West Lake. Thousand Islets Lake (Qian Dao Lake) is a pure lake with fresh and clean air. Twin Peaks Piercing the Clouds is a unique sight in foggy days.
No visitor to the West Lake and the city can fail to learn something of this city's most famous products, namely silk and Longjing (Dragon Well) Tea. China National Silk Museum is the country's first national museum to be dedicated to silk culture and is the largest of its kind in the world. A similar museum is dedicated in homage to tea. Located at the West Lake Dragon Well Tea Plantation, the National Tea Museum provides a fascinating insight into the history and production of tea. Additionally visitors can go to other museums. Museum of Traditional Chinese Medicine is the only state-level professional Chinese medicine museum in the country. Southern Song Dynasty Official Kiln Museum has been praised as the Civilized Museum of Zhejiang Province and the first group of provincial education base of patriotism.
| | |
| --- | --- |
| Water Town | Qinghefang Ancient Street |
Another natural spectacle to be found in the city is the Qiantang River Tide that has enthralled people for centuries. Annually, millions of people from both home and abroad flock there to watch the magnificent tide on the eighteenth day of the eighth lunar month (also around the mid-Autumn Day). When the surging tide comes, the water can rise up to a height of 30 feet and the noise it generates sounds like thunder, or thousands of galloping horses.
The other great feat of much earlier engineering is the Grand Canal. Linking the city in the south with Beijing in the north, this is the longest man-made waterway in China and surpasses both the Suez and Panama canals. Boating on the old Canal is one of the best ways to get a panoramic view of the landscape of typical river towns in southern region of the country, which include ancient dwellings, stone bridges of traditional designs and historical relics.
| | | |
| --- | --- | --- |
| Six Harmonies Pagoda | The Heavenly King | The Statue of Yue Fei |
Around the city area, there are also some other points of interest for travelers to find. For example, Wuzhen, ranking first among the six ancient towns south of the Yangtze River was authorized as the Provincial Ancient Town of History and Culture. Xitang is a famous town with thousands of years of history. Mogan Mountain has been listed as one of the 'Four Best Summer Resorts in China' along with Beidaihe Scenic Spot, Mt. Lushan and Jigong Mountain. Tiantai Mountain Scenic Area is known for its beautiful scenery and for being the cradle of the Tiantai Sect of Chinese Buddhism.
Hangzhou, with its surrounding hills, water and numerous beautiful sightseeing places, has been ranked as one of the ten best famous tourist cities in the country.
- Last modified on Apr. 12, 2021 -
Questions & Answers on Hangzhou Attractions
Asked by Kadiee from VIETNAM | Jun. 22, 2019 00:22

Reply
I want to ask that where is Hangzhou Tea Village?
How can i go to it? and how much for the entrance ticket to it?
Answers (1)
Answered by Nate from USA | Jun. 24, 2019 19:18

0

0

Reply
Do you refer to Longwu Tea Village? It is located at southwest of West Lake. You can take bus No. 840 to Longwu Tea Village Station. It doesn't need entry ticket.
Asked by Deepanakar sinha from CHINA | Oct. 01, 2018 15:54

Reply
Venice city place in Hangzhou and Wuzhen Water Town are same place ?
Are the wuzhen water city and that Venice place replica are same ?
Answers (1)
Answered by Charles from USA | Oct. 08, 2018 23:31

0

0

Reply
Yes, they are the same place. Wuzhen is known as the Eastern Venice Water City.
Asked by Jes from SINGAPORE | Jun. 23, 2018 22:55

Reply
Need advise to plan hangzhou tour

1) How far to travel from Ningbo to HZ?
2) How is the weather in Nov 18?
3) We are interested to visit some temples, market, shopping and visit west lakes, how many day is
enough to stay in HZ?
4)Any recommend of 3 star hotel for 3 person to stay easily access to tourist spot and food street?
5)Any problem of finding vegetarian food?
Answers (1)
Answered by Lisa from USA | Jun. 25, 2018 21:07

0

0

Reply
1. If you take a high speed train, it's about 1hour.
2. The temperature may be 10C to 20 C and it may be cloudy and rainy.
3. At least 3 days.
4. Hotel on the lakeside of Bailisha, HZ is located at No. 56, Dongpo Road, Shangcheng District and it's near the West Lake.
5. There is a nice vegetarian restaurant located at No. 89, Jiefang road, Hubin street, Shangcheng district.