Hangzhou Zoo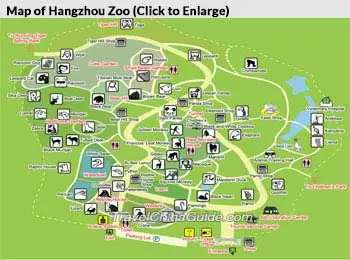 Map of Hangzhou Zoo (Click to enlarge)
Hangzhou Zoo is a forest-style animal kingdom to the south of the West Lake. Covering an area of 50 acres (20 hectares), there are more than 20 venues inhabited by over 2,000 rare animals of 200 different species, including giant pandas, golden monkeys, gibbons, South China tigers, chimpanzees, Asian elephants, and red-crowned cranes. The zoo was built like traditional Chinese courtyards with white walls and black tiles. Exquisite pavilions, distinctive rockeries, and clear ponds are dotted throughout the zoo.
Panda House
The Panda House is most popular in Hangzhou Zoo, and where two lovely giant pandas and eight lively lesser pandas are being kept. The giant panda siblings are an elder sister, Chengda, and a younger brother, Chengxiao. Chengda has a round face with smooth and white coat. But the brother's face is kind of pointed and has a slightly yellow coat. The sister is quiet most of the time but rather skillful in 'robbing' food from the brother. Despite her notorious behavior, Chengxiao still loves following closely behind her.
Monkey Hill
To get to the Panda House, you need to go by the Monkey Hill, where more than 30 macaques live. They are a big family leading by an adult male. In order to enrich their life, many facilities were set up for them to play.
Tiger Hill
Located at the highest point of Hangzhou Zoo, Tiger Hill is being inhabited by Siberian tigers and south China tigers. There is a big field for the tigers to roam around and visitors will have a rather difficult time to have a glimpse of them due to the surrounding vegetation.
Reptile House
The Reptile House is hidden in a clump of bushes. It consists two sections connected by an exhibition corridor. More than 30 species of snakes are found here, from the common grass snakes to the daunting vipers. Yangtze alligators, hawksbill turtles, and goannas are also bred here in their own enclosures. Every enclosure is decorated with driftwood, vines and stones to create a natural environment.
Rare Bird Yard
It is a typical southern China courtyard with flowing river, small bridges and old vines. It is where 10 species of rare birds can be found. Aside from swinhoes, great hornbills, golden pheasants, toucans, and scarlet macaws, mandarin ducks can also be seen swimming in the pool. Taking a seat at the corridor makes one feels like being inside a Chinese classical painting.
How to Get to Hangzhou Zoo
Take bus nos. Holiday Line 3, 4, Y9, 31, 194, 197, Inter-zone 287, Peak Line 287, 315, 318, 334, 514B, 822, or West Lake South Holiday Line, and get off at Zoo (Dongwuyuan) Station. Then enter from the East Gate.


Hangzhou Bus / Metro Search

Admission Fee
Adult: CNY 20
Children between 3.9 and 4.9 feet (1.2 and 1.5 meters): CNY 10
Children less than 3.9 feet (1.2 meters): Free of charge
Opening Hours
April 1 to September 30: 07:00 – 17:30
October 1 to October 7: 06:30 – 18:00
October 8 to March 31: 07:00 – 17:00

Nearby Attractions:


West Lake


Six Harmonies Pagoda


Qiantang River


Running Tiger Spring