Meijiawu Tea Plantation
About 10 kilometers (6 miles) from downtown Hangzhou, Meijiawu Tea Plantation, also called Meijiawu Tea Cultural Village is not far from
West Lake
. It's a village with 600 years' history, and famous as one of the main growing areas of
Longjing tea
. In the village, you can not only taste tea, but also participate in picking up tea leaves and making new tea if travelling there in spring! Besides, the Longjing tea is a great gift for your friends and family.
History of Meijiawu Tea Plantation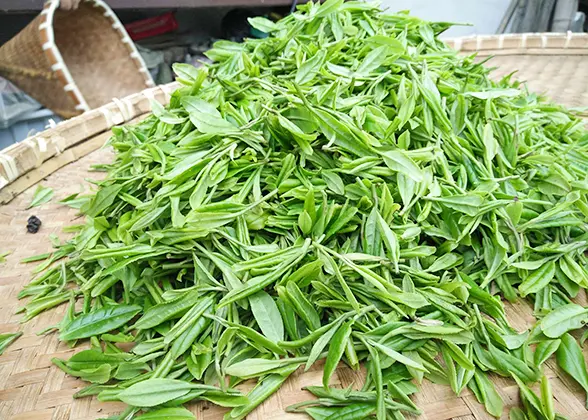 Meijiawu Tea Plantation
Actually, Meijiawu village used to be unknown for a long time. It's Zhou Enlai, a former Chinese premier's visit that makes it get the fame. Later, it was set up as one of the attractions for international visitors, and received more than 100 international celebrities and heads of the states so far. Now, you can still see the Wufu Bridge and a memorial hall in Meijiawu Tea Plantation built in memory of Zhou Enlai.
Now, as one of the most attracting places in Hangzhou, Meijiawu Tea Plantation has become a peaceful leisure place.
Tea House & Exhibition Hall
Surrounded by hills and full of tea trees, Meijiawu Tea Plantation is a great place to wander around. Nearly all the villagers live by tea, and over 160 tea houses can be found here. Besides, many multilingual exhibitions halls were built for the international visitors, showing the tea history and culture of Meijiawu Tea Village. Some halls also provide the wonderful tea art performances.
In addition, a Ming-Qing style building, Ligeng Pavilion, now serves as a tea house and restaurant. It adds more fun to enjoy the tea here!
A Great Place for Weekends
Since it's not far from downtown Hangzhou, many people would like to drive to the tea village to spend weekends. When travelling in the Meijiawu Tea Village, visitors can't miss the three things: drinking Longjing tea, tasting local farm foods and playing or watching others playing Chinese mahjong. In the village, you can totally experience the locals' life!
Besides that, you can walk south for several minutes to Yunqi Bamboo Forest, the most gorgeous one in the West Lake scenic area. Oh, the famous film Crouching Tiger Hidden Dragon by Li An once shot in the forest!
Best time to Visit Meijiawu Tea Plantation
The best time to visit the Longjing tea village is March to May. March and early April is the time for picking tea leaves. During the period, all the farmers are busying themselves with the work in their tea fields. If you come to Meijiawu Tea Plantation during this time, you can join to pick up the tea leaves!
| | |
| --- | --- |
| On the way to pick up tea leaves | Longjing Tea Making Process |
After picking up the leaves, they will start to make new tea. When you walk to the village during this time, you will be surrounded by the special smell of fried tea! If interested, you can walk into their houses and try making tea by yourself.
Later in April and May, the new Longjing tea has just been made and plenty of visitors would like to go there and buy some.
Although it's a great time to the village from March to May, you should notice that the traditional
Qingming Festival
happens to come around early April, which brings a peak tourist time to Meijiawu Tea Plantation. So you are suggested to avoid this festival.
How to get to Meijiawu Tea Plantation
Take bus 103b, 103, 121b, 121, or 324 to Meijiawu.

Hangzhou Bus / Metro Search
| | |
| --- | --- |
| Entrance Fee | Free |
| Opening Hours | All day |
Tips: It may charge some money for picking up tea leaves and making tea, and a cup of tea costs CNY 10 - 80.
Nearby Attractions
Temple of Soul's Retreat (Lingyin Temple)
Song Dynasty Town

Further Reading
Chinese Tea