Qinghefang Ancient Street
Qinghefang Ancient Street is a section of Hefang Street which is located at the northern foot of Wu Shan Hill in Hangzhou. It is just several hundreds meters away from the beautiful
West Lake
. With an area of 13 hectares (32 acres), the street is the only well-preserved part of the ancient city. As a miniature of the city's long history, it is the best place to embody the historical and cultural character of Hangzhou.
Qinghefang Ancient Street has been the most flourished street in the city since the ancient time. During the
Southern Song Dynasty
(1127 - 1279 AD), Qinghefang with lots of shops, restaurants and teahouses was the center of politics, culture and commerce in the city. After so many years, it is still a prosperous business area. Many famous century-old shops are located in this ancient street, such as Wangxingji Fan Store, Zhangxiaoquan Scissors, Wanlong Ham Stack, Huqingyutang Pharmacy, Baohetang Pharmacy, Zhuangyuan House, Wangruixing, Yiyuanjindian, Jingyangguan and Sheep Soup Restaurant among others.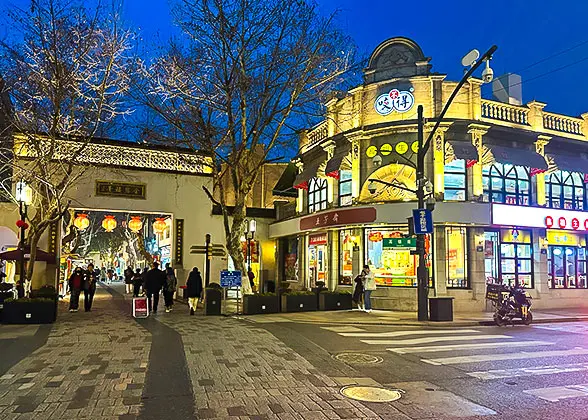 A shop sells rare medicines
produced in Qinghai-Tibet Plateau
In April 2000, the government of Shangcheng District proposed their vision for Qinghefang. Their proposal was to protect the historical buildings of the Ming and Qing Dynasty that were in Hangzhou along this 460m stretch of Qinghefang. The redeveloped ancient street now exudes an atmosphere of its past and is boastful of its street-culture, entertainment, commerce and the tours that are the attention of its citizens and visitors home and abroad. At present, there are 16 old-fashioned street lanes remained, mainly including Zhongshan Middle Road, Hefang Street, Gulou Bay and Gaoyin Lane. From the layout, these lanes are primary from south to north and accessorial from east to west. Most of the existing old buildings in the streets are in the style of late Qing Dynasty's and the well-preserved 'four-corner buildings group' are the masterpiece example of traditional blocks of Hangzhou. Viewed from the end of the block, it is visually pleasing combining both the static structures and the dynamics of the people milling about.

Here some famous century-old shops and typical ancient buildings:
Baohetang is a Chinese traditional herbal medicine shop with a long history near one thousand year. It provides treatment and medicines to poor people nearby for free and has a good reputation in Qinghefang Ancient Street. It is also famous in the legend of Lady White; in that legend Xuxian was working as a apprentice in Baohetang when he met his wife Lady White and they began to have a sad but sweet love story. The statue of Xuxian is in front of Baohetang.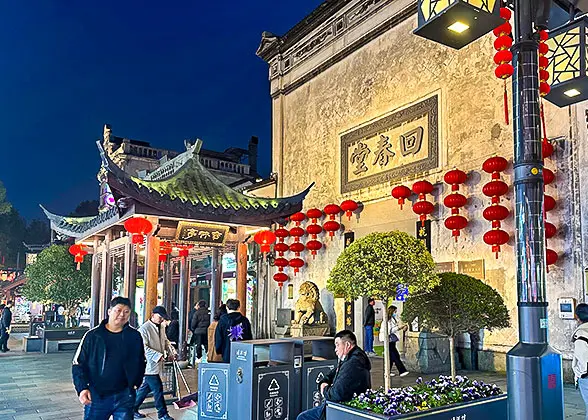 Huqingyutang Pharmacy
Built by the businessman Hu Xueyan in the
Qing Dynasty
(1874), Huqingyutang is now a major cultural relic under national protection. It has an area about 3,000 square meters (3,600 square yards) with a unique design. There are more than 160 pieces of cultural relics collected in it. It is not only a place to provide visitors with decoction of Chinese traditional medicine, but also a place for visitors to appreciate the features of ancient buildings.
Established in the sixth year of Shunzhi Emperor (1649), Fanghuichuntang Pharmacy ranked in the top six together with the other five pharmacies, namely Qingyu, Zhongde, Chengzhi, Tongtai and Taishan in the late Qing Dynasty. It was merged into Huqingyutang after 1955.
Yezhongdetang Pharmacy was set up in Emperor Jiaqing 13th year (1808) in Qing Dynasty. It produces and sells Chinese and western medicines and nutritious goods such as ginseng, bird's nest, white fungus, etc. It also provides customers with services such as preparing and processing Chinese medicine. It was also merged into Huqingyutang later.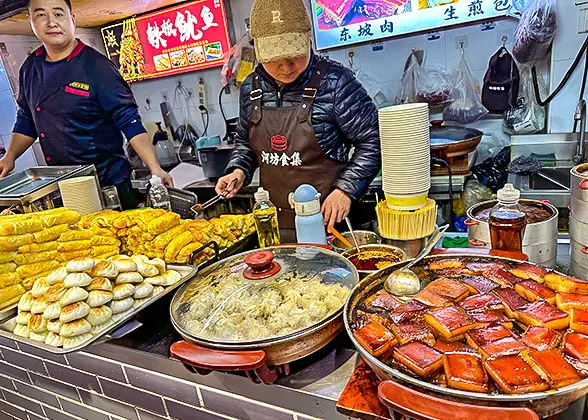 Handicrafts
Longquan Royal Kiln Porcelain Co, Ltd. is a share-holding company integrating traditional craftwork and modern technology. It mainly shows and sells celadon artwork, especially the artworks of Longquange Kiln which can be trace to Wudai (Five dynasties from the year 907 to 960). Its celadon artworks are very popular with people due to superb craftwork, elegant appearance and priceless collection value.
Wangxingji Fan Store was established in 1875. The traditional fan-making handicraft of 'Wang Xing Ji' has been kept quite intact after having undergone the vicissitudes of history. It mainly produce black paper fans, sandalwood fan, fragrant wood fans, white paper fans, silk fans and dancing fans. Wang Xing Ji Fan, Silk and Longjing tea (Dragon Well tea) were listed as the Three Wonders in Hangzhou.
Zhuangyuanguan Restaurant
Zhuangyuanguan Restaurant was established during the reign of Tongzhi Emperor in Qing Dynasty (1870) by Wang Shangrong of Ningbo. It has a literary quotation that Wang Shangrong once helped a skillful writer and the skillful writer wrote three words 'Zhuang Yuan Lou' as a return to him. After that it had the decorous name as Zhuangyuanlou. It now offers various cuisines such as Sichuan cuisine, Ningbo cuisine, Hangzhou cuisine, family-style cuisine, with reputation widespread all over the country.
Zhang Xiaoquan Scissors are known as one of the 'five prestigious brands in Hangzhou'. The Scissors were named after its maker Zhang Xiaoquan. It is an enterprise specialized in producing various scissors and knives with the largest scale and the most outputs. The business philosophy of the company is to inherit the tradition, keep innovation, pursue excellence and create value.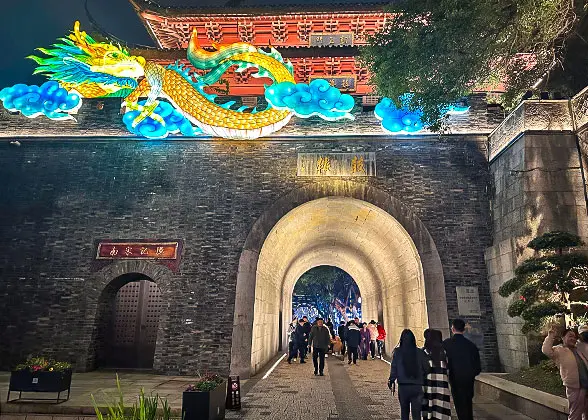 Taiji Teahouse
It was managed by the offspring of Zheng family which started teahouse business as early as late Emperor Qianlong Period of Qing Dynasty. Taiji Teahouse pays great attention to water quality, tea quality and tea preparation skills. It now has over 6800 disciples and over 530 franchised teahouses at home and abroad. Sit here to taste tea while listen to bagatelle, you can fully feel the historical atmosphere of Qinghefang.
Hangzhou Rongbaozhai is the branch store of Beijing Rongbaozhai which symbolizes the country's elegant culture. This Rongbaozhai, formerly called Songzhuhai, was established in 1672 in Beijing by the Zhang family originally from Shaoxing. It is the biggest gallery with richest historical culture. Its main business is to sell pens, paper, celebration screen, elegiac couplets and stationery among others. The left part of the store is for books, the right part is for modern arts and crafts, the back part is for modern arts and crafts, the second floor for calligraphy and paintings by celebrities, Chinese ancient stationery and mounting of painting.
Apart from these, there are many other places to visit, such as Tai He Cha Lou (Taihe Teahouse), Weng Long Sheng Cha Hao (Weng long sheng Teahouse), Guanfu Museum, Ancient Ceramics Museum and World Coin Museum among others.
How to get to Qinghefang Ancient Street
1. Take
Metro line 1
to Ding'an Rd and leave from Exit C. Walk south for about 10 minutes to the street.
2. Take Bus 8, 60, 127, 195, 208 or 216 to Qinghefang.
3. Take Bus 8, 13, 59, 66, 71, 127, 190, 195, 198, 208, 216, 230, 280, 295, 308, 315, 334, 352 or b3 to Gulou (Drum Tower) and then walk north for 5 minutes to Qinghefang Ancient Street.
Hangzhou Bus / Metro Search
| | |
| --- | --- |
| Entrance Fee | Free |
| Business Hours | 09:00-22:00 |

Other Nearby Attraction: Hangzhou Museum

Top 10 Things to Do in Hangzhou

12 Best Places to Visit in Hangzhou
- Last updated on Apr. 01, 2021 -
Questions & Answers on Qinghefang Ancient Street
Asked by Jnet from GERMANY | Apr. 02, 2019 23:07

Reply
Is Taiji Teahouse still in Qinghefang Street?
Answers (1)
Answered by David from DENMARK | Apr. 03, 2019 22:43

0

0

Reply
I searched on the map. And the tea house is closed nowadays.
Asked by Sasa from PHILIPPINES | Jan. 09, 2019 19:07

Reply
What hotel can you suggest if we are coming from hongqiao train station to hangzhou
- hotel- hefang ancient street- hZ paradise park?
We have 8adults 3 child 1 infant. Like the location to be near the 3 location if possible.
Also how many minutes from HZ train station to the hotel? Hotel to hefang ancient street? And hefang street to paradise park?

Thanks for the reply
Answers (1)
Answered by Juliana from CANADA | Jan. 14, 2019 21:45

0

0

Reply
You are advised to find hotel nearby the railway station. Because the surrounding transportation is convenient.
If you stay at a hotel nearby the railway station, it is only 1.5km away from Hefang Street and 14km away from the Paradise Park.
Asked by Sonny from PHILIPPINES | Apr. 27, 2018 06:54

Reply
How to go to Hangzhou Qinghefangbfrom Yuan Rui City Garden Hotel?
How much would a taxi cost?
Answers (1)
Answered by Joe from SWITZERLAND | Apr. 27, 2018 20:38

0

0

Reply
Take bus 195 to Gulou and walk west for 5mins to the street.
If taking a taxi, the fare is cny30 or so.
Asked by Amin from BANGLADESH | Mar. 24, 2018 21:13

Reply
How to get Apple store near from Hangzhou East Railway Station?
Answers (1)
Answered by Chole from FRANCE | Mar. 26, 2018 02:04

0

0

Reply
You can walk northwest along Xinfeng Rd for about 15mins to the store.
Asked by Costi from USA | Oct. 16, 2017 09:02

Reply
What can i go to Qinghefang Street from 8 am to 8 pm comming and returning to Shanghai?
Answers (1)
Answered by Anron from CANADA | Oct. 16, 2017 22:45

0

0

Reply
You are suggested to take a bullet train from Hongqiao Railway Station to HZ Railway station first, which takes about 1h-1h 40 minutes and CNY123.5/147.5 for a first class seat, CNY77.5/92.5 for a second. The train is available from 6:35 to 21:30. The return train is available from 6:10 to 20:25 from HZ Railway Station.
After arrival, you can take a taxi directly there, which takes about 5 minutes and around CNY10.