Leifeng Pagoda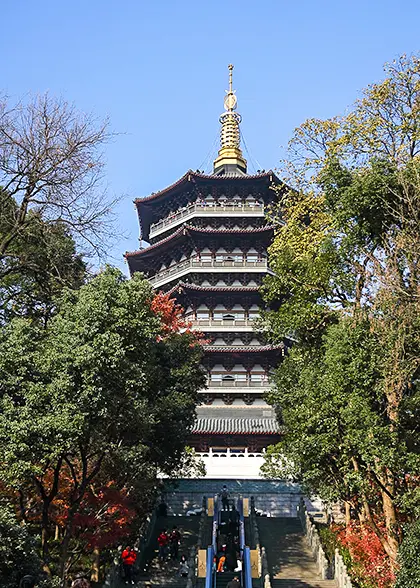 Leifeng Pagoda
The Leifeng Pagoda stands on Leifeng Peak of Sunset Hill to the south of
West Lake
, echoing the
Baochu Pagoda
in the north. It is the oldest colorful bronze pagoda in China. Standing on the top of the pagoda, tourists can appreciate the nearby Jingci Temple, enjoy the landscapes of West Lake, and even see the city of Hangzhou from a distance. At dusk, the colorful evening glow and green mountains are mirrored in the rippling lake, forming a picturesque scene renowned as 'Leifeng Pagoda in Evening Glow', one of the top ten scenes of West Lake.
History of Leifeng Pagoda
Leifeng Pagoda was constructed in the second year (977) during the Taiping Xingguo Period in the
Northern Song Dynasty
(960-1127) by the king of Wuyue Kingdom to celebrate the pregnancy of his favorite concubine, Huangfei. Thus, it was originally named Huangfei Pagoda. However, in the second year (1120) during the Xuanhe Period of the Northern Song Dynasty, the pagoda was severely damaged by war. Later, it was renovated during the Qingyuan Period (1195-1200) of the
Southern Song Dynasty
(1127-1279). Since then, 'Leifeng Pagoda in Evening Glow' has been famed as one of the top ten scenes in the West Lake.
During the Jiajing period (1522-1566) of the
Ming Dynasty
(1368-1644), pirates invaded Hangzhou, and burned the tower down for fear that soldiers lay in ambush there. As a result, all the wooden structures were ruined, and only brick framework remained. What is worse, the bricks were stolen gradually from late
Qing Dynasty
(1644-1911) to the early Republic of China (1912-1949) because local people believed that these bricks could exorcise evil spirits, bless people with many children, and promote the growth of silkworms. Consequently, the tower fell down on September 25th, 1924.
The site was cleaned up and the underground palace was excavated from 2000 to 2001. A great number of cultural relics were found, including gilded bronze statues of Buddha, bronze mirrors, bronze coins, jade figures, and a gilded stupa inside an iron box of Buddhist relics. On December 26, 2000, the foundation of the new tower was laid. The construction was completed on October 25th, 2002.
Legend of Leifeng Pagoda
Leifeng Pagoda is associated with a touching love story between a white snake spirit and a mortal man. Legend has it that a white snake and a blue snake took on the appearance of beautiful ladies after acquiring the supernatural powers over thousands of years. They were named Bai Suzhen and Xiao Qing. One day when they were visiting West Lake, it suddenly rained. Fortunately, they met a scholar named Xu Xi'an on the Broken Bridge. He lent his umbrella to them. Xu Xi'an and Bai Suzhen fell in love with each other at first sight. Soon, they were married.
However, Evil Monk Fa Hai imprisoned Xu Xi'an so as to separate this couple. Bai Suzhen tried hard to save her husband by using her power. But all her efforts were in vain, and she was imprisoned under the Leifeng Pagoda. Driven by anger and sadness, Xiao Qing tried her utmost to improve her supernatural power. Finally, she beat the Evil Monk Fa Hai, tore down the tower, and saved Bai Suzhen and Xu Xi'an. From then on, Bai Suzhen and Xu Xi'an lived together happily.
| | |
| --- | --- |
| Relics of the Original Pagoda | Dome of the Pagoda |
Structural Layout of Leifeng Pagoda
The current Leifeng Pagoda is comprised of three parts: the pedestal, the body part, and the top. The octagonal pagoda is 72 meters (236 feet) high. The two-storey pedestal is 10 meters (33 feet), the five-storey body part is 46 meters (151 feet), and the top is 18 meters (52 feet). The body part has a side length of 11 meters (12 yards), a diameter of 28 meters (31 yards), and a girth of 88 meters (96 yards). It covers a total area of 3,133 square meters (3,747 square yards). Inside the tower are two elevators which can carry tourists to the top.
The relics of the ancient tower are preserved on two basement storeys. Tourists can see the ancient bricks of the original tower through glass. The Legend of the White Snake Spirit is presented on the first storey above ground, in six parts. The mural on the second storey above ground shows how the tower was constructed in the Wuyue Kingdom. Poems and essays composed by writers of the past about the Leifeng Pagoda are exhibited on the third storey. The colorful murals on the fourth storey focus on the 'Top Ten Scenes of the West Lake'. In the dome, there are 2002 shrines, each containing a small gilded stupa. There is also a Heavenly Palace in the dome. Records of the renovation of the tower and models of the new tower are put in the palace.
The roof is covered with bronze tiles which resemble terracotta tiles. Under the roof hang bronze chimes which make melodious sounds when blown by the wind.
How to get to Leifeng Pagoda
Take bus 4, 31, 51, 52, 87, 287, 315, 334, 822, y2, y10, or jy 6 to Jingsi (Jingsi Temple) Station, and walk to the site.
Hangzhou Bus/ Metro Search
Entrance Fee
CNY 40 for adults;
Free for children less than 1.2 meters (3.9 feet).
Opening Hours
Mar. 16 - Apr.: 08:00 - 19:00
May - Oct.: 08:00 - 20:00
Nov. - Mar. 15: 08:00 - 17:30
Ticket selling stops half an hour before closing.

Top 10 Things to Do in Hangzhou
- Last updated on Apr. 12, 2021 -
Questions & Answers on Leifeng Pagoda
Asked by Alice from SINGAPORE | Mar. 22, 2019 00:01

Reply
Hi, we are travelling to Hangzhou on March 29 and staying there for 5 days.
Could you advise a itinerary? Thanks.
Answers (1)
Answered by Crystal from DENMARK | Mar. 26, 2019 02:11

0

0

Reply
Yes, you can follow the travel itinerary in the following way:
Day 1: Six Harmonies Pagoda, Grand Canal
Day 2: West Lake, Qinghefang Ancient Street
Day 3: Wuzhen Water Town
Day 4: Lingyin Temple
Day 5: Xitang Water Town

Have a nice journey!
Asked by Jenny from VIETNAM | Jul. 25, 2017 11:22

Reply
Yuefei temple and Leifeng pagoda
Hi, can you kindly tell me how to go to YueFei Temple and the pagoda from Huachen International Hotel (by bus) and which is I should go first?
Many thanks
Answers (1)
Answered by Terra from UNITED KINGDOM | Jul. 26, 2017 01:01

0

0

Reply
You are suggested to visit Yuefei Temple first, and you can take bus 27, then get off at Yufei Temple; then you can take bus 52 and get off at Jing Temple, walk east for about 1,000 yards, you will get to the second attraction.
Asked by senz from INDONESIA | Apr. 11, 2016 09:50

Reply
Can you kindly advise me how to reach leifeng pagoda from west lake?
And which subway i have to get from huachen international hotel to the lake?
Answers (1)
Answered by Emma from UNITED KINGDOM | Apr. 11, 2016 22:26

1

0

Reply
1. From the lake, you can take bus no.4 at Sudi Bus Stop and get off at Jingsi Stop. After arriving, walk northeast around 200 yards (180 meters) to find the pagoda.
2. From your hotel, you don't need to take the subway. Just walk west along Pinghai Road around 800 yards (730 meters) to arrive at the lake.