Hangzhou Dining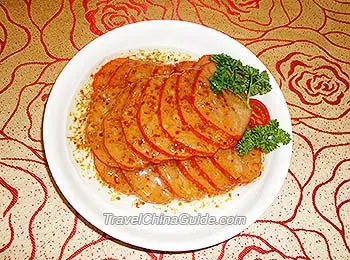 Lotus with Sweet-Scented Osmanthus
The
Hangzhou dining scene is composed of the local cuisine, western cuisine and cuisines from other parts of China, visitors' dining requirements can be fulfilled with thousands of available restaurants.

Local Specialties:

Notable Hangzhou Dishes

Top 10 Hangzhou Foods You Have to Eat

Restaurants of Hangzhou Cuisine
There are several dishes that have come down over several hundred years, some even thousands of years. They are West Lake Fish in Vinegar Gravy, Braised Dong Po Pork, Beggar's Chicken and Fried Shrimps with Long Jing Tea Leaves. These dishes are pleasant from their color, smell and taste. Find a restaurant and taste these old dishes which are cooked in new ways, your visit to the city would thus be perfect. The most famous one for these dishes is Lou Wai Lou.

Local Snacks

Snack Street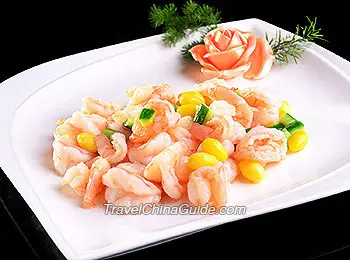 Shelled Fresh Shrimps
Fancy Hangzhou snacks are a must in tasting the authentic local flavor. Typical local snacks include noodles with seafood, bao zi, and fried bread and so on. People there usually eat these snacks as breakfast. Starting the day as a typical local citizen is the first step in getting to know this city. It is also a good choice to walk around these snack streets to experience the local culture.

Restaurants Recommendations:

Chinese Restaurants
Besides of the eight cuisines, most of the regions and minorities in China also have their own particular cuisines that supply customers with more choices. There are Cantonese , Hunan, Dong Bei and Sichuan Cuisines and so on. These restaurants can easily be found in town. Here is a
bilingual menu
which can help ordering dishes.

Foreign Restaurants
In addition to the thousands of Chinese restaurants, there are also lots of places serving foods from all over the world.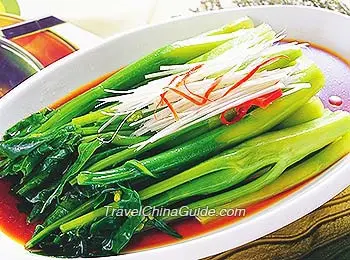 Vegetarian Dish

Vegetarian Restaurants
More and more people are following the fashion of eating vegetarian food. For those people on healthy diets, vegetarian restaurants in the city are listed on page.

Halal Restaurants
Halal food is represented by Xinjiang Cuisine in China, Lamb, Beef and chicken are used in the delicious food. For Muslims and people who are fond of Xinjiang dishes, try these authentic Lamb Shashlik, Beef Ribs, Large Plate Chicken and Naan.

Hot Pot
This popular Chinese dish can be found in many hot pot restaurants. Spicy and hot flavor with fresh meat and vegetables, have a try of this perfect winter dish!

Fast Food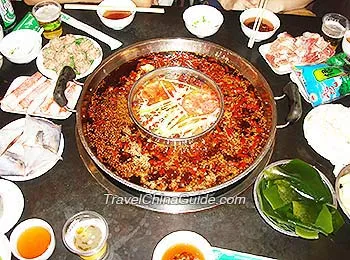 Hot Pot
Apart from KFC, McDonald's and other well-known western fast-food shops, there are other flavorsome fast-food restaurants in the city, some of which are chain shops.

Cafeterias
Self service in Cafeterias is a popular and free-dining style favored by multitudes of people. Many BBQ restaurants and cafes are of this kind. Here are some recommended cafeterias .

Teahouses
As the birthplace of the world famous Long Jing Tea, local people love to go to tea houses with relatives or friends to kill time. There, people can drink the best tea, eat the snacks served, and sometimes, beautiful scenery of West Lake or the mountains may appear out of the window.

Further Reading
Zhejiang Cuisine – Fresh Seafood Dishes with Light Taste
- Last updated on Apr. 01, 2021 -
Questions & Answers on Dining in Hangzhou
Asked by Sue from USA | May. 21, 2016 13:20

Reply
How much money should I budget for an evening meal in Hangzhou?
Answers (1)
Answered by Sally from ITALY | May. 21, 2016 21:23

0

1

Reply
A regular evening meal may cost you CNY30 around per person.
Asked by Nancy from VIETNAM | Jan. 15, 2013 09:19

Reply
Tea house with Westlake view by night in Hangzhou/
Hi, everyone. I will go there next week. After our day trip, I am looking for a nice tea house with the view of west lake by night for friends to hang around and enjoy some local snacks and tea as well. Can you recommend some and their price please? Thanks
Answers (1)
Answered by Linda | Jan. 16, 2013 19:00

0

0

Reply
Hupanju is recommended for you. It is near the West Lake and on the opposite side of Wanghu Hotel. I just heard it from my friend who happen to see it near the lake, but both of us do not know the price of it clear. Since it is near the lake, the price may not be low.
Asked by Ms.JAVEDONE from PAKISTAN | Oct. 29, 2012 06:11

Reply
From Hotel Elan Inn-Hangzhou to the local Muslim resturant.
Where is Mehmet Muslim Restaurant (mǎi mǎi t m sī ln cān tīng) Muslim restaurant located and how to go there from the above hotel, located at No. 32 XueShi Road, Shangcheng District
Answers (1)
Answered by Rose | Oct. 30, 2012 20:14

0

0

Reply
Hi, the restaurant is located at No. 72, Hushu South Road, Gongshu District. It is only about 3 km from the hotel, so you can take a taxi there in several min.
Asked by nicholai from MALAYSIA | Sep. 23, 2012 22:55

Reply
Are there restaurants near the Hangzhou West Lake Hotet @893 Jiangcheng Road & How many KM.
Answers (1)
Answered by Emily | Sep. 24, 2012 04:53

0

0

Reply
Sure, you can easily find the restautant there. Don't worry!
Louwailou is strongly suggeted as delicious food there has attracted a lot of people.
It is about 700 m or a little farther from the lake.