Hangzhou Dining -- Snack Streets
Hangzhou has several famous snack streets, such as He Fang Jie (Qing He Fang), He Dong Lu, Jing Zhou Lu, Wu Shan Lu, Gao Yin Jie, etc. There you can find traditional local snacks as well as the ones from other provinces. Here are some references.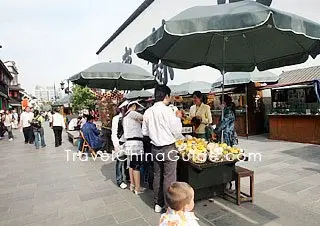 He Fang Jie (Qing He Fang)

He Fang Jie (Qing He Fang)
This is the most famous snack street in this city, all the food here would charge no more than CNY10 per each, you can have a little bit of every kind to have a good experience. There are some other kinds of stores here:
Traditional Chinese medicine: Hu Qing Yu Tang, Fang Hui Chun Tang, Ye Zhong De Tang, etc.
Tea Houses: Tai Ji Cha Lou, Da He Cha Dao Guan, Weng Long Sheng Cha Zhuang, etc.
Antiques: Rong Bao Zhai, Ya Feng Tang, Hua Bao Zhai, etc.
Traditional Handicraft: Ou Ye Dao Jian, Xi De Bao, Wang Xing Ji Shan Zhuang, Long Quan Qing Ci, Wu Yue Ren Jia, Zhang Xiao Quan, etc.
Restaurants: Kui Yuan Guan, Xi Le Yuan, Zhuang Yuan Guan Noodle Shop, Jing Yang Gang, Wang Run Xing, etc.
Location: Near Wu Shan Square.
Bus Routes: Tourist bus line 6 (Y6), 8, 13, 59, 71, 87, 190, 195, 198, 208, 216, 280, 284, 301, 308, 404, 510, 522, 537, 801, 808, 834 to Gu Lou Stop



Hedong Road Snack Street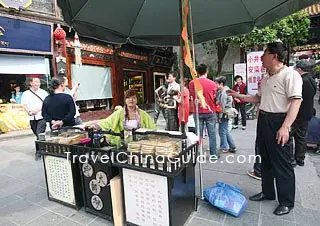 A stall selling griddle cakes on He Fang Jie
Many restaurants has gathered here, especially in the area near Chang Ban Xiang, here you can find cuisines from all over Zhejiang Province, the best part is the Wenzhou seafood.
Location: Near Zhao Hui Wen Hua Gong Yuan
Bus Routes: J1, 19, 30, 38, 44, 45, 57, 58, 67, 218, 316, 807, 826 to Zhao Hui Wu Qu Stop



Jingzhou Road Snack Street
Newly-built, it is located in the western part of the city. Some restaurants are decorated in different styles and they are famous for their flavor dishes. There is one thing that the transportation is not convenient to get there.
Location: Near West Wener Road.
Bus Routes: 81, 86, 194, 199, 221, 310, 349, 804 to Wen Er Xi Lu Jing Zhou Lu Kou



Gaoyin Street
Gao Yin Jie is beside He Fang Jie, there are many flavor restaurants here. Different from He Fang Jie, there are little food stalls here. Most of the dining places are well decorated restaurants, some are of traditional Chinese styles. The most famous restaurant here is called Huang Fan Er. For visitors, better go there at non-dining time, since there would be many people.
Location: Parallel to He Fang Jie.
Bus Routes: 8, 60, 195, 208, 216 at Gao Yin Jie Dong Kou



Jin Jiang Seafood Snack Street
This street would be in its best in summer. Here you can find fish-head from Thousand Islet Lake, Sea Baby Clams from Zhou Shan, Fresh Oyster from Zhanjiang, Crown Prince Crab from Fujian and Sea Mullet from Xiangshan. The ingredients are all freshly transported from their origin places.
Location: Near Qiutao Road.
Bus Routes: 14, 20, 39, 44, 59, 60, 71, 202, 216, 516, 836, 864 to Jin Jiang Cun



Baochu Road Snack Street
Located at the north side of West Lake, Bao Chu Lu is now a famous site attractive to visitors with its good position and flavor restaurants.
Location: Near the joint of Shuguang Road and Tiyuchang Road.
Bus Routes: Tourist line 4 (Y4), Tourist line 5 (Y5) 16, 28, 49, 66, 92, 228, 282, 807, 830, 841 to Song Mu Chang, 6, 11, 17, 25, 36, 73, 221, 841 to Bao Chu Lu.
Chinese Restaurants
Foreign Flavor Restaurants
- Last updated on Apr. 01, 2021 -
Questions & Answers on Hangzhou Snack Streets
Asked by Piyanuch from THAILAND | Jun. 07, 2019 22:19

Reply
How many days should I spend in Hangzhou?
Answers (1)
Answered by Helen from USA | Jun. 10, 2019 22:57

0

0

Reply
It depends on your time and budget. 2-3 days can only visit popular attractions, a week is also not bad.
Asked by NUTTAPHON from THAILAND | Nov. 20, 2016 11:31

Reply
I am planning to go to He Fang Jie on Sunday morning around 9AM, is it opened?
Answers (1)
Answered by Joe from AUSTRALIA | Nov. 20, 2016 20:45

0

0

Reply
Hey, it is an open street in service for 24 hours, and there are many stores and shops which are opended early in the morning till late night. So you can have fun around 9:00am. No worry!
Asked by Ms.FSLL520 | Jul. 07, 2012 14:52

Reply
He Fang Jie (Qing He Fang)
Hi,

From what time till what time is He Fang Jie open? We will make a one day trip in Hangzhou and will visit the West lake. Is it better to visit the west lake in the morning/afternoon and He Fang Jie in the evening or the other way around?
Thanks a lot
Answers (1)
Answered by Nina | Jul. 07, 2012 20:43

1

0

Reply
He Fang Jie is open to the public from the daytime till the midnight presenting visitors all kinds of food. Therefore, you can visit the West Lake first in the morning or in the afternoon. But the scenic spot closes at 17:00. After that, you can go enjoy He Fang Jie.
Asked by Bob from SINGAPORE | Aug. 29, 2011 04:09

Reply
Supper Food Street - Where is Jian Li He Mei Shi Jie
Where is Jian Li He Mei Shi Jie? A supper street where you have restaurants on one side and snack food stall on the other side.
Answers (3)
Answered by Frank from CHINA | Aug. 29, 2011 20:09

0

0

Reply
Are you sure about the name? I've never heard about Jian Li He Mei Shi Jie in Hangzhou. Is it Sheng Li He Mei Shi Jie?
Answered by Bob from SINGAPORE | Aug. 30, 2011 03:56

0

0

Reply
Yes, it is Sheng Li He Me Shi Jie. Where is it and what is available there. Thank you
Answered by Shan from CHINA | Aug. 30, 2011 20:26

0

0

Reply
It is located on Gushui Street, Gongshu District. You could get there by bus 33, 12, 58, 57, 3 (Desheng station) or 93 (Xiangjisi station). Here, you could find various kinds of restaurants and bars one by one. Many local food and snacks could also be found.