Hangzhou Shopping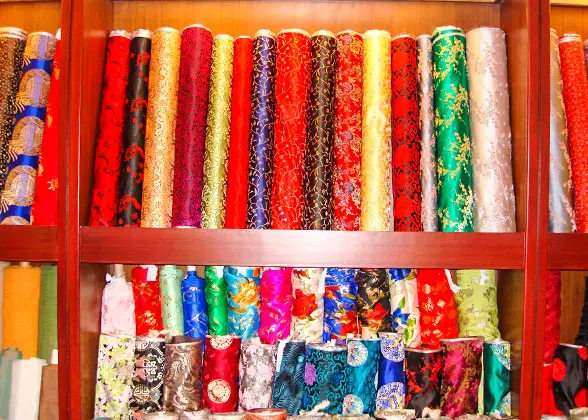 Silk Store
One of China's most dynamic cities, Hangzhou is a pearl in the Yangtze River Delta. Shopping in this city is no longer limited to local specialties such as China silk, tea, and lotus root starch. Today modern offerings abound in various shops, stores, supermarkets, and plazas that crowd the commercial center.

Hangzhou is well known for producing excellent silks, including satins. Throughout its long history, a variety of its silks and satins have been sold throughout the world. The best place for purchasing silk is at Silk City, the biggest silk wholesale and retail market in the country with more than 600 silk enterprises dealing in a wide variety of pure silk fabrics, garments, handicraft articles, scarves, and ties. The shoppers there not only do business on the mainland, but also export their silk products to Europe, America, Australia, Hong Kong, Macau, and Taiwan. The market is distinguished as offering standardized management, reliable quality, and reasonable prices. It is located at No.253 Xinhua Road (at the intersection of Fengqi Road, Tiyuchang Road, and Xinhua Road) You can get to the site by bus No.11 and 28.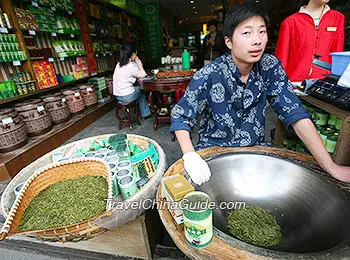 Stir-drying Tea
Hangzhou Longjing Tea (Dragon Well Tea) is considered China's best. It is not only famous for its unique green color, fragrant aroma, sweet taste, and flat appearance, but is also regarded as a health elixir. The tea falls into different grades; the best is the first pick of a year, normally in late March or early April. Besides its good quality, Longjing Tea also enjoys a famous long history. If you are interested in tea culture and history, Meijiawu Village in West Lake District is the ideal spot where you can have a cup of tea, watch a tea ceremony, and select tea under professional guidance.

Qinghefang Street, one of the most famous historic streets in the city, reflects features of the Southern Song Dynasty (1127-1279). Most preserved buildings are from the Ming and Qing dynasties. Strolling on this street, you will be attracted by the antique buildings and local crafts, such as silk parasols, brocades, noted Zhang Xiaoquan scissors and Hangzhou fans.

Yanan Road is considered the Number One Street in Hangzhou. Three-thousand-meter-long Yanan Road running between the north and south sections of the city has become its commercial center. Along the road are included the grand buildings of the Zhejiang Provincial Great Hall of the People, Hangzhou Culture Center, Victory Theatre, International Mansion, Department Store, Grand Hotel, and Haifeng Western Restaurant. Bordering the north end of Yanan Road is Wulin Square, the new center of culture and commerce where towers and skyscrapers are springing up, including Zhejiang Provincial Exhibition Hall, Hangzhou Shopping Center, Hangzhou Theatre, and Zhejiang Provincial Science and Technology Museum.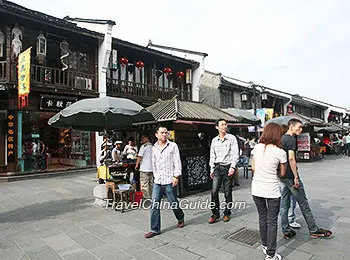 Qing He Fang Old Street
The local government has invested heavily in women's fashion. Wulin Road, a shopping paradise in the downtown area, is one of the fashionable centers featuring hundreds of shops and departments selling ladies' wear in various brands and styles.

Sijiqing Clothing Market is located on Hanghai Road. Established in October of 1989, the market is one of the most influential clothing wholesale and circulation markets in the country. With a large variety of reasonably priced brand name clothes the market has been popular among customers for many years. More than 80% of the clothes here are sold wholesale. Possessing good outlets, the Sijiqing Clothing Market is the source for clothes sold in the markets of Southeast Asia, Europe and even America.
- Last modified on Sep. 04, 2019 -
Questions & Answers on Shopping in Hangzhou
Asked by Oydin from UZBEKISTAN | Jun. 25, 2019 15:00

Reply
how can i get to Hangzhou Sijiqing road and Yanan road from Xueyuan subway station?
Answers (1)
Answered by Paul from USA | Jun. 25, 2019 22:41

0

0

Reply
To Sijiqing Road: Take metro Line 2 to Qingling Rd Station (A1), then walk south of 1.3km to it. It costs CNY3 with 40 mins.
To Yan'an Road: Take metro Line 2 to Fengqi Rd Station (D4), then walk north of 600m to it. It costs CNY3 with 20 mins.
Asked by Mr.SHAHADAT530 | Mar. 29, 2019 00:41

Reply
I want to buy a electric bike. I'm in Hangzhou now.
The bike should be look like petrol bike, not a scoti. Can you suggest me any shop??
Answers (1)
Answered by Mia from CANADA | Apr. 09, 2019 02:20

0

0

Reply
You can find a Lima Electrombile Shop which is located at No.126, Middle Donghu Road, Yuhang District.
Asked by Ragini from INDIA | Jul. 02, 2018 22:40

Reply
Does bargain work in silk market at Hangzhou? If yes how much to bargain?
Answers (1)
Answered by Andrew from UNITED KINGDOM | Jul. 04, 2018 02:05

0

0

Reply
It depends on which kind of stores are you in. If you go to shopping malls, it is in vain to bargain. If you go to some outlet stores, you can have a try. As for how much to bargain, it also depends on the products but you can try to cut down about one -sixth at first.
Asked by Irina | Apr. 01, 2018 15:07

Reply
Hi! where i can find cheap branded clothing for kids and adult in Hangzhou?
Answers (1)
Answered by Joyce from FRANCE | Apr. 02, 2018 00:38

0

0

Reply
You are suggested to have a look in Sijiqing Clothing Market in 88 Hanghai Rd, Jianggan District.
Asked by Ziyed from SOUTH AFRICA | Feb. 20, 2018 01:01

Reply
Wholesale shopping in Hangzhou
Hi,

Where is the best area to go wholesale shopping for ladies clothing?
Would I able to get some branded clothing here?

Thanks

Ziyed
Answers (4)
Answered by Kristin from GERMANY | Feb. 23, 2018 00:58

1

0

Reply
Sijiqing Female Clothing Market in 88 Hanghai Rd, Jianggan District is recommended. For the branded clothing, you can go to HZ Building Shopping Mall in 21 Wulin Square, Xiacheng District.
Answered by MOHAMEZM | Feb. 23, 2018 07:19

0

0

Reply
Thanks
Answered by Yulianthi Lie from INDONESIA | Oct. 25, 2018 00:36

0

0

Reply
How to go to Sijiqing Clothing Market? Bus No.....? Metro Line ....?
Answered by Hailey from USA | Oct. 25, 2018 18:14

0

0

Reply
Take the bus No.325/ 100 and get off at Jiupu station, and walk about 8 - 15 minutes.
Take the metro line 1 and get off at Passenger Transportation Center and walk about 8 minutes.