Hangzhou Travel Tips

Area: 16,596 square kilometers (6,408 square miles)


Population: 6,663,100


Time Zone: GMT+8


Voltage: 220 V, 50Hz alternating current


Administrative Division: 8 districts (Xihu, Gongshu, Shangcheng, Xiacheng, Jianggan, Binjiang, Xiaoshan and Yuhang); 3 cities (Jiande, Fuyang and Lin'an); 2 counties (Tonglu and Chun'an)

Visa
Foreign visitors have to obtain a visa before entering Hangzhou. You can apply for the visa in the Consulate of P. R. China in your country. Alternatively, you can obtain the visa through a travel agency. Special fast applications can be generally completed within 24 hours.
Related Link:

From Jan. 30, 2016, 144-Hour Visa-Free Policy is implemented to facilitate passengers to enjoy a visa-free stay up to 144 hours when making an international transfer via Xiaoshan Airport. Read details about 144-Hour Visa-Free Transit.

Useful Numbers:
Fire: 119
Police: 110
Traffic Emergency: 122
Ambulance: 120
Tourism Complaint: 87030886
Calling for a Taxi: 28811111
Way Inquiry (Downtown area): 1606000
Weather Forecast: 96121
China Mobile Customer Hotline: 10086
China Unicom Customer Hotline: 10010
China Telecom Customer Hotline: 10000
International long-distance telephone: Please dial 00 + country code + city code + telephone number
Banks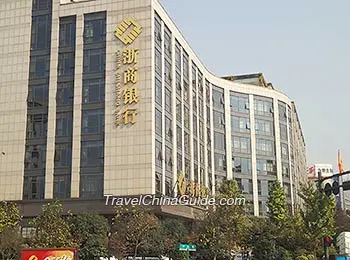 China Zheshang Bank in Hangzhou
Bank of China provides you money exchange service. Here are some of its branches in Hangzhou City:
Zhejiang Branch: No.321, Feng Qi Lu, Xiacheng District
Xihu Branch: No.44, Guang Hua Xiang, Shangcheng District
Zheda Branch: No.146, Yu Gu Lu, Xihu District
Xiaoshan Branch: No.288, Ren Min Lu, Xiaoshan District
Business Hours:
Mon. – Fri.: 08:30~17:30
Sat. – Sun.: 09:00~16:00


Chinese Money and Cost

Apart from this bank, you can find the following banks in the city: Industrial and Commercial Bank of China, Agricultural Bank of China, China Construction Bank, China Merchants Bank, China Minsheng Bank, China Bank of Communications, China CITIC Bank, Industrial Bank, China Everbright Bank, Huaxia Bank and SPD Bank.

Post Offices

Qingchun Road Branch: No.139, Qing Chun Lu, Xiacheng District

Zhongda Square Branch: No.366, Zhong Shan Bei Lu, Xiacheng District

Communication in China

Postcode: 310000
More on
Zhejiang Area Code & Zip Code
Hospitals

Hangzhou First People's Hospital
Location: No.261, Huan Sha Lu, Shangcheng District
Bus Routes: 1, 8, 49, 68, 85, 206, 208, 270, 801, 805, 900, Tour 8

Sir Run Run Shaw Hospital
Location: 3, Qing Chun Dong Lu, Jianggan District
Bus Routes: Buses 18, 20, 21, 56, 305, 518, 818 to Hong Ling Xin Cun Stop.

Zhejiang Provincial People's Hospital
Location: 158, Shang Tang Lu, Gongshu District
Bus Routes: Buses 3, 6, 26, 33, 78, 206, 274, 276, 338, 555, 591, 814
Book Stores
Xinhua Book Store provides various books and audio-visual products.
Jiefang Road Branch:
Location: No.225, Jie Fang Lu, Shangcheng District
Bus Routes: 38, 308, 68 etc.
Cybercafes

Free Land Cybercafe
Location: 398, Wen San Lu, Xihu District

Zhe Jiang Online Cybercafe
Location: 328, Wen Er Lu, Xihu District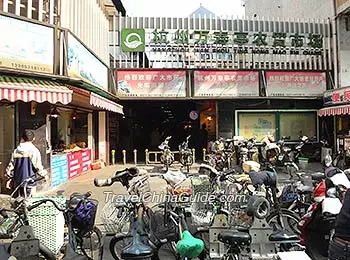 A Local Market in Hangzhou
Universities

Zhejiang University
Zhejiang University is one of the best universities in the country, it has five campuses.

Yuquan Campus: No.38, Zhe Da Lu, Xihu District
Bus Routes: Buses Y5, 15, 16, 21, 28, 30, 152

Xixi Campus: No. 34, Tian Mu Shan Lu, Xihu District
Bus Routes: Buses 6, 9, 11, 21, 23, 24, 30, 49, 151, 355, 502

Huajiachi Campus: 268, Kai Xuan Lu, Jianggan District
Bus Routes: Buses 18, 20, 21, 34, 35, 40, 228, 305, 317, 518, 528, 818

Zhijiang Campus: 51, Zhi Jiang Lu, Shangcheng District
Bus Routes: Buses 4, 308, 504, 599

Zijingang Campus: 388, Yu Hang Tang Lu, Gongshu District

Zhejiang University of Technology
Location: 18, Chao Wang Lu, Gongshu District
Bus Routes: Buses 80, 86, 101, 274

Zhejiang Sci-Tech University
Location: Xiasha Higher Education Zone
Bus Routes: Buses 383, 385, 611, 614, 684

Hangzhou Dianzi University
Location: Xiasha Higher Education Zone
Bus Routes: Buses B支4, 369, 370

Hangzhou Normal University
Location: No.16, Xuelin Street, Xiasha Higher Education Zone
Bus Routes: Buses B支4, 210, 369, 370, 381

Top 10 Things to Do in Hangzhou
- Last modified on Sep. 27, 2018 -