Hangzhou Travel Tips

Area: 16,596 square kilometers (6,408 square miles)


Population: 6,663,100


Time Zone: GMT+8


Voltage: 220 V, 50Hz alternating current


Administrative Division: 8 districts (Xihu, Gongshu, Shangcheng, Xiacheng, Jianggan, Binjiang, Xiaoshan and Yuhang); 3 cities (Jiande, Fuyang and Lin'an); 2 counties (Tonglu and Chun'an)

Visa
Foreign visitors have to obtain a visa before entering Hangzhou. You can apply for the visa in the Consulate of P. R. China in your country. Alternatively, you can obtain the visa through a travel agency. Special fast applications can be generally completed within 24 hours.
Related Link:

From Jan. 30, 2016, 144-Hour Visa-Free Policy is implemented to facilitate passengers to enjoy a visa-free stay up to 144 hours when making an international transfer via Xiaoshan Airport. Read details about 144-Hour Visa-Free Transit.

Useful Numbers:
Fire: 119
Police: 110
Traffic Emergency: 122
Ambulance: 120
Tourism Complaint: 87030886
Calling for a Taxi: 28811111
Way Inquiry (Downtown area): 1606000
Weather Forecast: 96121
China Mobile Customer Hotline: 10086
China Unicom Customer Hotline: 10010
China Telecom Customer Hotline: 10000
International long-distance telephone: Please dial 00 + country code + city code + telephone number
Banks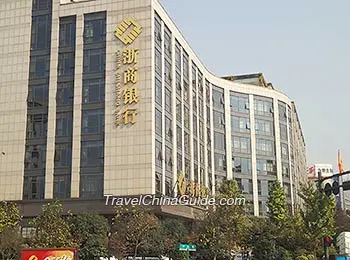 China Zheshang Bank in Hangzhou
Bank of China provides you money exchange service. Here are some of its branches in Hangzhou City:
Zhejiang Branch: No.321, Feng Qi Lu, Xiacheng District
Xihu Branch: No.44, Guang Hua Xiang, Shangcheng District
Zheda Branch: No.146, Yu Gu Lu, Xihu District
Xiaoshan Branch: No.288, Ren Min Lu, Xiaoshan District
Business Hours:
Mon. – Fri.: 08:30~17:30
Sat. – Sun.: 09:00~16:00


Chinese Money and Cost

Apart from this bank, you can find the following banks in the city: Industrial and Commercial Bank of China, Agricultural Bank of China, China Construction Bank, China Merchants Bank, China Minsheng Bank, China Bank of Communications, China CITIC Bank, Industrial Bank, China Everbright Bank, Huaxia Bank and SPD Bank.

Post Offices

Qingchun Road Branch: No.139, Qing Chun Lu, Xiacheng District

Zhongda Square Branch: No.366, Zhong Shan Bei Lu, Xiacheng District

Communication in China

Postcode: 310000
More on
Zhejiang Area Code & Zip Code
Hospitals

Hangzhou First People's Hospital
Location: No.261, Huan Sha Lu, Shangcheng District
Bus Routes: 1, 8, 49, 68, 85, 206, 208, 270, 801, 805, 900, Tour 8

Sir Run Run Shaw Hospital
Location: 3, Qing Chun Dong Lu, Jianggan District
Bus Routes: Buses 18, 20, 21, 56, 305, 518, 818 to Hong Ling Xin Cun Stop.

Zhejiang Provincial People's Hospital
Location: 158, Shang Tang Lu, Gongshu District
Bus Routes: Buses 3, 6, 26, 33, 78, 206, 274, 276, 338, 555, 591, 814
Book Stores
Xinhua Book Store provides various books and audio-visual products.
Jiefang Road Branch:
Location: No.225, Jie Fang Lu, Shangcheng District
Bus Routes: 38, 308, 68 etc.
Cybercafes

Free Land Cybercafe
Location: 398, Wen San Lu, Xihu District

Zhe Jiang Online Cybercafe
Location: 328, Wen Er Lu, Xihu District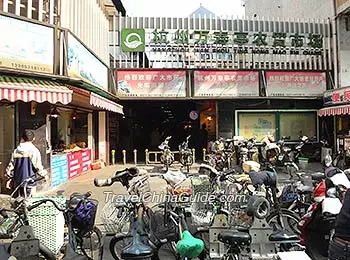 A Local Market in Hangzhou
Universities

Zhejiang University
Zhejiang University is one of the best universities in the country, it has five campuses.

Yuquan Campus: No.38, Zhe Da Lu, Xihu District
Bus Routes: Buses Y5, 15, 16, 21, 28, 30, 152

Xixi Campus: No. 34, Tian Mu Shan Lu, Xihu District
Bus Routes: Buses 6, 9, 11, 21, 23, 24, 30, 49, 151, 355, 502

Huajiachi Campus: 268, Kai Xuan Lu, Jianggan District
Bus Routes: Buses 18, 20, 21, 34, 35, 40, 228, 305, 317, 518, 528, 818

Zhijiang Campus: 51, Zhi Jiang Lu, Shangcheng District
Bus Routes: Buses 4, 308, 504, 599

Zijingang Campus: 388, Yu Hang Tang Lu, Gongshu District

Zhejiang University of Technology
Location: 18, Chao Wang Lu, Gongshu District
Bus Routes: Buses 80, 86, 101, 274

Zhejiang Sci-Tech University
Location: Xiasha Higher Education Zone
Bus Routes: Buses 383, 385, 611, 614, 684

Hangzhou Dianzi University
Location: Xiasha Higher Education Zone
Bus Routes: Buses B支4, 369, 370

Hangzhou Normal University
Location: No.16, Xuelin Street, Xiasha Higher Education Zone
Bus Routes: Buses B支4, 210, 369, 370, 381

Top 10 Things to Do in Hangzhou
- Last modified on Nov. 25, 2018 -
Questions & Answers on Hangzhou Travel Tips
Asked by Ngoc Thanh Nha Nguyen from VIETNAM | Nov. 24, 2018 11:03

Reply
Qianjiang New Town Music Fountain & Light Show
Hi,
May I check the Qianjiang New Town Music Fountain & Light Show still avail on Tuesday, and Saturday and Sunday 18:30 and 19:30?
Thanks,
Answers (1)
Answered by Gwendolyn from USA | Nov. 25, 2018 23:47

0

0

Reply
Yes, you can. The show time every day is 18:30, 19:00 and 20:30.
Asked by Lim Phaik Hiang from MALAYSIA | Nov. 03, 2018 11:02

Reply
I stay in Hangzhou Rui Ju Hotel, How to go "Romance of the Song Dynasty"
and after the show I could like to visit Ancient Street. How to go to Ancient Street from the Romance of the Song dynasty.
Answers (1)
Answered by Abner from SINGAPORE | Nov. 06, 2018 01:59

0

0

Reply
From the hotel to see the show, you can take the bus No.314, about 15-minute walk from the hotel. And get off at Song City. By the way, which ancient street are you going to visit? There are many in this city.

Asked by Danny from AUSTRALIA | Apr. 18, 2018 04:55

Reply
Where to buy 2 day card (xiling card) in hangzhou
I would like to know where we can buy the 2 day xiling card in the city. We will stay at Landison Plaza Hotel.
Thank you.
Answers (1)
Answered by Angla from BELGIUM | Apr. 18, 2018 22:53

0

0

Reply
It can be bought at the Transport Card Service Center in Ding'an Rd, which is about 3km south of your hotel. You can take a taxi there.
Asked by Koo from MALAYSIA | Dec. 09, 2016 07:08

Reply
Hi, my trip to Hangzhou is from 26 to 31 Dec.
For visit to West Lake, how many days n what sites would u recommend? What is the boat ticket cost? Should I stay in a hotel there n at which area? What other sites would u recommend for natural sceneries n shopping with olden days surroundings in HZ. What other cities that is around an hour or so away from HZ which have interesting sites to visit would u recommend? And what is the ticket cost in RMB? Tks
Answers (1)
Answered by Fiona from FRANCE | Dec. 12, 2016 01:05

1

0

Reply
You may spend one full day at the West Lake. The must-see attractions include Su Causeway, Bai Causeway, Leifeng Pagoda, and Three Pools Mirroring the Moon. The boat ticket costs CNY 55 to 150. You may stay at a lakeside hotel, so that you will have a panoramic view of the rippling lake.

The other sites you shouldn't miss include Temple of Soul's Retreat, Xixi National Wetland Park, Qinghefang Ancient Street, and Song Dynasty Town.

You are advised to go to Suzhou. Suzhou has many interesting places waiting for you, including Humble Administrator's Garden, Tiger Hill, Lingering Garden, and Zhouzhuang Water Town. You can take a bullet train to Suzhou from HZ East Railway Station. It takes about 1.5 hours. A second class seat costs CNY 75 or 111.5; a first class seat costs CNY 90 or 178.5.
Asked by Eva from SOUTH AFRICA | Oct. 27, 2016 09:34

Reply
Which best watertown: Zhouzhuang- Nanxun - Wuzhen + travel to and from Shanghai
Hello,
I hope you can help me.
1/ I know that Zhouzhuang is the most commercial watertown but which of the three is more authentic and pretty, architecture and atmosphere wise?
2/ Also, if one has seen Suzhou, are these three towns the same thing?: if you've seen one, is it worth seeing another one?
3/If I am coming from Shanghai in the morning (by taxi? what would be the quickest option and how long would it take?) and want to leave to shanghai again in the evening, do I have enough time to visit one, or maybe even 2 of these towns?
4/ also, do yo know if the "soft sleeper" night boat ("Paradise Pleasure Boat" or another) between Suzhou to Hangzhou is still running and if yes, what are their timings in both directions please?
Thank you so much for your help!
Answers (1)
Answered by Jenny from USA | Oct. 28, 2016 02:31

0

0

Reply
1. Zhouzhuang is more commercial. Nanxun is more authentic and tranquil among the three. Wuzhen is larger and more beautiful.
2. Actually, these towns are similar to Suzhou. If you have seen one, it is worth seeing another because they vary in size, atmosphere, and environment.
3. Yes, you do a one day trip to Zhouzhuang.
4. I am sorry that the boat has stopped running. Instead, you can take a bullet train to shuttle between them (about 1.5 to 2 hours).