Telephone & Cellphone in China

Can I use my cell phone in China?

Answer: You can use your phone in China if your carrier does not lock your handset. Even if your phone is locked, you can call your carrier and ask for unlocking it. There are three carriers in China, China Mobile, China Unicom, and China Telecom, using TD-SCDMA, WCDMA, and CDMA2000 networks, respectively. You can buy a SIM card in China from one of the carrier according to your phone's network mode.
Note: The international roaming charge can be very high; it is strongly advised to use a local SIM card.
| | |
| --- | --- |
| Public phone in China | Public phone kiosk |
---

Can I buy a cell phone in China?

Answer: Yes, you can. You can buy a contract-free cell phone in stores or large-scale emporia. If you plan to stay long in China, you can even consider buying a phone with a contract from GSM carriers, which will provide you with a favorable rate plan.
---

Can I use the phone I bought to make calls directly?

Answer: That depends. You can make calls if you buy a phone with a contract. Then a SIM card is included and you can use the phone directly. But if you buy a contract-free phone, you have to purchase a SIM card and insert it into your phone. Confirm with your provider if your SIM card support international calls before you making international calls.
---

Where to buy a SIM card?

Answer: You can get a SIM card at a service counter of any one of the three GSM carriers. Usually, a new card user is required to deposit a certain amount of money in the account, say CNY 50 – 100.
---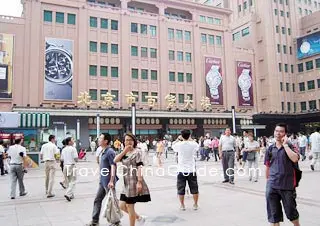 A person make a call by cell phone

Does my SIM card which is bought in Beijing still work in Xi'an?

Answer: Yes, all cards in China can be used nationwide, and there is no domestic roaming charge if your card support 3G network.
---

How can I recharge if the money of my cell phone runs out?

Answer: You can go to the service center of your carrier for recharging. Also, you can buy a top-up card costing CNY30, CNY50, or CNY100
---

Can I have my telephone bill and if yes, how?

Answer: Yes. Go to the service center of your carrier and have it printed out. Or, you can call the service number of your carrier for an e-bill sent to your phone.
---

If my SIM card has some problem, to whom will I turn for help?

Answer: You can call the service number of your SIM card supplier.
China Mobile: 10086 (24 hours service)
China Unicom: 10010 (24 hours service)
China Telecom: 10000 ( 24 hours service)
Both offer English service. You can ask any question related with your phone and SIM card.
---

What are the rates of calls?

Answer: The charge of your call varies, based on the different SIM cards.
Basically, it is CNY0.2 per minutes for voice, CNY 0.1 for each piece of text, and CNY 0.0003/KB for data. There are also special packages, such as a data package of CNY 30 for 300MB, a text package of CNY15 for 300 pieces of text, and a voice package of CNY 58 for 260 minutes of voice.
---

Can I use my phone to make international call directly?

Answer: No, you need to contact your supplier to activate the service.
---

What is the rate of international call?

Answer: The charge is up to your destination. It is strongly recommended to consult your carrier. You can also buy an IP card to make international calls, which are easy and cheap. The card is available at stores and newsstands.
---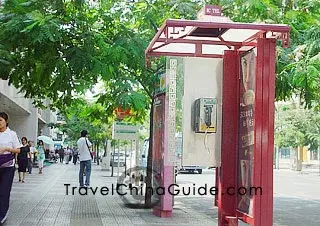 Roadside telephone booth

Are telephone booths still widely used in China?

Answer: No. There are seldom telephone booths in China. Only some train stations and airports have paid telephone.
---

How to use the phone booths?

Answer: Some have to be paid with a telephone card and some accepts coins. The public telephones at railway stations in Beijing accept Beijing transportation cards. The paid telephone in Xi'an Airport can be paid with coins.
---

Do I need to pay for the phone call I made in the hotel?

Answer: It varies according to the regulation of the hotel. Some luxury hotels provide free domestic phone call service, but the international calls are charged according to the rate of the carrier. Besides, extra service fee may be charged. You can consult the reception of your hotel for detailed information.
Notice: Do not use the cell phone in some small hotels, because some of these hotels will ask for quite a high charge.
---

Can I find a fax machine easily in China?

Answer: Yes. Fax machines are available in some stores and business centers in hotels.
---

Related Information:

How to Make Phone Calls

Useful Numbers

WeChat
: for instant messages and video calls.
- Last updated on Aug. 20, 2023 -
Questions & Answers on Telephone & Cellphone in China
Asked by פאול כהן from ISRAEL | Aug. 18, 2023 06:19

Reply
Postage stamps cost
What is the postage cost of a regular 20 gram envelope inside china and to the USA?
Answers (1)
Answered by Bella | Aug. 20, 2023 20:58

0

0

Reply
It costs CNY1.2 in China and about CNY20 to the USA if using the regular service.
Asked by Chris from GERMANY | Jul. 09, 2023 11:16

Reply
Airport vs. downtown shops
Are there price differences between SIM cards bought at the airport and SIM cards bought in the city?
Answers (1)
Answered by Lisa | Jul. 10, 2023 01:55

0

0

Reply
Yes, those bought in downtown are generally cheaper.
Asked by Dave Darnell from UNITED STATES | Nov. 12, 2019 08:41

Reply
American trying to call new friend in China needs help contacting her
I recently met a new friend on a dating website and she lives in Shenzhen and we have both been trying to contact each other by mobile phone and neither one of us are having any luck completing the call to the other. I know she has my correct number can you walk us thru the steps she needs to take to make a successful call to me in the USA from her home in Shenzhen? Could her phone be locked. How to call China Mobile customer service ? What is their number? I can call Hong Kong numbers all day long but when I try to call a mainland China number I get the message "the number you have dialed has been disconnected or no longer in service please check the number and try your call again" We are both frustrated and looking for answers. Thanks in advance for your help , Dave Darnell USA
Answers (2)
Answered by Brayden from AUSTRALIA | Nov. 12, 2019 19:57

0

0

Reply
She need to dial you as the following steps:
IDD Code + Country Code + City Code + Tel. No.
First of all, her phone should have the service of IDD Function. She needs to dail China Mobile, China Unicom, and China Telecom to activate this function first.
Answered by POI | Dec. 01, 2021 10:55

0

0

Reply
Use WeChat instead. It used internet instead of cellular service
Asked by Roelf Vorster from SOUTH AFRICA | Nov. 08, 2019 02:31

Reply
Sim cards at Shenzhen Airport
Hello,
We will be arriving around midnight at Bao'an Airport, Shenzhen. Will it be possible to get a sim card at that time at the airport?
Also, is it possible to pre-order sim cards?
Answers (1)
Answered by Colton from FINLAND | Nov. 10, 2019 19:37

0

0

Reply
As I know, the service counter would be closed at that time. Thus you are suggested to purchase the card in downtown area.
Asked by Arthur from ES | Aug. 25, 2019 20:11

Reply
buying SIM card in China
It is impossible nowadays to buy a SIM card at China Mobile or other operators in China without a Chinese ID. Do you have any suggestion about how to get a SIM card without being a Chinese national
Answers (2)
Answered by Tessa from UNITED KINGDOM | Aug. 29, 2019 02:24

0

0

Reply
Is that so? As I know, foreigners can buy sim card in Unicom or Mobile Office by showing your passport or some valid documents.
Answered by Steve from UNITED KINGDOM | Sep. 08, 2019 09:24

0

0

Reply
I had the same experience than Arthur. China Mobile only sells SIM cards to Chinese ID holders (I assume that also to expats with proper ID). It is true that Unicom sells SIM cards in most airports but Unicom shops are not as ubiquitous as China Mobile so topping up the SIM card may be harder... besides I hear that some Unicom SIM cards sold at airports do not work