Telephone & Cellphone in China

Can I use my cell phone in China?

Answer: You can use your phone in China if your carrier does not lock your handset. Even if your phone is locked, you can call your carrier and ask for unlocking it. There are three carriers in China, China Mobile, China Unicom, and China Telecom, using TD-SCDMA, WCDMA, and CDMA2000 networks, respectively. You can buy a SIM card in China from one of the carrier according to your phone's network mode.
Note: The international roaming charge can be very high; it is strongly advised to use a local SIM card.
| | |
| --- | --- |
| Public phone in China | Public phone kiosk |
---

Can I buy a cell phone in China?

Answer: Yes, you can. You can buy a contract-free cell phone in stores or large-scale emporia. If you plan to stay long in China, you can even consider buying a phone with a contract from GSM carriers, which will provide you with a favorable rate plan.
---

Can I use the phone I bought to make calls directly?

Answer: That depends. You can make calls if you buy a phone with a contract. Then a SIM card is included and you can use the phone directly. But if you buy a contract-free phone, you have to purchase a SIM card and insert it into your phone. Confirm with your provider if your SIM card support international calls before you making international calls.
---

Where to buy a SIM card?

Answer: You can get a SIM card at a service counter of any one of the three GSM carriers. Usually, a new card user is required to deposit a certain amount of money in the account, say CNY 50 – 100.
---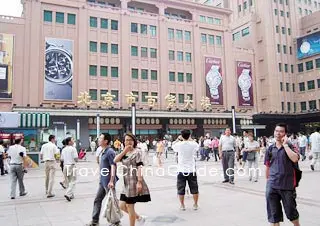 A person make a call by cell phone

Does my SIM card which is bought in Beijing still work in Xian?

Answer: Yes, all cards in China can be used nationwide, and there is no domestic roaming charge if your card support 3G network.
---

How can I recharge if the money of my cell phone runs out?

Answer: You can go to the service center of your carrier for recharging. Also, you can buy a top-up card costing CNY30, CNY50, or CNY100
---

Can I have my telephone bill and if yes, how?

Answer: Yes. Go to the service center of your carrier and have it printed out. Or, you can call the service number of your carrier for an e-bill sent to your phone.
---

If my SIM card has some problem, to whom will I turn for help?

Answer: You can call the service number of your SIM card supplier.
China Mobile: 10086 (24 hours service)
China Unicom: 10010 (24 hours service)
China Telecom: 10000 ( 24 hours service)
Both offer English service. You can ask any question related with your phone and SIM card.
---

What are the rates of calls?

Answer: The charge of your call varies, based on the different SIM cards.
Basically, it is CNY0.2 per minutes for voice, CNY 0.1 for each piece of text, and CNY 0.0003/KB for data. There are also special packages, such as a data package of CNY 30 for 300MB, a text package of CNY15 for 300 pieces of text, and a voice package of CNY 58 for 260 minutes of voice.
---

Can I use my phone to make international call directly?

Answer: No, you need to contact your supplier to activate the service.
---

What is the rate of international call?

Answer: The charge is up to your destination. It is strongly recommended to consult your carrier. You can also buy an IP card to make international calls, which are easy and cheap. The card is available at stores and newsstands.
---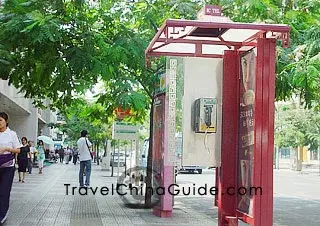 Roadside telephone booth

Are telephone booths still widely used in China?

Answer: No. There are seldom telephone booths in China. Only some train stations and airports have paid telephone.
---

How to use the phone booths?

Answer: Some have to be paid with a telephone card and some accepts coins. The public telephones at railway stations in Beijing accept Beijing transportation cards. The paid telephone in Xian Airport can be paid with coins.
---

Do I need to pay for the phone call I made in the hotel?

Answer: It varies according to the regulation of the hotel. Some luxury hotels provide free domestic phone call service, but the international calls are charged according to the rate of the carrier. Besides, extra service fee may be charged. You can consult the reception of your hotel for detailed information.
Notice: Do not use the cell phone in some small hotels, because some of these hotels will ask for quite a high charge.
---

Can I find a fax machine easily in China?

Answer: Yes. Fax machines are available in some stores and business centers in hotels.
---

Related Information:

How to Make Phone Calls

Useful Numbers

WeChat
: for instant messages and video calls.