Baggage Allowance for Chinese Domestic Flights
Domestic Flights International Flights

For passengers on domestic Chinese flights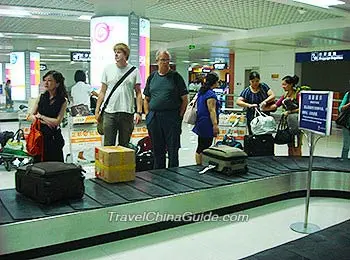 Baggages checked in the airport

Can you give a specific definition of checked baggage and carry-on?

Answer: Checked baggage refers to the luggage given to the carrier for transport and picked up at the final destination. Carry-on, or hand luggage refers to the smaller bags and personal items you are permitted to bring onto the plane and keep in the cabin with you on the plane.
---

What is the difference between infant, children and adult ticket?

Answer: Babies less than 2 years old should buy an infant ticket. Children aged 2 -12 years old should buy a child ticket. Everyone else should buy an adult ticket.
---

What are the specific requirements for hand luggage?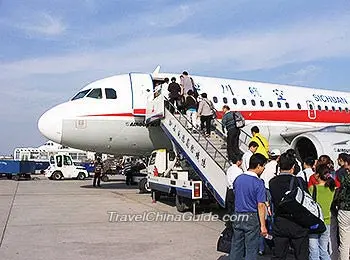 Passengers board the airplane

Answer: Airlines have different regulations, but generally, each hand luggage must not exceed 20×40×55 centimeters (8×16×22 inches) and should be less than five kilograms (about 11 pounds) in total. Any items that exceed these criteria are treated as checked luggage. First class passengers who hold adult or child tickets are permitted to carry on two pieces of hand luggage. Business or economy class passengers, only one piece is allowed.
---

What is the maximum standard for a checked luggage?

Answer: Each piece should not exceed 50 kilograms in weight (110 pounds) and 40×60×100 centimeters (16×24 ×39 inches) in size. Different airlines allow 0 to 40 kilograms' checked luggage for free according to different classes, and you need to pay for the extra.
---

Can an infant ticket holder have free checked luggage?

Answer: No, only passengers who hold an adult or children ticket are allowed to take a certain amount of checked luggage for free.
---

What are the limitations for free checked luggage?

Answer: Airline companies have different limitations for free checked luggage, and some cheap airlines do not offer free check luagge, so passengers should confirm with your airlines when booking tickets. The limitations below apply to most domestic flights:
| Cabin Class | Maximum Total Weight | Maximum number of items |
| --- | --- | --- |
| First Class (F) | 40 kilograms (88 pounds) | Two pieces |
| Business Class (C) | 30 kilograms (66 pounds) | One piece |
| Economy Class (Y) | 20 kilograms (44 pounds) | One piece |
---

What if my baggage allowance exceeds the free checked limitation?

Answer: The excess amount will incur an additional charge reckoned by distance and weight: Generally, 1 kilogram (2.2 pounds) costs 1.5% of a full economy-class airfare (one way, adult ticket).
---

Can I put money in my checked luggage?

Answer: No. Currency, important documents, fragile items and other valuables are not allowed in the checked luggage. In case of loss or damage, the carrier will compensate only for the common checked luggage liability, no coverage for valuables.
---

Can I take lithium battery as checked luggage

Answer: According to the latest news from Civil Aviation Administration of China (CAAC), lithium batteries that are usually used in notebook PCs, cell phones and digital cameras cannot be consigned as checked luggage. However, air passengers are allowed to take them as carry-ons. At most two spare batteries are allowed to be carried as hand luggage and they should be well preserved to avoid short-circuit; but no lithium batteries can be consigned in the checked luggage.



Note: China bans Samsung's Galaxy Note 7 on all flights, even if the device is turned off.
---

What about my portable charger? Can I take it with me? In checked luggage or carry-on luggage?

Answer: According to the 2014 regulation of Civil Aviation Administration of China, portable charger with a capacity of 160wh is banned on board. Each passenger is allowed to take no more than 2 chargers. The portable chargers should be for personal use and can only be put in passengers' carry-on luggage. Passengers are forbidden to use the chargers during a flight.
---

Are liquid items allowed in hand luggage?

Answer: No. Passengers taking domestic flights are prohibited from carrying liquids in hand luggage; such items can be shipped subject to packing being consistent with the relevant civil aviation transport provisions.
---

Is there any limitation about the cosmetics?

Answer: Passengers may take small quantities of cosmetics, with a limit of one item of each type; each container shall be no more than 100 ml in volume. All cosmetics must be placed in a separate bag ready for inspection.
Passengers from outside China transferring to China domestic flights may carry unopened duty-free liquid items, in properly sealed transparent plastic bags; relative receipts must be produced.
---

I am a mother flying with an infant, am I allowed to bring milk for my baby in my carry-on?

Answer: No, but passengers with infants may apply for free liquid dairy products which are provided by the airlines when purchasing tickets.
---

I am a diabetic, can I take my medicines (liquid) on the plane?

Answer: Liquid medicines necessary for diabetic or other patients will be subject to safety inspection and will be kept by the airline crew.
---

I bought a cat in China. Can I take it with me when I am traveling in the country, and do the airports permit to bring animals?

Answer: Yes. First you must make sure the animal you brought is home-raised and is a pet animal such as a cat or dog, etc. Then, you should tell the ticket agent when you book your tickets that you will be bringing your pet and you must offer the related health certificate about your pet to the airline.
Notice:
The container for the pet must prevent it from escaping
The container must ventilate the air so the pet will not suffocate.
The container must prevent the fecal matter from spilling outside the container.
---

Note: This information covers the general rules for baggage allowance. As there will be slight differences among different airlines, we highly recommended visitors consult your travel agent for detailed information about your airlines if you have any doubt. You can also check information from your airline website or call them for additional assistance.

Recommended tours:


14-Day Small Group Tour to Beijing/ Xi'an/ Chengdu/ Chongqing/ Yangtze River Cruise/ Yichang/ Shanghai from $2402



11-Day Small Group Tour to Beijing/ Xi'an/ Zhangjiajie/ Shanghai from $2267


Popular China Flights:

Cheap Airfare between Major Cities:
- Last updated on Jul. 07, 2023 by Catherine He -
Questions & Answers on Baggage Allowance for Chinese Domestic Flights
Asked by Chris from FRANCE | Jul. 06, 2023 04:04

Reply
Electronic lighters and gas lighters
Is it allowed to bring an e-lighter or small tiny cigarette lighter (filled with with butan gas, not fuel) on the airplane or checked luggage, as in most countries around the world?
Answers (1)
Answered by Rosy | Jul. 07, 2023 00:01

0

0

Reply
Generally you can take at least one but it is better to confirm with your airline in advance.
Asked by Mabel from CANADA | May. 10, 2023 11:01

Reply
Hong Kong to Kaiping
Is there a bullet train from Hong Kong to Kaiping? Where is the train station and what is the fare? What about the times for arrival and departure?
I will be deplaning at the Hong Kong International Airport.
Thank you.

Answers (1)
Answered by Kelly | May. 10, 2023 20:36

0

0

Reply
There is no direct train operating between HK and Kaiping. However, you can take a high speed train from HK West Kowloon Railway Station to Guangzhou South and transfer to Kaiping. The total train fare costs CNY290 and the over all travel time is around 2 hours. Remember to book your train tickets in advance.
Asked by Anna from CHINA | Feb. 07, 2020 04:10

Reply
I want to bring my laser hair removal device.will I bring it in hand carry baggage or check in bagg-
Answers (1)
Answered by Alice from FINLAND | Feb. 09, 2020 16:20

0

0

Reply
Yes, you can, just put it into the checked luggage.
Asked by Ali Hassan from CHINA | Jan. 22, 2020 04:01

Reply
How many cigarettes can i take with me in a domestic flight in China?
Answers (1)
Answered by Jessica from DENMARK | Jan. 31, 2020 16:07

0

0

Reply
Each passenger over 18 may bring two packs (400 pieces) of duty-free cigarettes from China.
Asked by Deirdre from IRELAND | Jan. 08, 2020 07:11

Reply
Equipment for Video Shoot
Hello!
I work for a video production company that will be travelling to China to work for 5 days. We'll be bringing professional video camera's and other related equipment with us. Do we need to get a carnet in order to bring this equipment?
Thanks a mill.
Answers (1)
Answered by Wanda from CANADA | Jan. 09, 2020 17:47

0

0

Reply
As I know, it will be ok for you to bring them.