Passport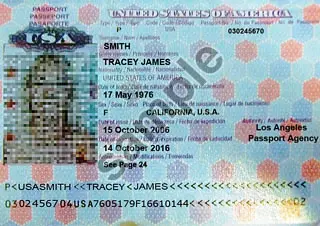 USA Passport Sample
A passport is always required when traveling from one country to another. This is the authorized identification document issued by your country of citizenship that confirms your identity and nationality.
What is passport?
It is a legal certificate issued by one's mother country to testify its owner's nationality and identity when crossing one country's frontier into another for travel, work and residence overseas. Actually the word "passport" in English means the pass of a port. In other words, It is the proof for a citizen to go through the international ports of all countries. Some countries may issue a kind of general credentials to replace it.

Function
For international travel across borders, a citizen must possess a legitimate one which issued by his own country's government, and simultaneously, an effective visa to your destination country is also often required.

If you should have an accident during the period of travel or residence abroad, the host country should first confirm your status and nationality according to your passport, and then decide what to do next and how to handle it well. Similarly, the country which issued it and its embassy or consulate stationed abroad also has to decide how to offer help or diplomatic protection.

Types

Content

Period of Validity

Effective Area

Make it well-kept

What to do if it is lost

Replacement

Chinese Embassy Information

China Embassy in New York, USA

China Embassy in London, UK

China Embassy in Paris, France

China Embassy in Sydney, Australia

China Embassy in Canada
Please click for China Embassy in more countries.
---
Selected Questions and Answers:

Asked by Ms. zarlash
Hi, i lost my passport in China. Now I'm in China and i want a new one, what should i do now,?



Answered by Ms. Lilian
Ms. Zarlsh, you should do as follows:
1) Report the loss immediately to the Embassy of your country in Beijing or the Consulates-General in other big cities.
2) Obtain an official Lost report from the local police station or the Public Security Bureau (PSB).
3) Complete and submit an Application form of your country.
---

Asked by Ms. I (UK)
Hi, I need to travel to Hong Kong and maybe Macau, I was born in Macau but have portuguese nationality. My passport expires in less than 6 months, I don't have time to renew it as this is a matter of urgency, I wonder if I can get in without having problems. I am possibly going for 1 to 2 weeks. thank you



Answered by Mr. JOHNNASH
You won't face any problems, one with at least 6 months validity is required when you apply for visa, however, you don't need a visa to Hong Kong or Macau, the one with 1 month validity beyond the intended stay is accepted by immigration officers of Hong Kong & Macau.
- Last modified on May. 05, 2019 -
Questions & Answers on Passport
Asked by Milton from COLOMBIA | Apr. 24, 2019 09:13

Reply
Colombian citizen entering China with an expired passport but with a valid job visa
Hi, I'm a Colombian citizen who works in China. I need to get a new passport because my current passport is almost full. Can I enter China with an expired passport containing my job visa and with my new passport ?
Answers (1)
Answered by Emliy from RUSSIA | May. 05, 2019 20:40

0

0

Reply
Hi, as I know, you may enter China with both expired and new passort.
Asked by ALAN_V | Nov. 15, 2018 00:35

Reply
Valid residence permit on cancelled passport
Can I use my cancelled passport where my valid residence permit is attached and my recently renewed passport to enter china?
Answers (1)
Answered by Edwin from RUSSIA | Nov. 15, 2018 18:06

0

0

Reply
You can travel by bringing both the old and new passports.
Asked by Teresa from CANADA | Apr. 11, 2018 19:01

Reply
Visa application. Hi, I'm a Malaysian working in Canada.
My passport is expiring in Dec but I'm planning to renew it when I'm back to Malaysia in Oct. I was planning to make a stopover in China on the way back.
1. Will I be able to apply for visa with less than 6 months validity period? Is there a way to convince them that I'll be renewing the passport when I'm back in Malaysia?
2. If yes, will I be able to travel to China with my new passport?
Answers (1)
Answered by Lisa from USA | Apr. 12, 2018 00:54

0

0

Reply
Hi, as I know, when applying for Chinese visa, your passport should have at least 6 months remaining validity. So you are advised to renew your passport beforehand.
Asked by Yang from UNITED KINGDOM | Mar. 08, 2018 11:31

Reply
Hong Kong SAR Passport & British Passport holder
I was born in Hong Kong. Because of this; I have been told that I cannot get a travel visa on my British passport to go to China? Is this correct?
Answers (1)
Answered by Solomon from FIJI | Mar. 08, 2018 20:27

0

0

Reply
Yang, maybe you can apply for a Home Return Permit by using your HK SAR passport to enter mainland China. If you can get it, there is no need to apply for a visa for China.