Chinese Embassy in Australia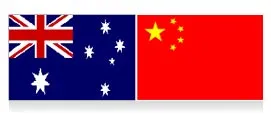 Ambassador: Mr. Cheng Jingye
Address: 15 Coronation Drive, Yarralumla, ACT 2600, Canberra
Tel: +61-2-62283999
Fax: +61-2-62283836
Email: chinaemb_au@mfa.gov.cn
Website: http://au.china-embassy.org/eng/

Consular Office of Chinese Embassy in Australia
Tel: +61-2-62283979, 0434716788
Fax: +61-2-62283997
Telephone Inquiry Hours: 09:00-12:00, 14:00-17:00, Monday-Friday (except holidays)
Office Hours: 09:00-12:00, Monday-Friday (except holidays)

Consular Districts of the Embassy/Consulates
Chinese Visa Application Service Center (CVASC)
In order to provide a better service for the applicants, the embassy of PRC in Canberra, and General Consulates in Sydney, Melbourne, Brisbane, Adelaide, and Perth have introduced the CVASC. Applications for China visa and Hong Kong or Macao visa/entry permit from all ordinary passport holders should be submitted to the center: http://www.visaforchina.org/.

Note: Applicants holding Diplomatic, Service or Official passport, or who are qualified to apply for the Diplomatic, Service, or Courtesy visa, Chinese passport/Travel Document, Notarization or Authentication should still submit the application directly to the Consulate General as usual and don't have to make online appointment.

Detailed information about the CVASC:



Canberra
Address: Suite 201, Level 2, Canberra House, 40 Marcus Clarke Street, Canberra, ACT 2600
Mailing Address: P.O. Box 1862, Canberra, ACT 2601
Tel: +61-2-62797800
Fax: +61-2-62472888
Email: canberracenter@visaforchina.org
Office Hours: 09:00 - 15:00, Monday - Friday (except public holidays)



Sydney
Address: Level 5, 299 Elizabeth Street, Sydney, NSW 2000
Mailing address: P.O. Box 20516 World Square NSW 2002
Tel: +61-2-94758800
Fax: +61-2-92612088

Melbourne
Address: Ground Floor, 570 ST Kilda RD., Melbourne, VIC 3004
Mailing Address: P.O. Box 7227, ST Kilda Rd., Melbourne, VIC 3004
Tel: +61-3-9937-2308
Fax: +61-3-9937-2337, +61-3-9937-2338

Brisbane
Address: PART level 4, 140 Ann Street, Brisbane, QLD 4000;
Mailing Address: P.O. Box 12545 George Street, QLD 4003
Tel: +61-7-3031-6300
Fax: +61-7-3221-9388



Perth
Address: Ground Floor, 256 Adelaide Terrace, Perth WA 6000 (Entrance via Victoria Ave)
Mailing Address: P.O. Box 3090, East Perth, WA 6892
Tel: +61-8-9220-3800
Fax: +61-8-9221-1888



Adelaide
Address: Suite 1.2, Level 1, 33 King William Street, Adelaide, SA 5000
Tel: +61-8-8113-3800
Fax: +61-8-8410-0245
Major Types & Requirements
Types

Purpose
Tourist (L)
It is issued to those who comes for tourism. Group L is available for tourists who travel on a group basis.
Business (M)
It is issued to those who intend to go there for commercial and trade activities.
Noncommercial Visit (F)
It is issued to aliens who are invited to a lecture, scientific-technological & cultural exchanges, study tours, etc.
Employment/Work (Z)
It is issued to an alien who comes for a post, employment, or commercial performance.
Student (X)

It is issued to foreigners who come to study in China.

Family Reunion (Q)
It is issued to those who are family members of Chinese citizens or of foreigners with Chinese permanent residence and intend to go to China for family reunion, or to those who intend to go there for the purpose of foster care.
Q1 grants a stay of more than 180 days, while Q2 allows a stay of no more than 180 days.
Private visit (S)
it is issued to family members of foreigners with work Z and student X in China or visit for other private affairs.
Transit (G)

It is issued to a foreign citizen who is to transit through China on his or her way to a third country(or region).

Talent (R)
It is issued to aliens who are high-level talents or whose skills are urgently needed in China.
Hong Kong SAR & Macao SAR Visa
1. Australia citizens are exempt from Hong Kong Visa if they go to Hong Kong for visit or sightseeing and they stay at Hong Kong for not more than 90 days.
2. Australia citizens are exempt from Macao Visa for up to 30 days.

Procedure for Application at CVASC

Visa Fees
2023 Holiday Schedule of the CVASC in Canberra
| Festival | Date | Day |
| --- | --- | --- |
| New Year's Day | January 2 | Monday |
| Chinese New Year | January 23 - 25 | Monday - Wednesday |
| Australia Day | January 26 | Thursday |
| Canberra Day | March 13 | Monday |
| Easter Day | April 7, April 10 | Friday, Monday |
| Anazc Day | April 25 | Tuesday |
| International Labor Day | May 1 | Monday |
| Queen's Birthday | June 12 | Monday |
| Mid-Autumn Day | September 29 | Friday |
| Chinese National Day | October 2 - 4 | Monday - Wednesday |
| Christmas Day | December 25 - 26 | Monday - Tuesday |

Please contact
Embassy of Australia in China
if Australians are in troubles there.

Recommended tours:
China Tours from Australia
China Tour from Sydney
China Tour from Brisbane
China Tour from Melbourne
China Tour from Canberra
China Tour from Perth

Other Chinese Embassies in Oceania:
Suva, Fiji
,
Kiribati
,
Micronesia
,
New Zealand
- Last updated on Aug. 02, 2023 by Brenda Lian -
Questions & Answers on Chinese Embassy in Australia
Asked by Alex MICATI from AUSTRALIA | Aug. 01, 2023 22:07

Reply
I just wish to acquire a visa to china.
I wish to get a visa to go to China. I am assuming i need to go to the consulate in sydney but what documentation do i need prior to attending? I will be staying with a friend so do I need them to supply me with some form of documentation that i will be staying with them and not a hotel? I cannot book flights until i know i will be given a visa and i am unsure what length of time i can stay for a visit? For example, can a visa last 12 months with multiple entries so i could go for maybe 1-2 months and then 6 months later go again for another 1-2 months with the same visa if it has not expired? Thank you for this consideration and assistance
Answers (1)
Answered by William | Aug. 02, 2023 19:10

0

0

Reply
There are many types of China visas for different purposes of coming here. I assume you come here for traveling, then an L type tourist visa is suitable for you.

If you plan to stay at a friends' instead of a hotel, then you need to submit the invitation letter from that friend. Other documents include passport, application form (you need to fill in it online, print it out and sign it), passport photo. The flight ticket is not required if you have an invitation letter. BTW, you need to make an appointment before going there in person to lodge the submission.

You can apply for a multiple-entry visa valid for a year.
Asked by Nick from AUSTRALIA | Jul. 15, 2023 02:09

Reply
Applying for tourism visa from Darwin
A resident of Darwin wanting to get tourism visa to China.

Looks like no Postal service for visa applies.

Is the only option coming to ACT consulate?
Or can I go to nearest consulate (Adelaide)
Cheers.
Answers (1)
Answered by Andrew | Jul. 17, 2023 01:29

0

0

Reply
You need to go to the Chinese Visa Application center in Adelaide.
Asked by Lu Zhou from AUSTRALIA | Mar. 06, 2023 00:38

Reply
I got a Q2 visa valid until 27 of March 2024. Is it still valid for travelling to China?
Hello,
I hearsay that the Visa before the COVID-19 no longer valid to be use. My Q2 Visa expired on 27th of March 2024 and wonder if I can still use it to travel to Guangzhou before March 2024. Do I need to apply for a new Visa?
Answers (1)
Answered by Mark | Mar. 07, 2023 18:16

0

0

Reply
Yes, the visa before covid is still invalid. If it turns valid some day before it expires, you can use it. Otherwise, you need a new one.
Asked by Lilian from AUSTRALIA | May. 25, 2022 20:03

Reply
Passport Renewal
Hi, I need to renew my Chinese passport and I'm wondering do I need to do the renewal process in person? Or can I have someone else do it for me?
Also what are the requirements for passport renewal? Mine has been expired since 2020 due to covid.

I have tried calling the Chinese Embassy in Canberra but it always gets disconnected. Thanks.
Answers (1)
Answered by Leo | May. 29, 2022 23:47

0

0

Reply
You need to make a reservation on the official website at first: ppt.mfa.gov.cn/appo/index.html
Asked by graham hogg from AUSTRALIA | May. 24, 2021 17:58

Reply
my wife is Chinese, we live in Darwin, Nothern Territory, her passport expires in December 2021,
how does she renew it and how much does it cost
Answers (1)
Answered by Leo | May. 25, 2021 02:27

0

0

Reply
She could make an appoinment at ppt.mfa.gov.cn/appo/index.html to renew her passport.