China Tourist Visa (L)
Most travelers to China are required to get a China tourist visa, L visa for short, which allows them to travel freely in most parts of China as tourists, assuming that they do not qualify under the visa-free policies of China. Passports, application form, and documents showing the itinerary or an invitation letter from China are the essential application documents.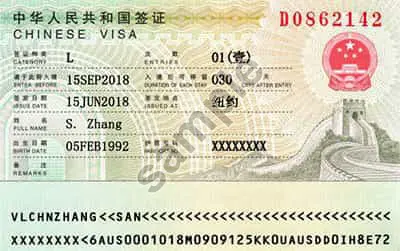 Sample of China Tourist Visa
In most cases, a tourist can get a single entry L visa with a stay duration of 30 days. UK, US, Canadian, and Argentine citizens are able to get a 10-year China tourist visa with multiple entries.

If travelling with an organized tour group, you might not have an individual visa in your passport. Instead, the tour group will be issued a group tour visa bearing all the members' names. In such situations supply your details to the travel agency beforehand and you will have no further concerns.

If travelling independently, you need to handle visa affairs on your own. The process is not complicated if you follow the guidelines below.

China Tourist Visa Requirements & Documents
1. Passport
- Your passport with at least 6 months remaining validity and available blank pages, and a photocopy of passport's data page.

2. Application Form
- One accurately completed China Tourist Visa Application Form. Please fill in every column of the application form, using "N/A" if not applicable. If the application form is not filled out truthfully, completely and legibly, there could be a delay in processing or refusal of the application.

3. Recent Photo
- A recent passport-size color photo with white background attached to the application form.

4. Round-trip Tickets Plus Hotel Bookings or Invitation Letter from China
- Documents showing the itinerary including proof of round trip tickets booking and proof of hotel reservation.
- Or, if you are being invited to China, you can submit an invitation letter issued by the inviter, whether it's an entity or individual, with following information:
a. Information on the applicant, including full name, gender, and date of birth.
b. Information on the planned visit, including arrival and departure dates, place(s) of visit.
c. Information on the inviter, including name, contact number, address, official stamp, and signature of the legal representative of the entity or the inviting individual.

5. Other Supporting Documents
a. For those not applying in their country of citizenship, a proof of legal stay or residence status is required.
b. In some cases, applicants may need to submit a certification letter from the employer of the applicant with details as follows: name and contact number of the employer, the applicant's income statement, or original copy of recent 6-month bank statement of the applicant.
c. Applicants who intend to travel to Tibet must obtain a Tibet Travel Permit, which can be obtained from Tourism Bureau of Tibet Autonomous Region by travel agencies.

China Tourist Visa Requirements
How to Get a Chinese Tourist Visa
With all the required documents at hand, you can go to Chinese embassies, consulates, Chinese diplomatic missions, or a Chinese Visa Application Center (CVASC) if there are any in your country to submit the application in person. If you can't go personally, you can entrust someone else,such as a travel agency or a visa agency to act on your behalf. An appointment is not mandatory. Applications by mails are not accepted and will be refused at most Chinese embassies or consulates. In countries with CVASCs, applicants may be able to apply by post, or submit applications based on an online appointment via the website of CVASC.

Processing Time
It normally takes 4 working days for processing a China travel visa. For express service, an additional fee of USD 20 will be charged for two or three working day service. For rush service, an additional fee of USD30 will be charged for same-day service.

Chinese Tourist Visa Cost
The visa costs vary depending on your nationality and number of entries. However, according to the Visa Fee Abolition Agreement, the nationals of following several countries can get a visa for free, but must pay for express service, rush service or mail service: Pakistan, Maldives, Bulgaria, Bosnia-Herzegovina, Slovakia and Micronesia. For major countries, the fee is listed below.
| China Travel Visa Types | US Citizens | Canadian Citizens | UK Citizens | Australian Citizens |
| --- | --- | --- | --- | --- |
| Single Entry | USD 140 | CAD 142 | GBP 151 | AUD 109.5 |
| Double Entries | USD 140 | CAD 142 | GBP 151 | AUD 139.5 |
| Multi Entries for 6 Months | USD 140 | CAD 142 | GBP 151 | AUD 169.5 |
| Multi Entries for 12 Months or Longer | USD 140 | CAD 142 | GBP 151 | AUD 229.5 |
Click on
China Visa Fees
for more information.
China Tourist Visa Extension
If you need to stay in China past the allowed stay duration on your visitor visa, you can apply for an extension at the local Exit and Entry Administration of China seven days before your L visa expires. Your passport, a visa application form with your recent color photo attached, a registration of temporary residence, and your travel itinerary will be required for submission. If your application is approved, you can get an extended stay not exceeding the original stay duration on your visa.
Recommended Tour Packages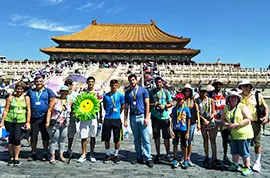 8 Days Beijing – Xi'an – Shanghai from $1079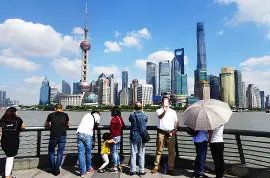 11 Days Beijing – Xi'an – Guilin – Shanghai from $2149
Further Reading:
8 Tips for Filling Out Chinese Visa Application Form
Top 10 China Destinations for First Time Travelers
Top 8 Reasons Why Your China Visa Gets Rejected
- Last modified on Nov. 18, 2019 -
Questions & Answers on China Tourist Visa
Asked by Alex from UNITED KINGDOM | Nov. 19, 2019 09:46

Reply
Length of visa
Hello - I am planning on visiting China in May but I am spending December-May in Japan. I wish to travel directly from Japan to China. I understand that I need to be in the UK to obtain my visa, so this must be done in the coming weeks.

I am concerned that my visa will expire before May? Is there a way around this, can I obtain a longer visa for 6 months? What would you recommend?
Asked by YOGESH RAVAL from INDIA | Nov. 19, 2019 05:31

Reply
Chinese business/tourist visa passport size photo details requirements
China visa tourist business passport size photo details requirements
Asked by juliana nura from UNITED KINGDOM | Nov. 19, 2019 01:39

Reply
Juliana From Finland
hi, i have Finnish passport but living in london and lm visiting Beijing only for 12 hour before my flight leaves to Sydney. do i need a china tourist visa?

thank you
Asked by GH from GERMANY | Nov. 18, 2019 00:09

Reply
Restrictions for Tourist L visa?
Hi - I'm an American with a 10 year Tourist L visa. Are there any restrictions for using this visa?

I am taking the following flight from Berlin to New Zealand: Berlin — Beijing — Shenzhen — Auckland.

Am I allowed to use my L visa to transit through China, even though I'm not coming from the US and it's not a round trip ticket.

Or would I need to apply for a special transit visa?

Thank you,
GH
Answers (2)
Answered by GH from GERMANY | Nov. 18, 2019 00:11

0

0

Reply
I should also add that these connections are all within 24 hours. However, Shenzhen doesn't have the 24 exemption
Answered by Andrew from CANADA | Nov. 18, 2019 00:13

0

0

Reply
You can use your visa.
Asked by Michael from VIETNAM | Nov. 16, 2019 18:10

Reply
I need a tourist visa for 3 days. I'm British living in Vietnam
How would apply for this visa.
Answers (1)
Answered by Doris from UNITED KINGDOM | Nov. 18, 2019 18:12

0

0

Reply
Michael, actually, if you only plan to have a short tour in China, you can try to arrange your flight route to make it qualified for 144h visa-free transit so you don't need a visa. If you indeed need a visa, you can apply for it at the Chinese embassy in Vietnam by submitting your passport, application form, photo, residence visa in Vietnam and round-trip tickets and hotel bookings.