Tibet Travel Tips
This chapter provides full information for the visitors including the planning of Tibet trips, practical information and some travel tips. Through them, hope you can have a good preparation.
Travel Documents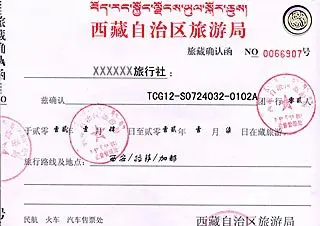 Tibet Entry Permit (click to enlarge)
Considering the special ethnic traditions, the cultural relics, the environmental protection and the transportation capacity of Tibet, Chinese Government regulates that non-Chinese citizens, including foreign visitors, Taiwan visitors and overseas Chinese must have a Tibet Travel Permit as well as a valid passport and a visa (Visitors from countries having visa exemption agreement with Hong Kong do not need a visa) to visit Tibet. A visa can be obtained from the local Chinese consulate in your country. However, the foreign journalists and diplomats are not allowed to go to the region as a visitor.
Further Reading:

China Embassies Abroad

Foreign Embassies and Consulates in China

Who has to carry a Tibet Travel Permit?
1. The Taiwan visitors, who do not have the valid identity card of China
2. Non-Chinese passport holders
3. The overseas Chinese, who do not have Chinese passport
Note: The Hong Kong and Macau citizens who hold SAR passport, Home-Visiting Certificate or Permit to Traveling to and from Hong Kong and Macau do not need a Tibet Travel Permit.
Since the government encourages group tours to Tibet, the permit is issued only to tour groups traveling with a Chinese tour operator. The permit is issued for free by Tibet Tourism Bureau. Your travel agency will represent you to facilitate the application process.
For those overseas visitors want to go to the region as an individual, the administrative offices of Tibet Tourism Bureau in Beijing, Shanghai, Chengdu (in Sichuan) and Golmud (in Qinghai) will answer for the related affairs.

Tibet Tourism Bureau
Tel: 0086-891-6835472/ 6834315
E-mail: webmaster@xzta.gov.cn
Address: No.3 Norbulingka Road, Lhasa

Information on the administrative offices of Tibet Tourism Bureau:
1. Chengdu Office
Tel: 028-8555171
Address: No.3 Wuhou Hengjie, Chengdu
2. Xian Office
Address: Qomolangma Hotel, No.333 Youyi Dong Lu, Xian
3. Shanghai Office
Tel: 021-62578447; 021-62572413
Address: 1/F, No.350 Wuning Lu, Putuo District, Shanghai
4. Golmud Office Tel: 0979-8483286; 0979-8483532
Address: No.11 Yanqiao Zhong Lu, Golmud
5. Zhongdian Office
Tel: 0887-8229028; 0887-8227892
Address: Room 2206, Xiangbala Hotel, Shangri-La, Yunnan
Related Link: Faqs on Tibet Travel Permit
Etiquette & Taboo
Proper Etiquette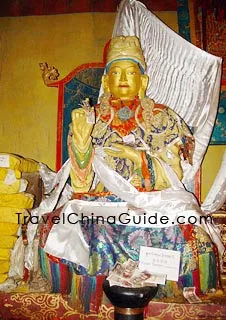 Presenting a Hada to a Statue
Presenting Hada (or Khatag) is traditional practice of respect and hospitality in Tibet, and will be appreciated by your host. If you are presenting a Hada to a statue or a high lama, raise the Hada above your shoulder and bow. When you receive a Hada, it is proper to accept with both your hands.
Always add a "La" after one's name to show your respect, for example Tashi La. Address a high lama with "Rinpoche" and a common lama with Geshe La, even though he might not be a Geshe.
There are some common rules to remember if you plan to visit a monastery. Always walk clockwise around the religious shrines, stupas, Mani stones and prayer wheels. However, if you visit a Bon monastery, then walk counterclockwise! Although the monks remove their shoes upon entering a chamber, it is acceptable to enter a chamber without removing your shoes. Coming inside during the chanting session is permissible. Sit or stand in the rear, with no loud and irreverent conversation! Also, it is considered proper etiquette to offer some money or butter fuel while visiting a monastery.
The following are considered taboo:
Smoking, consuming alcohol or making unnecessary noise in a monastery.
Touching, walking over or sitting on any religious texts, objects or prayer flags in a monastery.
Causing anything to be killed in a monastery.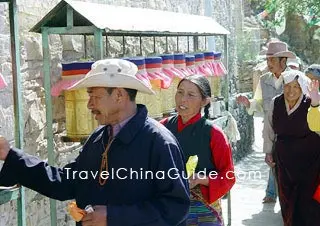 Walk Clockwise around the Prayer Wheels
Intrusive photography of a monastery especially when people are performing religious ceremonies. Always ask for permission.
Harming vultures, or yaks and sheep wearing red, yellow or green cloth.
Stepping on the threshold when entering a Tibetan house.
Spitting before somebody.
Placing trash in the fire.
Public displays of affection.
Wearing shorts.