Tibet Travel Tips
This chapter provides full information for the visitors including the planning of Tibet trips, practical information and some travel tips. Through them, hope you can have a good preparation.
Travel Documents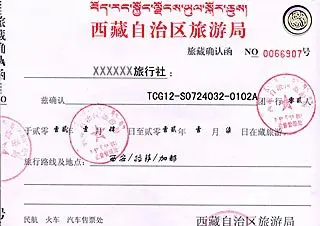 Tibet Entry Permit (click to enlarge)
Considering the special ethnic traditions, the cultural relics, the environmental protection and the transportation capacity of Tibet, Chinese Government regulates that non-Chinese citizens, including foreign visitors, Taiwan visitors and overseas Chinese must have a Tibet Travel Permit as well as a valid passport and a visa (Visitors from countries having visa exemption agreement with Hong Kong do not need a visa) to visit Tibet. A visa can be obtained from the local Chinese consulate in your country. However, the foreign journalists and diplomats are not allowed to go to the region as a visitor.
Further Reading:

China Embassies Abroad

Foreign Embassies and Consulates in China

Who has to carry a Tibet Travel Permit?
1. The Taiwan visitors, who do not have the valid identity card of China
2. Non-Chinese passport holders
3. The overseas Chinese, who do not have Chinese passport
Note: The Hong Kong and Macau citizens who hold SAR passport, Home-Visiting Certificate or Permit to Traveling to and from Hong Kong and Macau do not need a Tibet Travel Permit.
Since the government encourages group tours to Tibet, the permit is issued only to tour groups traveling with a Chinese tour operator. The permit is issued for free by Tibet Tourism Bureau. Your travel agency will represent you to facilitate the application process.
For those overseas visitors want to go to the region as an individual, the administrative offices of Tibet Tourism Bureau in Beijing, Shanghai, Chengdu (in Sichuan) and Golmud (in Qinghai) will answer for the related affairs.

Tibet Tourism Bureau
Tel: 0086-891-6835472/ 6834315
E-mail: webmaster@xzta.gov.cn
Address: No.3 Norbulingka Road, Lhasa

Information on the administrative offices of Tibet Tourism Bureau:
1. Chengdu Office
Tel: 028-8555171
Address: No.3 Wuhou Hengjie, Chengdu
2. Xi'an Office
Address: Qomolangma Hotel, No.333 Youyi Dong Lu, Xi'an
3. Shanghai Office
Tel: 021-62578447; 021-62572413
Address: 1/F, No.350 Wuning Lu, Putuo District, Shanghai
4. Golmud Office Tel: 0979-8483286; 0979-8483532
Address: No.11 Yanqiao Zhong Lu, Golmud
5. Zhongdian Office
Tel: 0887-8229028; 0887-8227892
Address: Room 2206, Xiangbala Hotel, Shangri-La, Yunnan
Related Link: Faqs on Tibet Travel Permit

Etiquette & Taboo
Proper Etiquette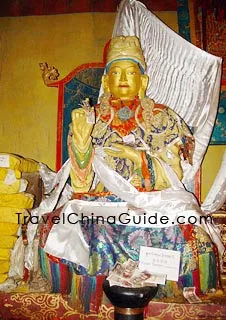 Presenting a Hada to a Statue
Presenting Hada (or Khatag) is traditional practice of respect and hospitality in Tibet, and will be appreciated by your host. If you are presenting a Hada to a statue or a high lama, raise the Hada above your shoulder and bow. When you receive a Hada, it is proper to accept with both your hands.
Always add a "La" after one's name to show your respect, for example Tashi La. Address a high lama with "Rinpoche" and a common lama with Geshe La, even though he might not be a Geshe.
There are some common rules to remember if you plan to visit a monastery. Always walk clockwise around the religious shrines, stupas, Mani stones and prayer wheels. However, if you visit a Bon monastery, then walk counterclockwise! Although the monks remove their shoes upon entering a chamber, it is acceptable to enter a chamber without removing your shoes. Coming inside during the chanting session is permissible. Sit or stand in the rear, with no loud and irreverent conversation! Also, it is considered proper etiquette to offer some money or butter fuel while visiting a monastery.
The following are considered taboo:
Smoking, consuming alcohol or making unnecessary noise in a monastery.
Touching, walking over or sitting on any religious texts, objects or prayer flags in a monastery.
Causing anything to be killed in a monastery.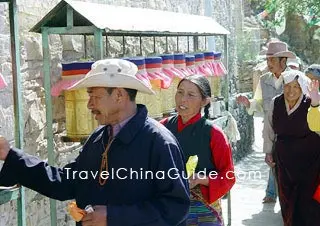 Walk Clockwise around the Prayer Wheels
Intrusive photography of a monastery especially when people are performing religious ceremonies. Always ask for permission.
Harming vultures, or yaks and sheep wearing red, yellow or green cloth.
Stepping on the threshold when entering a Tibetan house.
Spitting before somebody.
Placing trash in the fire.
Public displays of affection.
Wearing shorts.

Recommended Tours:

12-Day China & Holy Tibet from

$2672

7 Days Private Tour of Lhasa - Gyangtse - Shigatse - Lhasa from

$1089
- Last updated on Apr. 28, 2023 by Catherine He -
Questions & Answers on Tibet Travel Tips
Asked by Jan from BELGIUM | Jan. 08, 2018 04:33

Reply
Changing a student X2 - to a tourist visa
Hi, I am a Belgian student in Shanghai. My time in China is comming to an end and to finish my studies in beauty my girlfriend and I would like to go to Tibet. My girlfriend will be in China the 30th of January and we would like to travel till February 14.
However, my student x2 visa will expire the 31 of january. Can I extend my Visa or is it possible for me to get a tourist visa here in Shanghai ?
Kind regards, Jan
Answers (4)
Answered by Lisa from USA | Jan. 08, 2018 23:44

0

0

Reply
Hi, it is possible for you to convert the student X type to the tourist L type at the exit and entry administration of the local PSB within China. You need to do it 7 days prior to the student X2's expiry date. Just give it a try.
Answered by Jan from BELGIUM | Jan. 10, 2018 10:41

0

0

Reply
Thanks four youre reply. Actually, it was an extended x2 visa. I had to go back home and my x2 did not allow that. So they gave my another entry and that says valid till jan 31 and 90 days untill the next entry. I entered the country again on November 16. The students office said 11/16 + 90 days makes 02/14 so I should be able to stay untill February 14. Is this true ?
Kind regards,
Jan
Answered by Lisa | Jan. 10, 2018 19:29

0

0

Reply
Jan, if your current visa allowes you to stay in mianland China for up to 90 days after the entry date on 11/16, and you were told so by the office, you can stay untill February 14 then. Don't worry.
Answered by Jan from BELGIUM | Jan. 11, 2018 01:51

0

0

Reply
Ok thank you so much for the info. Have a nice day
Asked by Sharon Daly from SCOTLAND | Mar. 06, 2016 06:30

Reply
Flying from Mongolia to Tibet
Hi, I will be travelling to Mongolia for a month then had hoped to go onto TB region direct flight if possible, however my research on visas/flights ect leads me here and other websites which definitely rule out such an option ? Any advice ? Should i fly Mongolia to China, seek Chinese visa (I am a UK citizen ) and then tourist permit and join group tour as the only way ? and if so which airport would i be best to fly direct to in your country to make this easiest ? Many thanks for any advise , Sharon D.
Answers (2)
Answered by Stilwell from CANADA | Mar. 06, 2016 20:38

0

0

Reply
Hi, Sharon. You need to get both the visa and permit before you leave for CN. As you said, foreign visitors going TB alone is not working, you have to join a group tour of qualified travel agencies and they will help you get the permit as well as send you an invitation letter for visa application.There is no direct flight from Mongolia to TB. You can transfer at Beijing airport in between.
Speaking of travel agency, I suggest you to contact with TravelChinaGuide. I have dreamt of visiting TB for a long time and this dream was achieved last year. I joined a group tour arranged by TCG and they helped me greatly. I still have their email address. You can contact travel

travelchinaguide.com to know more.
May help!
Answered by Sharon daly from UK | Mar. 07, 2016 14:29

0

0

Reply
Thank you so much,I will take your advise,thanks 😁
Asked by Tibor from HUNGARY | Feb. 08, 2016 15:11

Reply
traveling alone to Lhasa by train ?
We (4 people) are considering a travel to Tibet.
As far as I understand foreigners are not allowed to move in the region without guide, except the city Lhasa.
My question is, if it is allowed for foreigners to travel alone (without guide) from Golmud to Lhasa by train and spend a few days there ? (For the following part of the trip we would book an organized trip to Shigatse, Mount Everest base camp, Gyantse and back to Lhasa)
Thanks
Tibor from Hungary

Answers (2)
Answered by Kitty from FINLAND | Feb. 14, 2016 02:59

1

1

Reply
Hi, Tibor! I'm afraid it is not allowed. Foreign visitors need to get the Tibet Travel Permit approved by local tourist bureau two weeks in advance. Usually they should join a tour for traveling around that region.
Answered by Kate from CHINA | Feb. 17, 2016 09:41

1

0

Reply
Depending when you are going, That region is closed to foreigners during the month of March and part of April
Asked by Singh from CHINA | Oct. 10, 2015 01:04

Reply
Is it travel to Mount Kailash and manas Sarovar travel possible through Tibet?
I have Chinese visa.
Answers (1)
Answered by Ian from POLAND | Oct. 10, 2015 21:10

0

0

Reply
Chinese visa isn't enough. You need to get a special travel permit. Meanwhile, foreigners are not allowed to travel there individually. So you should join a group tour arranged by qualified tour agency and ask the agency to handle the travel permit.
Asked by robert lever from UNITED KINGDOM | Aug. 25, 2015 08:57

Reply
Need for a Tibet Travel Permit
I am considering a visit to Tibit as an add on to visiting China. As I am a UK citizen am I correct in believing I do not need a visa for Hong Kong and so do not require one for Tibet ?
From previous q/a's is access now available and if so is joining an organised trip still essential
REgards Robert
Answers (1)
Answered by Dick from INDONESIA | Aug. 26, 2015 21:42

1

0

Reply
Robert, you need to apply a visa for Chinese mainland and the Tibet Travel Permit. However, it's too difficult for you to apply the travel permit. And foreigners are not allowed to go there alone. You need to join a group tour arranged by travel agencies. They help you with he travel permit issue.