Weather and What to Pack for a Tibet Travel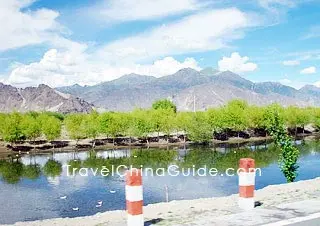 Best time to visit Tibet -

April to October
Undoubtedly, Tibet is one of the harshest places for human existence. Weather there is cool in summer, but excruciatingly cold in winter. In Lhasa, the relatively humane city of the region, although the temperature may exceed 29 degrees C (84 degrees F) in summer, it can also plummet to minus 16 degrees C (3 degrees F) in winter! Solar radiation is extremely strong. The sunlight in Lhasa is so intense that the city is called Sunlight City. The thin air can neither radiate nor absorb heat, resulting in temperature extremes during both day and night. However it is not impossible to visit the holy snow land. The period from April to October is the
best time to visit Tibet
, avoiding the coldest months from December to February.
In northern Tibet, the climate is not favorable with the average temperature is subzero and winter lasts from October through May or June. July and August are the best time to visit the area, enjoying warm temperatures, intense sunshine, beautiful scenery, and festive events.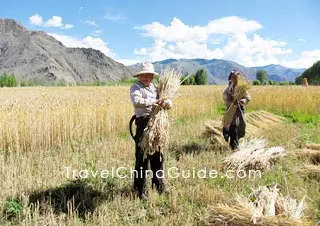 Tibet Climate
In eastern Tibet, May, June and September are the height of the tourism season. In winter, roads are all blocked by heavy snow. Landslides are frequent occurrences, making travel difficult.
Although southern Tibet is balmy during May through October, most rainfall also comes during this season between June and September. Heavy rains during the nights block roads and make travel difficult. However, during this season, the scenery is at its best and there are also great festive events held. Hence, it is the preferred time to visit Lhasa, Shigatse, and Nyingchi. From November through May, strong winds are common occurrences.

Further Reading: Lhasa Weather Shigatse Weather


Related Tour Itinerary Information: Tibet Tours, Hiking Adventure
What to pack
Deciding what to pack is not always easy, but do try to remember this principle: Pack the minimum!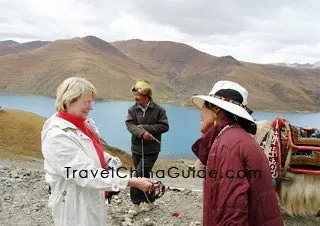 Warm clothing is a must for Tibet visit
The type of clothing you bring depends on which parts of Tibet you are going to visit. Casual attire is recommended. Warm clothing is a must to ensure a comfortable tour. You can count on experiencing the sudden onset of foul weather as well as temperature extremes while you are there. Wearing several layers of clothing that can be easily added or removed is the wise choice since temperatures may vary greatly within a single day. A down coat is necessary for those who are traveling beyond Lhasa and Shigatse into more remote areas such as the Everest Camp. A windbreaker plus a sweater will work nicely for strolling around Lhasa in summer. During the peak tourism season, frequent rainfall makes waterproof clothing and raingear absolute necessities. Other essentials to pack include four or five pairs of cotton or woolen underwear, four or five pairs of woolen socks, long sleeve cotton or lightweight wool shirts and T-shirts. Women should avoid skirts or dresses. Comfortable, sturdy sneakers, walking shoes, or hiking boots are also recommended. Don't forget to bring along a warm hat as well as one or two pairs of warm mittens or gloves.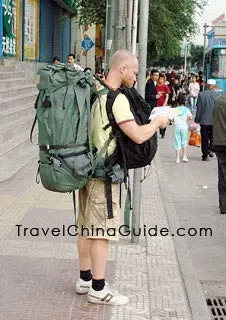 Medium backpack carried
by a foreign visitor
A large backpack is not a good choice unless you intend to trek to remote areas. A belt bag or alike should be brought along to keep important certificates and travel documents safely with you at all times. Miscellaneous items you may wish to bring along include maps of the areas that you plan on visiting; sufficient amount of money since ATMs are few in the more remote areas; all necessary toilet items including small packages of tissues and either a battery operated shaver or razor; plastic bags, a flashlight, extra batteries, sewing kit, lighter, and a pocket knife. Don't forget your camera and plenty of film. Good quality sunscreen or sun block, sunglasses and lip balm are essential to protect you from sunburn that can occur easily at these high elevations.
When visiting remote areas of the region it is a good idea to pack some food, snacks, and drinking water. It is not always easy to find food or drinkable water in these areas. Bring a sturdy padlock with you since some of the rooms in the hostels located in the more remote areas do not come equipped with locks on the doors. Candles may also be useful in these hostels.
It is a good idea to take a good quality multivitamin to supplement your diet since a supply of vegetables and fruits may not be readily available. A first aid kit including aspirin, antibiotics and AMS medication is highly recommended.
There is really a lot to remember but if you forget something many of these items are available in Lhasa.

Further Reading:
Tibet Travel Guide
Top 10 Things to Do in Tibet
- Last updated on Aug. 29, 2022 -
Questions & Answers on Weather, What to Pack and When Traveling to Tibet
Asked by ravi pradhan from THAILAND | May. 08, 2018 17:50

Reply
What is the weather and temperatures in Kham region in June (1-9)?
Answers (1)
Answered by Vincent from USA | May. 08, 2018 20:08

0

0

Reply
The Kham region temperature may range from 5 – 15C in these days when you travel there. You'd better take some winter clothes and an umbrella in order to keep warm.