Best Time to Visit Tibet
Tibet
, the highest region in the world, covers a very vast land. The best time to visit Tibet is from March to October in generally. Although it's somewhat cold in early spring in March and April, the blooming peach blossoms in Nyingchi will not let you down. In July and August, most regions in China are torrid, but Tibet is not for the high altitude, thus it becomes a popular summer resort. Mild and pleasant May, June, September and October are undoubtedly listed among the best months to visit Tibet. If you want to go to
Lhasa
, June to September is the best time. To
Mount Everest
, April to June and September to October are the best choices.
Peak Season: March to October
March to October is the peak season to visit Tibet, with pleasant weather and heavenly beautiful landscapes. Rather than the cold days, this period with pleasant weather will give you better travelling experience, and that's why most of the visitors go to Tibet during the time. However, the ticket prices of attractions, hotel prices, and the transportation costs will be higher than those in off season. In short, you will spend more money on your Tibet tours in the peak season.

Slack Season: November to February
November to February are too cold to go out in such a high place. Tibet winter has not only low temperature but also very strong winds. Moreover, you cannot visit most of outdoor attractions in the bitter and blowy weather. Therefore, this is the off season of Tibet tourism. But you would cost less on your tours to Tibet.
Times to Avoid Travel
Except for the cold winter, the holidays of Chinese National Day on the first 7 days of October should be avoided, for the traffic is busy all over China. The train tickets are hard to get, the hotels should also be booked in advance long before the holidays. What's more, other holidays bringing small travel peaks, such as Qingming Festival and Dragon Boat Festival, are not the best time to go to Tibet.

See More about Public Holidays in China
Travel to Tibet in the Four Seasons
Spring: March to May
It's windy, dry and a little cold in Tibet, thus keeping warm is of primary importance in spring. Furthermore, the tourists to Tibet are not so many in this season.
Average temperature: 3 – 17℃ (37 – 63℉)
Clothes: hoodies, sweaters, long-sleeved shirts, wind breakers, hiking shoes, sunglasses...

Recommended tour destinations: As it comes to March, Nyingchi along Yarlung Tsangpo River becomes the most beautiful place in Tibet, as peach blossoms are in full bloom here and there, making you feel like in the warm southern China. The annual Peach Blossom Festival is also an interesting activity in Nyingchi. Ranwu Lake in Chamdo, Namtso Lake and Yamdrok Lake are also scenic spots to visit in spring.
Summer: June to August – BEST Time to Visit Tibet
Warm summer is the best season to travel to Tibet. Most of the rains of the year fall in this season, too; but it does not rain continuously to influence the travel. It's pleasant season with the most tourists in Tibet, so it's necessary to book tickets of attractions beforehand. Pay attention to protect your skin from sun radiation.
Average temperature: 20 – 25℃ (70 – 77℉)
Clothes: T-shirts, short sleeves, thin overcoat, jeans, sun-proof clothes, sneakers, sunglasses…

Recommended tour destinations: The most of Tibet attractions, regardless of cultural & historical sites or natural sceneries, can be visited in summer, thus the season becomes the best time to go to Tibet. Potala Palace, Jokhang Temple, Barkhor Street, etc. are full of people; Namtso Lake, Yarlung Tsangpo Grand Canyon, Pagsum Lake, Mt. Namcha Barwa, etc. are the top scenic spots as the summer destinations. Besides, Midui Glacier, Laigu Glacier, and more glaciers in Tibet are popular in summer, too.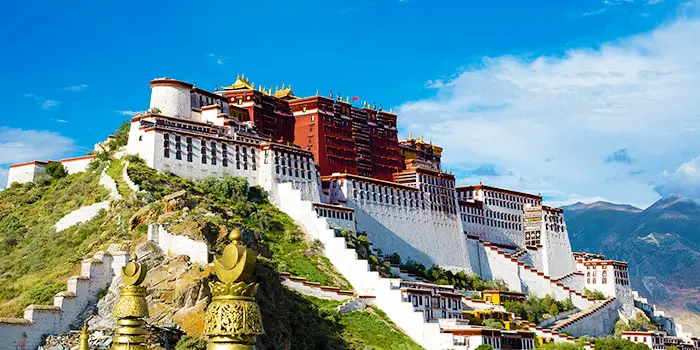 Autumn: September to October
The rain decreases in autumn, and the weather becomes dry, thus preserve moisture of your skin. It's, in Tibet, best time to visit for hiking tours, because the weather is cool with colorful autumn landscapes.
Average temperature: 4 – 18℃ (39 – 64℉)
Clothes: thick jacket, wind-breakers, sweaters, thick pants, sunglasses…

Recommended tour destinations: Autumn is the best season to go hiking in Tibet, and the most popular hiking destinations include Yarlung Tsangpo Grand Canyon, Mount Everest, etc. Meadows in Ngari, Lhasa River, Ranwu Lake, Mount Kailash, Niyang River Basin, and so on are also worth visiting.
Winter: November to February
It is NOT the best time to visit Tibet in winter, for the snow covers some areas and even blocks the road. It's cold and dry but with the least tourists and cheapest costs.
Average temperature: -7 – 10℃ (19 – 50℉)
Clothes: thick sweaters, down coats, down jackets, scarves, gloves, long boots…

Recommended tour destinations: Mountains are absolutely magnificent with good visibility in winter in Tibet. So you may enjoy the beauty of these snow mountains at a distance, but don't climb any mountain in the season. To visit Tibet in winter, the historical attractions are the first choice, like Potala Palace and Norbulingka in Lhasa. Staying in Lhasa to experience the Tibetan New Year is also unique and unforgettable thing to do.
- Last updated on May. 10, 2023 by Brenda Lian -