Mount Kailash
Mount Kailash, located in the southwest of Ngari, Tibet and to the north of
Lake Manasarova
, is the second highest peak in the massive Gangdise Mountains with an altitude of 6,656 meters (21,837 feet). Shaped like a pyramid with a snow-caped round peak, it's one of the top ten most beautiful and thrilling mountains in China.
Mount Kailash is considered as the sacred mountain by many religionists. Hindus believe it is the residence of Shiva and the center of the world; Tibetan Buddhists think it represents endless happiness; Jains take it as the place where their ancestor was enlightened; Bons also believe it's the center of the universe. For centuries, Mount Kailash is the dreamland of pilgrims and adventurers and many of them come to circumambulate the mountain for good luck. However, in history, nobody dares to climb this holy mountain and no religionists allow this.


Altitude: 6,656 meters (21,837 feet)

Location: In southwest of Ngari, Tibet and to the north of Lake Manasarova

Shape: Pyramid with a round top

Distance for a Circle: 52 kilometers (32 miles)

Average Time for a Circle: 2 - 3 days
A Pyramid-like High Mountain
Mount Kailash is in quadrilateral symmetry, like a pyramid. But its top is round and covered by snow all year round. Clouds and mist also gather around the mountain peak frequently, adding mysterious beauty. The mountain cultivates over 250 glaciers, making it origin of many long rivers in China and nearby countries, including Ganges River and Indus in India and Yarlung Zangbo in China.

Why is Mount Kailash Sacred?
Mount Kailash is not the highest peak in the area, but only its top, which is covered by snow all year round, shines mysteriously under the sun. On its southern side, there is the Buddhist symbol Swastika "卐", which represents the eternal power of Buddha. It was naturally formed by a vertical glacial valley and a horizontal rock formation. Another Mount Kailash mystery is that its sunward side is covered by snow all year round while the side backward the sun is right the opposite. Even if covered by snow, it will recover once the sun shines.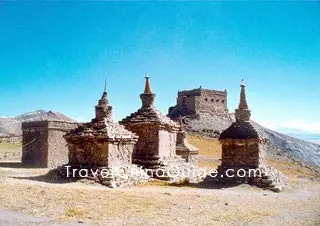 Pagodas around Mount Kailash
Mount Kailash Pilgrimage Route
The circumambulating route is about 52 kilometers and there are eight temples along it, where pilgrims and trekkers can have a short break and get some food and water. It takes two to three days to complete one circle.

Day 1: about 20 kilometers (12.4 miles) and 7 hours
Darchen → 5 kilometers (3 miles) westward → Entrance for Mount Kailash yatra → 6 kilometers (3.7 miles) → QuguGompa → 7 kilometers (4.3 miles) → Rest Point → 2 kilometers (1.2 miles) → Drirupuk

Day 2: about 24 kilometers (15 miles) and 8 hours
Drirupuk → 3 kilometers (2 miles) → Burial Sites → 2 kilometers (1.2 miles) → Mani Stone at Mt. Drolma-la Entrance → 10 kilometers (6.2 miles) → Rest Point → 9 kilometers (5.6 miles) → Zutrulpuk

Day 3: about 9 kilometers (5.6 miles) and 5 hours:
Zutrulpuk → 6 kilometers (3.7 miles) → Exit for Mount Kailash trek → 3 kilometers (1.9 miles) → Darchen
Tips to Circumambulate Mount Kailash:
1.
The best time to do the trek is from May to late June because the weather in these two months are most pleasant in a year.
2. Drirupuk and Zutrulpuk along the way offer accommodation.
3.
Bring warm clothes, food and basic medicines. If you are going there in peak season from May to June, bring a tent and sleeping bag, too, as no beds may be left in the indoor temples.
4. The water of the river along the way is cool and pure, you can take a water purifying tablets to drink the river water.

How to Get to Mount Kailash
You can arrive in Lhasa by train or air first, and then change to a long-distance bus from Lhasa to Seng-ge Kambab and get off midway at Darchen. The duration is about 20 hours. Or you can rent a car from Lhasa to Darchen at CNY 1,000-1,300.

As overseas tourists are not allowed to enter Tibet without the help of a tour agency. Visitors are advised to join a tour included the visit to Mount Kailash. This will make your trip much easier.
Admission Fee

CNY 150 for combo ticket with Lake Manasarova.
Free admission from Jan. 1 to Mar. 15 and Oct. 15 to Dec. 31, 2021.

You may like:
15 Spectacular Natural Wonders of China
- Last updated on Apr. 13, 2021 -
Questions & Answers on Mount Kailash
Asked by Optimist from USA | Jan. 19, 2019 16:59

Reply
I am looking forward to organize a trip for our small group of 6 to 10 members.
We want to see Lhasa area and do circumambulation of Mt.Kailas and visit manasarovar.

There are four people who are around 75 years and are in good shape.

What is the best time? Some of us travel from USA and some of us are traveling from India. We may need help with the visa.
Answers (1)
Answered by Tricia from FINLAND | Jan. 22, 2019 22:13

0

0

Reply
Generally speaking, June to September is the best time to tour around Tibet area. In addition, TravelChinaGuide.com can provide some information about the visa application. If interested, their contact information is travel

travelchinaguide.com.