Lake Manasarova
Lake Manasarova, meaning "Invincible Jasper Lake" in Tibetan, is located in Burang County, Ngari, Tibet and 30 kilometers (10 miles) southeast of
Mount Kailash
. With an altitude of 4,588 meters (15,049 feet), it is one of the highest freshwater lakes in the world and the clearest lake in China. It is also renowned as one of three holiest lakes in Tibet. Buddhists believed that the Mansarovar Lake is a treasure given by the Buddha and that can cleanse the filth of their skin and in their inner hearts, and prolong their lives. Therefore a lot of believers circumambulate the lake or bath in the lake.

Area: 412 square kilometers (101,800 acres)

Maximum depth: 77 meters (253 feet)

Best travel month: May and June

Opening hour: All day

Distance for a circle: About 90 kilometers (56 miles)

Average time for a circle on foot: about 4 - 5 days

Admission Fee: CNY150 for combo ticket with Mount Kailash

Free admission from Jan. 1 to Mar. 15 and Oct. 15 to Dec. 31, 2021.
There are many stories and mysteries behind Lake Mansarovar. The best-known Lake Mansarovar stories and mysteries are the below two. Recorded in ancient Tibetan literature works, there was a dragon palace in the lake collecting countless treasures. As long as the pilgrims could get a small fish, stone, a bird's feather or walk around the lake, they might live a rich and happy life. In Indian mythology, the Brahma the creator and his wife often bathed here so the lake became the holy lake.

Every summer or autumn, Buddhists at home and abroad come to the holy lake for pilgrimage. They circumambulate the lake for a circle so as to get immeasurable merits and profound knowledge, and get rid of vice and pain. They also take the water of the holy lake all the way home, as a precious gift to their relatives and friends. Most roads on the circumambulation route are close to the shoreline of the lake. There are sand beaches, gravels and swamps on the way and pilgrims also need to travel through several rivers in the southeast of the lake on foot. To complete a circle, it generally takes 4-5 days.

Manasarova Lake is the holy lake in the heart of Buddhists so they built eight temples in all directions of the lake. Only two temples are preserved well till now: Jiwu Temple on the west and Chugu Temple on the south. Jiwu Temple is the best position to take a panoramic view of Lake Manasarova. Chugu Temple is the biggest and suitable to take a ritualistic bath in every summer. These temples offer simple foods and rooms for pilgrims and travelers.

The Clearest Lake in China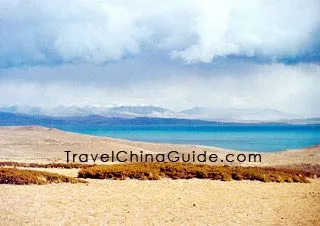 With a transparency of up to 14 meters (46 feet), Lake Manasarova is the clearest lake in China. The water is extremely clear that you can see fishes swimming below a dozen meters. The holy lake has different faces in different angles: dark blue in a distance, light blue or light green when getting closer. When standing by, one will see the snow mountains in the distance, like a pretty and graceful beauty wearing a white hada, is reflected in the clear lake like reflecting on a mirror. In different times of a day, the lake is also decorated differently: by blue sky and white clouds in the daytime which seems so close that can be touched with hands; by burning clouds of pink or orange in the evening.
How to Get to Lake Manasarova
There is no direct bus operated to Lake Manasarova. You can first get to Lhasa by train or air, and then there are some transfer ways from Lhasa to the lake.
1.
Rent a car with other tourists from Lhasa to Lake Manasarova, which may take about CNY1, 500 - 2,000 and 3 days at least. The fee is just for reference and you can make a bargain and settle the fare with the driver in person.
2. Take the long-distance bus at Lhasa Passenger Bus Station at northern suburbs to Ngari and get off midway at Jiwu Temple. It is about 24-hour ride and costs about CNY600 - 800.
3.
Get to Shiquanhe first from Lhasa by plane and then hire a car or hitch a ride to Lake Manasarova.

Overseas tourists are only allowed into Tibet through tour agency. This also helps you solve the traffic problem and make your trip much smoother.
- Last updated on Jul. 18, 2022 -
Questions & Answers on Lake Manasarova
Asked by PVK from CHINA | May. 19, 2021 22:32

Reply
we are going to Tibet in July 2021.
We are visting Lhasa in 2021. is visiting Lake MAnsarovr allowed for foreigners in Tibet now?

Answers (1)
Answered by Addison | May. 23, 2021 19:06

0

0

Reply
Well, I am not sure. You are suggested to consult the local people when you arriving there.
Asked by Udit from INDIA | Jun. 14, 2016 11:59

Reply
I want to know the most cheap and economical along with safe route to visit mount Kailash.
Answers (1)
Answered by Pola from AUSTRALIA | Jun. 15, 2016 04:22

0

0

Reply
Oh, foreigners are not allowed to enter Tibet alone. You must join in a tour agency and apply for the Tibet Travel Permit. As I know, TravelChinaGuide can provide such tour. You can ask help for them. If interested, the contact information is travel

travelchinaguide.com/tours

travelchinaguide.com.
Asked by Ricky from PHILIPPINES | Jun. 23, 2015 06:02

Reply
Sir how can we visit KAILASH PARVAT and MANSAROVAR from Philippines ..
Pls guide us
Answers (1)
Answered by Jenny from CANADA | Jun. 24, 2015 00:40

0

0

Reply
Well, you need to join in a tour agency first and then apply for the Tibet Travel Permit. With the permit, you will be allowed to enter that region.

For transportation, you should fly to Lhasa and transfer to another flight to Ali. There rent a car or van to your destinations.
Asked by R Pannir from SG | Feb. 17, 2015 04:22

Reply
Small mount Kailash
How long must be there to visit the small mount kailash
What is the overall cost will be
Lodging how good and safe it is

Answers (1)
Answered by Lisa from FINLAND | Feb. 24, 2015 19:48

1

1

Reply
Generally speaking, 2 – 3 days are needed to visit the mountain.
The cost depends on the expense level on your way, so it is hard to tell the approximate amount.

As I know, tourists to there usually spend their night in Gandise Hotel. Or you can stay at Dajin Hotel. Both of them are not expensive at all.