Ngari Attractions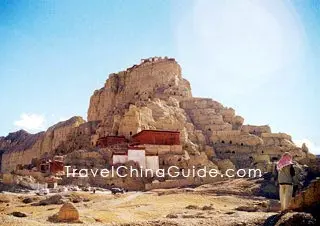 Ruins of Guge Kingdom
Ngari or Ali, lying at the westernmost part of Tibet, covers one fourth of the Tibetan Autonomous Region. With an average elevation of over 14,763 feet, Ngari is the highest part of the 'Roof of the World'. Someone says that the landscapes here are just like the extraterrestrial environment. Nevertheless, many attractions including
Mt. Kailash
and
Lake Manasarova
, the
Ruins of the Guge Kingdom
, the
Pangong Tso Lake
and the
Tholing Monastery
are worth traveling.
Pulan County
Located in the Pulan County of Ngari, the Mount Kailash is one of the main peaks of the Gangdese Mountains. Having an elevation of 22,050 feet, the top of the mount has been covered with snow for years. There are 28 modern glaciers, mainly cirque glaciers and hanging glacierson running along the mountain. Considered as a holy mount, Mount Kailash has been worshipped by people from home and abroad since one thousand years ago.
The Lake Manasarova is just 18.6 miles away to the southeast of the Mount Kailash. Being 15,052 feet high above sea-level, it is one of the highest fresh water lakes of the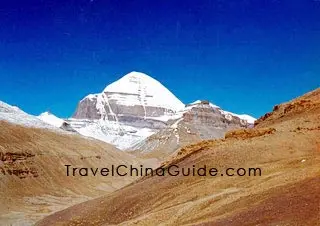 Mt. Kailash
world. Covering an area of over 154 square miles, the lake is about 266 feet deep at the deepest area. The legend says that there used to be numerous treasures lying on the lakebed.
Near the Lake Manasarova is the
Lake Raksastal
. Because of its variety of colors, it is also called the Ghost Lake. The scene there is so peaceful that it feels like the edge of the universe. In addition, there is a small temple named Kejia Temple situated in this county. Although it is small, the murals and Buddha figures inside the temple were preserved and worth viewing.
Historically, Pulan County of Ngari is an important trade port of the Tibetan Autonomous Region. Situated near India and Nepal, Pulan International Market is a cross-border market where Indian and Nepalese commodities such as fabric piece goods, perfumes and cosmetics trade.
Zhada County
There are mainly three attractions located in Zheda County, namely Ruins of Guge Kingdom, the Tholing Monastery and the Mound Forest. Having a history of 1,300 years, the Ruins of Guge Kingdom was actually the remains of the ancient Guge Kingdom which reigned between 10th and 17th Century. Constructed on the basis of an earth hill, it is more than 984 feet high consisting of palaces, temples, pagodas and caves.
| | |
| --- | --- |
| Lake Manasarova | Tholing Monastery |
The Tholing Monastery is situated in the northwestern parts of the county, near the Xiangquan River. Built by the Guge Kingdom during the Northern Song Dynasty (386-581), it was the first Buddhist temple in Ngari. Close to the Tholing Monastery is the Mound Forest, which showcases the unique naturally made mounds on both sides of the Xiangquan River.
Rutog County
The most well-known attraction in Rutog County can be the Pangong Tso Lake. It is really a peaceful world of the local birds. So visitors can not only savor the beautiful scenery there, but also can they watch the various birds living on the bird's islands; while the site of the Rutog Rock Mural lies to the northeast of the Pangong Tso Lake. The paintings on the wall inside the caves are mainly figures of Buddha and some ancient dancers.
- Last updated on Dec. 28, 2018 -