Lake Rakshastal
Lake Rakshastal is located in Burang County, Ngari, Tibet. It is known as the Demon Lake, because water being salty, is undrinkable for humans and animals, and there is almost no life present in this area. In the Tibetan language, Lake Rakshastal means "a poisonous dark lake".
Lake Rakshastal Facts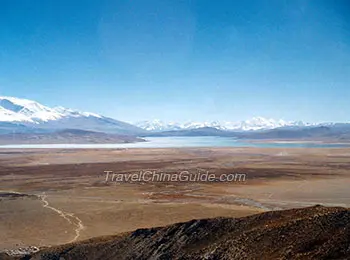 Nicknames: Demon Lake, Sister Lake of Lake Manasarovar, Poisonous Dark Lake


Elevation: 4,574 meters (15,007 ft) above sea level


Area: 268 square kilometers (103 sq mi)


Shape: crescent, which also indicates darkness in local mythology


Water Quality: salty

Lake Rakshastal Story
Lake Rakshastal currently lies to the west of Lake Manasarovar. In early times however, there was only one lake. Due to the land sinking, the lake divided into two: Lake Rakshastal and Lake Manasarovar. According to mythology, Lake Manasarovar, sun-shaped and filled with sweet water, symbolizes brightness while Lake Rakshastal, filled with salty water and crescent-shaped represents darkness.

In fairytales, the two lakes are often connected to each other at the bottom. If the water from Lake Manasarovar flows into Lake Rakshastal, so do the golden fish and blue fish. Consequently, Lake Rakshastal would be as sweet as Lake Manasarovar.

What to See around Lake Rakshastal
At the lake shore, visitors will be embraced by a beautiful blue lake, extending to the sky line. The lake often reflects the blue sky and white clouds, although the color of the lake varies from time to time due to the change of light and depth of the water. Together with the pebble beach resembling a silver white ribbon and dark red hills running along the lake shore, they form a splendid landscape painting with a strong contrast of colors.

There are also two islands on the lake: one is a Lajiaotuo, the other is named Tuobusema. It is also said that Buddhist monks used to cultivate themselves there.

Although the lake shore, surrounded by red soil, is not suitable for plants to grow, Euphorbia Flowers survive exuberantly between the sand and gravel. This particular species of plant is beautiful but is also considered quite poisonous nonetheless.

Best Site to Appreciate Lake Rakshastal
207 Province Road, from Bage Town to Burang County, is a core point heading to Burang County and is situated only one kilometer far from the lake. This road is the ultimate "sightseeing avenue" along Lake Rakshastal. Since few cars come down this road, it is usually convenient and safe for visitors to get off at any part of the road for some pictures.

How to Get to Lake Rakshastal
First take a train or plane to Lhasa, and then hire a car from Lhasa to Lake Rakshastal as public transportation is not well-developed and overseas visitors are not allowed to travel solo in this region. The distance from Lhasa to Lake Rakshastal is about 1,800 kilometers (1,120 miles) and it may take about CNY1, 500 - 2,000 and 3 days at least to travel.
- Last updated on Jul. 18, 2022 -