Tibet Odyssey from Shanghai
502: 15 Days Private Tour of Shanghai - Xian - Lhasa - Gyangtse - Shigatse - Dingri - Everest Base Camp - Shigatse - Lhasa - Beijing
Tour Type:
Private Tour, any part of the itinerary can be customized
Guide & Driver:
English-speaking guide, experienced driver with an air-conditioned vehicle
Highlights:
Must-see sights in China - Mutianyu Great Wall, Forbidden City, Terracotta Army.
Take in the impressive skyline of Shanghai as you cruise on Huangpu River.
Visit the Potala Palace - an important symbol of Tibetan culture and history.
Mt. Everest - the highest peak in the world is truly a breathtaking sight.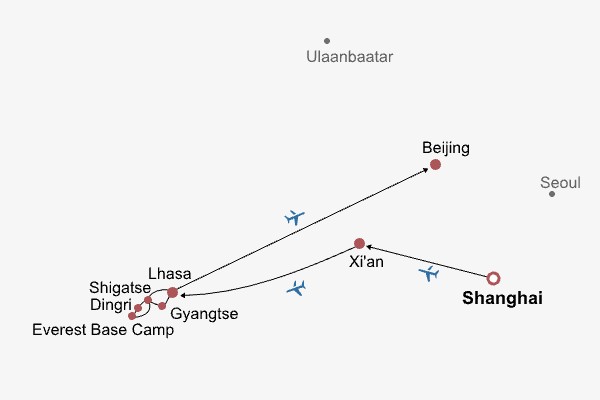 Day 1
Arrival in Shanghai
Welcome your arrival anytime at the airport and transfer to hotel.
This is a 2 weeks China tour from Shanghai, covering China's must-see destinations as well as the holy Tibet. Your guide will meet you outside Customs of Shanghai airport and transfer you to the hotel that we have carefully selected for you. The remaining time of the day is free for you to rest and get prepared for your thrilling trip.
Visit Shanghai Museum, Yu Garden and adjacent Yuyuan Bazaar; enjoy a la carte welcome lunch; cruise on Huangpu River and have a leisurely stroll on the Bund; then explore old cultural block of Tianzifang. (B+L)
Shanghai Bund
In the morning, you will first visit
Shanghai Museum
, a noted art gallery of the country which possesses about 120,000 pieces of cultural relics ranging from the Paleolithic Age to modern times. Here you can appreciate one of the most valuable bronze ding vessels, Da Ke Ding and numerous Chinese paintings, porcelain, sculptures, jade, and Chinese ancient silk. Afterward, we will head to the
Yuyuan Garden
, a representative of the classical Chinese gardens, where you will take in the most beautiful garden scenery composed of ancient pavilions, glittering pools, strange rockeries, and traditional buildings. Out of the garden, you will walk through a prosperous bazaar.
At noon, you will enjoy an a la carte lunch at a fancy and famous local restaurant, valued at CNY 150 per person and included in our price. With an elegant environment and excellent service, it offers authentic Shanghai and Cantonese cuisines and you can order dishes according to your tastes. Your guide would also offer some food suggestions.
Then we will head to the Bund to take a one-hour
cruise on the Huangpu River
to enjoy the essence of the city's urban landscape, like the impressive Western-style buildings on the west Bund, super high modern skyscrapers in the east and bridges crossing the river. Getting off the cruise, we will take a leisurely stroll along the waterfront
Bund
area to appreciate those spectacular colonial-era buildings up close. Finally, we will go to
Tianzifang
area, which is an entertainment complex composed of several alleyways. Here not only features many interesting shops, design studios, cool cafes, bars, souvenir stalls, and restaurants, but also a lot of Shanghai traditional residential houses. Wandering through the old alleys, you can soak up the young and creative atmosphere while seeing local people's life at the same time.
Meals: Western buffet breakfast, A la carte welcome lunch
Day 3
Shanghai to Xi'an by Air
Fly from Shanghai to Xi'an and transfer to hotel; visit Xi'an City Wall and explore Muslim Quarter. (B)
Our Clients Cycling on the Xian City Wall
This morning we will transfer you to Shanghai Airport, where you will take a flight to Xi'an, the ancient capital city of 13 dynasties. Your local tour guide will pick you up from the airport and transfer you to visit the old
Xi'an City Wall
. With a history of about 600 years, this is the most well-preserved city wall and the second-longest city wall in China, stretching about 14 km (8.7 mi) long. It is about 12-14 meters (39-46 ft.) wide on the top and you can easily take a stroll around the spectacular rectangle city wall to take in Xi'an's former grandeur. It is also an alternative to experience the most unique cycling on the ancient wall. The bike rental fee is not included but your guide would be helpful to rent one for you. Nowadays, some traditional architecture left over from history are still standing within the City Wall like the Bell Tower and Drum Tower while a modern developing Xi'an is booming outside it.
Getting down from the old city wall, you will be guided to the most bustling and very atmospheric area in Xi'an, the
Muslim Quarter
. It is said that the quarter has existed for nearly 1,500 years since the Tang Dynasty (618-907 AD) and more and more Muslim people converge here in the following centuries. It now has become the most iconic market and residential area of the city, offering hundreds of types of halal snacks, such as Crumbled Unleavened Bread in Mutton Stew (Yangrou Paomo), various steamed rice cakes and sweet green bean cakes, and beef and mutton BBQ, as well as delicious dumplings. You will definitely be spoilt for so many delicious snack choices here.
Meals: Western buffet breakfast
Visit Terracotta Army and the discoverer's home; try your hand to make a mini terracotta figure; admire Giant Wild Goose Pagoda and get immersed in Tang Dynasty culture at Great Tang All Day Mall. (B)
This morning will be devoted to the
Terracotta Army Museum
, the most famous and significant attraction in Xi'an, which is also reputed as the 'Eighth World Wonder' of human beings. The giant underground Terracotta Army was built to protect China's first emperor in his after-death during the Qin Dynasty (221 to 207 BC). You will see the life-figured terracotta warriors and horses arranged in battle formation in the 3 pits, presenting an image of the time when the Qin armies conquered other rivaling states and united China 2,200 years ago.
►
Special Arrangements: A Unique Home Visit and Crafting a Mini Clay Warrior
We have especially arranged a unique home visit for you to satisfy your curiosity about the first finder of the Terracotta Army to trace the legendary discovery and witness the history by talking with the explorer's family. After that, you will be guided to take part in an interesting activity to make a mini clay soldier on your own after the instructor's demonstration. You can choose your favorite model, carefully carve it and finally even make your own mark like the ancient craftsmen did.
After that, we will drive back downtown and head to the
Giant Wild Goose Pagoda
, another remarkable sight in Xi'an. Characterized by a quadrangle tower shape, the 7-story Buddhist pagoda is preserved from the Tang Dynasty, going through the vicissitudes of thousands of years. After appreciating its spectacular appearance, we will take a leisurely stroll in the nearby Great Tang All Day Mall, which is the most gorgeous pedestrian street in Xi'an. The whole block is 1,500 meters (4,921 ft.) long from north to south and 480 meters (1,575 ft.) wide from east to west, lined with various boutiques, food stalls, and many interesting sculptures. When the sun goes down, the whole street is illuminated by all colorful and dazzling lights, and you will be amazed by its gorgeous night views.
Meals: Western buffet breakfast
Day 5
Xi'an to Lhasa by Air
Fly to Lhasa and transfer to hotel. (B)
This morning, you will be transferred to Xi'an Airport for an early morning flight to Lhasa, the capital city of Tibet. Bidding farewell to the ancient capital city, you will come to one of the most alluring travel destinations in the world, Tibet, featuring spectacular monasteries, stunning high-altitude sceneries, and the world's highest mountain.

Upon arrival, your guide will meet you at the airport and transfer you to the hotel. Relax during the rest of the day and adapt to the high altitude. Your private Tibet tour will start tomorrow.

Travel Tip: The Tibet Travel Permit will be handled by us for free.

Meals: Western buffet breakfast
Visit Norbulingka Park, Tibet Museum, and Sera Monastery. (B+L)
This morning, you will first go sightseeing at the
Norbulingka Park
, which is famous as the summer resort of the Dalai Lama. As the largest manmade Tibetan-style park in Lhasa, it collects hundreds of plants in all regions of Tibet and features typical delicate Tibetan architecture. After enjoying a peaceful time in the beautiful garden, we will then visit the
Tibet Museum
, a treasure house of the local cultural relics and a gem of the regional civilization, exhibiting Buddha statues, Thangka paintings, porcelain, jade, and some folk cultural relics. This is the best place to take in the Tibetan history and Buddhist culture.
After lunch, you will go ahead to visit the
Sera Monastery
. The famous monastery is located in a beautiful and serene place ringed by willow trees and murmuring streams. Since ancient times, it has been a place where the living Buddha and eminent monks preach. The most unmissable highlight of Sera Monastery is the monk debating. A lot of monks gathered in a yard and then the debating begins. In most cases, a debate group consists of two monks. One is asking and the other is answering. Though we cannot understand their language, we can experience the heated debate atmosphere by witnessing their imposing gestures, like clapping their hands, holding Buddha beads and pulling robes to urge the other to give an answer. It is impressive to see such an amazing Buddhist cultural activity.
Meals: Western buffet breakfast, Lunch
Visit Potala Palace, Jokhang Temple, Barkhor Street, and a Nunnery. (B+L)
The morning excursion will cover the magnificent
Potala Palace
, the most breathtaking palace in Tibet and the world's highest palace. As the most important UNESCO World Heritage site in Lhasa, it was initially built in 641 AD in memory of the intermarriage between the ruler of the Tubo Kingdom (nowadays Tibet) Songtsen Gampo and Princess Wencheng from the Tang Dynasty. Later, the Potala Palace turned into the dwelling place for Dalai Lamas in succession ever since the reign of the fifth. This magnificent palace not only features its spectacular white and brick-colored architecture but it is also a wonderland of arts, collecting pagodas, delicate statues, murals, Thangkas, and classic Buddhist scriptures.
►
Travel Tips on Potala Palace
1. Due to flow limitation for visitors each day, Potala Palace tickets are in super hot demand during peak season, but please take it easy that we will book them for you in advance.
2. It is suggested to sightsee at a slow pace in comfortable shoes and clothes as the 120-meter-high (394 ft.) palace has many steps.
3. A security check is required before entering the palace.
4. Photographing is not permitted inside as flashlights may be harmful to relics.
5. To show respect, please do not wear hats and ladies do not wear camisole or skirts.
After lunch, we will go to the
Jokhang Temple
, one of the most famous landmarks of the region and the Buddhist center for some important Buddhist ceremonies or activities. Only about 2 km (1.24 mi) from the Potala Palace, this Tibetan spiritual heart allures visitors for its glamourous architecture incorporating Tibetan, Tang, Nepali, and Indian styles, and numerous Buddhist treasures including the life-size sculpture of 12-year-old Buddha Jowa Sakyamuni. The sightseeing will then be extended to the thriving bazaar of
Barkhor Street
, a famous business center as well as the place for wheeling the prayer wheels in Lhasa, where you can find some pretty interesting commodities, experience the Tibet folk customs and taste some local food. The last destination today is the Ani Tsankhung Nunnery, the only nunnery in Lhasa downtown area, offering you a good chance to learn about how women Buddhists study Buddhism and have a glimpse into their life.
Meals: Western buffet breakfast, Lunch
Day 8
Lhasa - Gyangtse - Shigatse
Visit Yamdrok Yumtso Lake and drive by Karola Glacier along the way to Gyangtse; then visit Palkhor Monastery and Gyangtse Old Street; finally drive to Shigatse. (B+L)
Tibetan People
Today, you will take a long journey by private car to Gyangtse with stop-offs at the
Yamdrok Yumtso Lake
and the Karola Glacier. Shaped like a fan, the Yamdrok Yumtso Lake is one of the three largest sacred lakes in Tibet and is regarded as the embodiment of a goddess according to mythology. The secluded lake boasts turquoise-blue waters and offers an extremely beautiful visa under the sunshine. Then we will continue the journey and soon stop by the Karola Glacier, which is one of the three major continental glaciers in Tibet, only about 300 meters from the highway. You can easily witness the magnificent mountain topped with snow and ice from roadside.
After seeing the breathtaking snow-peak views, we will head to Gyangtse. Upon arrival, you are going to visit the
Palkhor Monastery
. Reputed as the 'King of Tibet Pagodas', Palkhor Monastery is famous for its ingenious layout, unique appearance, fantastic sculptures and amazing murals inside. Here you will find three sects - Sakyapa, Kadampa and Gelugpa coexist harmoniously. Then, take a stroll on Gyangtse Old Street to see the primitive lifestyle of the locals there. Finally, the private transfer will drive you to Shigatse and your guide will help you check in the best local hotel.
Meals: Western buffet breakfast, Lunch
Drive to Dingri; visit Sakya Monastery and Lhatse County along the way. (B+L)
Today, your Tibet tour will extend to Dingri and you can enjoy the beautiful highland scenery along the way. We will first drop by the
Sakya Monastery
. As the origin of the Sakyapa sect, it occupies a super large area and features a rectangular construction with grey walls. Sakya Monastery also boasts its large collections of scriptures, housing as many as 84,000 scrolls including works of literature, history, arts, philosophy and mathematics. The next stop is Lhatse County, a small county where you can taste authentic local food and feel the primitive Tibetan atmosphere. You can also take a relaxed stroll around the street and then we will continue to drive to Dingri.
Meals: Western buffet breakfast, Lunch
Day 10
Dingri - Everest Base Camp - Shigatse
Visit Everest Base Camp and Rongbuk Monastery; Drive back to Shigatse. (B+L)
Our Clients at the Everest Base Camp
Today will be an exciting day because you could appreciate the world's highest mountain, Mt. Everest. You will first reach the
Everest Base Camp
, with an altitude of about 5,200 meters (17,060 ft.). This is the protected area of Mt. Everest and also the best place to capture the world's highest peak. You will surely be amazed at the fascinating views around the snow-capped peak. You will also be guided to the world's highest monastery, the 5,154 meters (16,909 ft) high
Rongbuk Monastery
, which is not far from the Everest Base Camp. The five-story building nestling in the mountain is another great place to view the mountain. Standing there, you will see a holy and pure picture of Mt. Everest covered by white snow. After that, you will be transferred back to Shigatse and stay at the best local hotel.
Meals: Buffet breakfast; Lunch
Visit Tashilhunpo Monastery; drive back to Lhasa. (B+L)
Tashilhunpo Monastery, Shigatse
This morning, we will go sightseeing at the
Tashilhunpo Monastery
, the largest monastery in Shigatse and one of the four important temples of the Gelug sect. It is also one of the long-time residential places of successive Panchen Lamas. The highlight here is the world's largest bronze Buddhist statue of 26 meters (85 ft.) high.
Finish the visit, and we will continue the journey back to Lhasa. The rest day is free for you. Since you may be very tired after this long drive, it is suggested to rest from the fatigue of the trip.
Meals: Western buffet breakfast, Lunch
Day 12
Lhasa to Beijing by Air
Fly from Lhasa to Beijing and transfer to the hotel. (B)
Today, your Tibetan tour guide will escort you to the airport, and help you check in for a morning flight to Beijing. After arrival, a local guide will meet you at Beijing airport and transfer you to the hotel. The rest of the day is free on your own arrangement.

Meals: Western buffet breakfast
Visit Tian'anmen Square and Forbidden City; enjoy a la carte lunch with Peking Roast Duck; explore the Temple of Heaven. (B+L)
Temple of Heaven
In the morning, you will be accompanied to take a stroll on the remarkable
Tiananmen Square
, the city center of the capital city, and also the political center of China. Continuing to walk north, we will come to the Forbidden City, the best-preserved wooden imperial palace complex in the world. Housing over 8,000 rooms, the
Forbidden City
is also known as the Palace Museum, and it will be a memorable experience to appreciate the grand traditional Chinese architecture, get insights into the Chinese imperial family life and admire the most precious historical relics and treasures.
When sightseeing, you may find some very small windows on the walls, don't be surprised by their sizes. These are not the real windows, but air holes, usually two of them in a vertical direction, with one up and the other at the wall foot. As a wooden architecture complex, Forbidden City is full of wooden pillars inside the walls extending upward until the eave. To protect the pillars from being affected by dampness, the air holes were opened on the walls for ventilation actually. This is quite smart, isn't it?
At noon, we will serve you an a la carte lunch at a noted local restaurant, which is valued at CNY 150 per person and included in our price. Here you can taste authentic Chinese food.
In the afternoon, we will visit the
Temple Heaven
, once a sacred site for emperors to offer sacrifice to heaven in ancient times. Surrounded by two layers of walls, the main architecture features round rooftops and a square base as ancient Chinese people believed that the heaven is round and the earth is square.
Meals: Western buffet breakfast, A la carte lunch
Visit Mutianyu Great Wall by round-way cable car; drive by Bird's Nest, and then explore Summer Palace. (B)
Our Guests at the Great Wall
The morning excursion will take you to the Great Wall, one of the greatest miracles in the world which winds up and down across mountains, grasslands, deserts and plains of the country like a huge dragon. The section you will visit today is the
Mutianyu Great Wall
, an excellent and well-preserved section near Beijing, which is located on sheer cliffs and steep mountains. Climbing on it, you will have a once-a-lifetime experience to enjoy the spectacular scenery on the famous world wonder. We have especially arranged the round-way cable car for you to save energy. Taking an exciting toboggan down the Great Wall is an alternative and you can control the speed to slide slowly or quickly. If you are interested, your guide would be glad to make replacement.
On the way back downtown, we will drive by the
Bird's Nest
(National Stadium), the major venue of the 29th Beijing Olympic Games. You may get off to take a closer look at the majestic building. Later, we will head to the Summer Palace, a fantastic royal garden for you to admire the peaceful lake views, delicate corridors and pavilions, beautiful ancient bridges and magnificent halls and palaces. As a royal garden, the
Summer Palace
brought in various architectural styles of China and occident, and thus it got the reputation of the 'Museum of Imperial Garden'.
Meals: Western buffet breakfast
Day 15
Departure from Beijing
Transfer to airport and see you off; a pleasant trip home! (B)
Your two weeks China tour ends today and your guide will transfer you to the airport according to your homebound flight schedule. Hope you enjoy your trip!

Meals: Western buffet breakfast
B-- Breakfast
L-- Lunch
D-- Dinner
This trip can be customized to meet your individual needs!
Destinations
Luxury Hotels
Standard Hotels
Shanghai
Radisson Blu Hotel Shanghai New World
Sunrise On The Bund
Xian
Crowne Plaza Xi'an
Holiday Inn Xian Big Goose Pagoda
Lhasa
Shangri-La Hotel
Taehf Phodrag Tibet Culture Theme Hotel
Shigatse
Gasar Hotel

- VIP Building

Gasar Hotel

- VIP Building

Dingri
Everest Hotel
Everest Hotel
Beijing
Crowne Plaza Beijing Chaoyang U-Town
Beijing New World Centre Tongpai Hotel
Tour Prices
Christmas & 2024 Special:
12% off
- Book before Dec 31, 2023
Tour Prices with Luxury Hotels
2-3 travelers
4-5 travelers

USD5949

USD5235

USD4989

USD4390
Tour Prices with Standard Hotels
2-3 travelers
4-5 travelers

USD5339

USD4698

USD4389

USD3862
Prices are per person on twin sharing basis.
The prices in red reflect 12% discount.
Any part of the itinerary e.g. tour length, activities & hotels can be tailored to your individual interests.
Price Includes
Domestic airfares
Hotel accommodation with breakfasts
Lunches as itinerary specifies
Private English-speaking guides
Private drivers & air-conditioned vehicles
Entrance fees to tourist sites
Tibet Travel Permit
Price Excludes
International airfares
Entry Visa fees
Personal expenses
Tips or gratuities for guides and drivers
Why Travel With Us