National Stadium (Bird's Nest)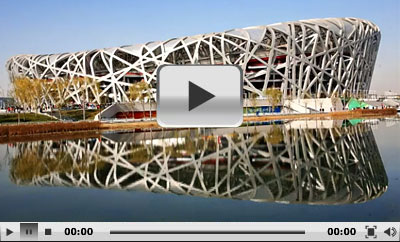 National Stadium Pictures
Affectionately known as Bird's Nest, it is situated in Olympic Green Village, Chaoyang District. It was designed as the main stadium of 2008 Beijing Olympic Games. The Olympic events of track and field, football, gavelock, weight throw and discus were held there. Since October, 2008, after the Olympics ended, it has been opened as a tourist attraction. Now, it's the center of international or domestic sports competition and recreation activities. In 2022, the opening and closing ceremonies of another important sport event, Winter Olympic Games will be held here.

The design of this large stadium was accomplished together by Swiss architects Jacques Herzog and Pierre de Meuron and Chinese architect Li Xinggang and the others. The designers didn't do any redundant disposals to the look of the stadium. They just exposed the steel structures entirely and let them become the most natural appearance. The form of the stadium looks like a big nest which embraces and nurses human beings. Also it looks rather like a cradle bearing human beings' hope of the future.

The construction of it started on December 24, 2003. On July, 2004, the project was stopped temporarily due to the amendment of the design. On December 27 of the same year, the construction was resumed and finished in March, 2008. The gross cost of the whole project is 2,267 million Chinese yuan (about 33 million dollars).
| | |
| --- | --- |
| National Stadium is like a huge bird's nest. | Inside Scene |
The stadium covers an area of about 258 thousand square meters (99.614 square miles), which can accommodate 80,000 fixed seats and 11,000 temporary seats. Its appearance was formed by big steel frames. Its top surface is saddle-shaped with the major axis of 332.3 meters (1,090 feet) and the stub axis of 296.4 meters (972 feet). The tallest point of the stadium is 68.5 meters (225 feet) above the ground and the lowest point is 42.8 meters (140 feet). The top is covered by semi-transparent air bubble film. This kind of material is waterproof and can make enough sunshine penetrate into the stadium. Owing to that, the lawns in it can grow well.
In it, the designs of everything are humanistic. The bowl-like stands zone surrounds the court. The stands can be changed in many ways, which can satisfy the needs of different numbers of spectators in different periods. During the Olympics, the temporary seats were set at the top of the stands zone. Rows of the stands distribute scientifically. No matter where the spectator is seated, the whole game can be seen without any visual obstruction. The stadium adopted the electro-acoustic public-address system. It makes the index of voice definition reaches 0.6. This number assures that all the audience can hear the broadcast very clearly. What's more, there are more than 200 wheelchair seats intended for the disabled. Many architectural experts think that it not only is a symbol building of the 2008 Olympics but also set a very good example to the world's architectural history.
It boasts the largest ski resort in urban Beijing now. Tourists can not only visit the Olympic venue, but also go skiing.

Tips on Skiing
for your reference
Tip: Besides it, you may visit its neighboring attractions such as the
National Aquatics Center
(Water Cube) and the National Indoor Stadium.

2016 Happy Snow and Ice Season
The 7th session under the theme of "Icy Bird's Nest, Passionate Winter Olympics" is held at the Bird's Nest from December 19, 2015 to February 28, 2016. The stadium turns into a ski resort during this period. Tourists have opportunities to take part in more than 30 kinds of sports and entertainment activities, such as ski jumping, ice skating, snow tubing, bumper car on the ice and biathlon (cross-country skiing and rifle shooting).
Besides, kids can enjoy themselves by joining some indoor activities including canoeing, fencing and equestrianism at the Children's Area.
Transportation
By Bus:
Take bus 82, 538 or 645 and get off at Guo Jia Ti Yu Chang Dong Station.
Take bus 108, 124, 18, 328, 380, 387, 409, 426, 620, 653, 694, Te 11 or T2 and get off at Ao Ti Dong Men (Olympic Sports Center East Gate) Station.
Take bus 407 and get off at Ao Ti Xi Men (Olympic Sports Center West Gate) Station.
By Subway:
Take
Subway Line 10
to Beitucheng then switch to
Subway Line 8
(Olympic Special Line): get off at Olympic Sports Center Station, get out of the station from Exit B1 (northwest exit) or Exit B2 (northeast exit), and walk north to it.

Beijing Bus / Subway Search
Admission Fee:
Common Ticket: CNY 50
VIP Ticket: CNY 80 (including Golden Hall, Golden Corridor, Rostrum on the 2nd floor, No.1 and No.2 VIP Halls and visiting area open to ordinary visitors)
Free of charge for children below 3.9 feet (1.2 meters)
CNY 80 for air corridor
* CNY120 (weekdays) and CNY160 (weekends and public holidays) during the Happy Snow and Ice Season.

Note:
1. Visitors can buy combo tickets (CNY 80) for Bird's Nest and Water Cube.
2. Combo ticket including VIP experience and air corridor is CNY 110.
Opening Hours:
April to October: 9:00 to 19:00
November to next March: 9:00 to 17:30.

Recommended Nearby Attractions:
Beijing Olympic Forest Park

China Science and Technology Museum

Chinese Ethnic Culture Park
(China Ethnic Museum)

Recommended Itineraries:
Two-Day Packages
: Tiananmen Square - Forbidden City - Temple of Heaven - Badaling Great Wall - Bird's Nest - Summer Palace
Best Beijing Tours
: 4 days to Tiananmen - Forbidden City - Temple of Heaven - Badaling - Sacred Way - Ming Tomb - Bird's Nest - Summer Palace
Capital Highlights
: 5 Days, including all top attractions
More
Beijing Tours
Print