Tips on Skiing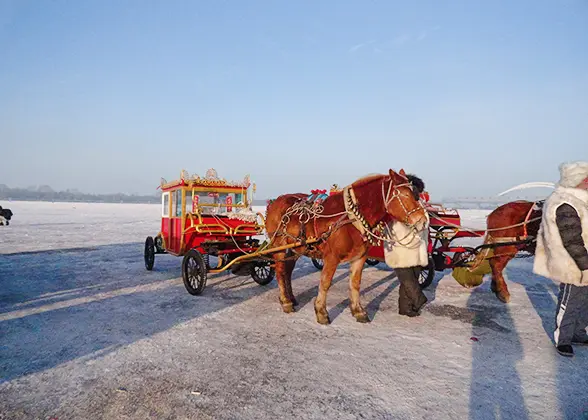 Skiing is a charming and exciting sport. Due to the climate and its categories, there are different demands on the equipment and clothes. It is also very important and necessary to know some tips and essentials before going. If this is the first time to ski, enough preparation and basic knowledge are a guarantee to have a lot of fun.

First time skier's tips
1. Choose good weather. Consider the weather conditions while planning the skiing trip and pay attention to the weather forecast. Cancel the plan if there is rain, snow or strong wind.
2. Have something necessary ready for skiing. For tourists and beginners, ski suits, hats, gloves and protective gear are available to rent at the ski field. The ski suit is not a must for amateurs but other protective clothing is necessary. In addition, it is suggested to wear warm underwear, thick socks and thermal suit.
3. Prepare some medicine just in case, such as frostbite salve, cold medicine, anti-inflammatory medicine, etc. Bring skin care products. Bring some water and food if necessary.
4. Skiing equipments and clothes can be rented on the spot.
5. Because of the cold weather, camera batteries will work for a few hours. It is better to bring standby batteries and charge all of them up before using. Put your camera in pocket to keep it warm.
Choose skiing equipments
(can be rented)

1.The rental of skis varies according to the material. There are wooden, fiberglass and metal skis with the rental from low to high. Those skis have their own features suitable for different snow fields. The most popular are those which are a composite of the three materials.

2. Choose a pole which is light, strong and suitable to the user's height. When a pole of the correct fit stands still, it should be lower than the user's shoulder and higher than the waist. Try to hold the pole through the leather ring and shake your arms to feel if it is suitable.

3. Choose warm and water-proof boots with short boot legs. They are good for ankles in motion. Put the boots on to try whether they are suitable.

4. Professional ski suits are expensive. Utility clothes that are warm, winter-proof, comfortable and becoming are enough for non-professional skiers.

5. Ski binding can avoid injury. It fitted every skis and boot. Check it before skiing.

6. Goggles are indispensably required to prevent the strong sunshine reflected from snow. It is better to choose goggles with a plastic frame and yellow or brown glasses.  
Essentials to be noticed while skiing

Get an idea of the length, width, slope degree and trend of the run in order to make reactions to crisis as quickly as possible during sliding.

Warm-up before skiing is necessary. It can effectively avoid getting hurt. Usually, do warm-up exercises for about half an hour before and after putting on boots and skis.

Pay attention to the operating hours of the ski lifts. Do not get on the lift when there is no working staff, especially close to the quitting time. 

Choose the ski run properly. Do not be overconfident. For beginners, it is better to ask for help from a skimeister. A 50 meters wide run with a slope of 6 degree is the best for beginners.

Stop skiing and check whenever there is something wrong with the equipments or unknown condition about way to the front. Do not take risks.   

Keep a distance with other skiers in case of collision and falling down.  

Have a break in the edge of a run and watch to see other skiers sliding down.

Falling is inevitable and it is a deliberate action to avoid further danger sometimes. Don't be frightened, but remember to keep as low as possible. Try to sit backwards and avoid headlong falling and tumbling over. Do not move when you get hurt but wait for assistance.

Skiers having bad eyesight should wear light and safe glasses in case of crash. When contact lenses drop down behind the eyelid because of falling down, it is almost impossible to get them back.

Keep warm, especially children. People with heart disease, hypertension or other illness least suitable to have strenuous exercises had better not try skiing.
Further Reading:

Ski Resorts in China

Ski Resorts in Beijing

Ski Resorts in Zhangjiakou
- Last updated on Apr. 30, 2019 -
Questions & Answers on Tips on Skiing
Asked by sri from MALAYSIA | Nov. 04, 2014 04:25

Reply
skiing in beijing in end of nov 2014
Helo, will be travelling to Beijing from 29/11-4/12/2014.
the kids would love to play ski. Will there ne any ski resort open during this time?
Answers (1)
Answered by Sally from INDONESIA | Nov. 04, 2014 21:00

1

0

Reply
Sri, Nanshan Ski Resort is probably the most renowned in Beijing. You may call them at +86-10-89091909 for further details. Also you may go to Badaling Ski Resort. It is very close to Badaling Great Wall. You probably visit the wall and then have fun at the ski resort.