Yonghe Temple (Harmony and Peace Palace Lamasery)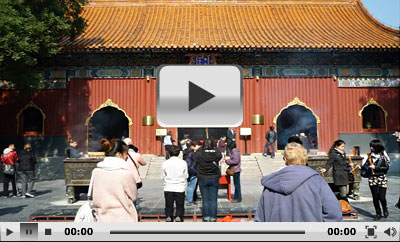 Yonghe Temple Pictures
Yonghe Temple, also known as Harmony and Peace Palace Lamasery, Yonghe Lamasery, or Yonghe Lama Temple, is located at the northeast corner of Beijing City, considered as the largest and most perfectly preserved lamasery in present day China.
Built initially in 1694 during the Qing Dynasty, this building was the residence of Emperor Yongzheng when he was just a prince. However, in 1744 the Qing Dynasty formally changed the status of the dwelling to that of a lamasery, and so it became the national centre of Lama administration.
The following details describe the main buildings inside the Yonghe Temple.
On arrival at the south end, the visitor will enter a yard which contains a screen wall and three Paifangs (Gateways), and will observe the red walls and stone lions, symbols which show that it was originally the dwelling of an Imperial Family member. Entering north from the Gateways, the visitor will be confronted by a wide straight road which was used for the carriages of the emperors and their wives during the
Qing Dynasty
(1644 - 1911). At the northern end of this road is Zhaotaimen (Gate of Peace Declaration), which comprises three large archways, the central one of which was for the exclusive use of the emperors.
| | |
| --- | --- |
| Drum Tower | |
Passing through Zhaotai Gate the visitor will enter the second yard which contains a Drum Tower on the western side and a Bell tower on the eastern side, and in front of these towers are two octagonal Stele Pavilions. Words by Emperor Qianlong were carved in the stele explaining the traditional and historical reasons that dwellings formerly used by Imperial Family members must later be changed to lama temples in Beijing.
Yonghe Gate, originally the main entrance to the Yonghe Temple, is now called Devaraja Hall (Hall of the Heavenly Kings), as there are the statues of four very powerful Heavenly Kings located on both sides of the inner palace walls. The northern Heavenly King on the eastern side holds a snake and treasures; the southern King on the eastern side holds an umbrella and a silver mouse; the southern one on the western side holds a sword and the northern one on the western side holds a Pipa (a musical instrument used in ancient China). Located in the centre of the Palace is a smiling Maitreya.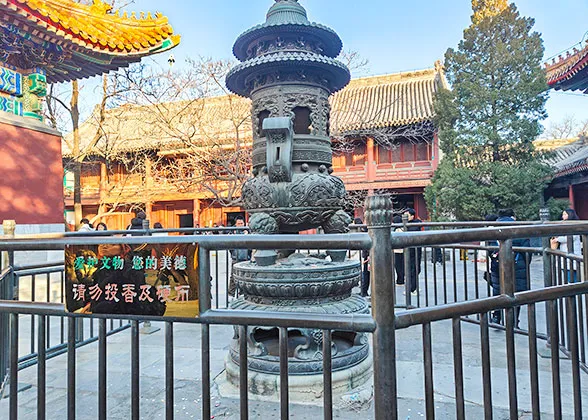 On departing Devaraja Hall the visitor will immediately observe an ancient copper cooking vessel made in 1747 during the Qing Dynasty. This vessel, which appears to be black with white marble stone as its seat, has high artistic value and is among 'the three rarest things in Beijing'. Six doors are inset into the upper part of the vessel, with two dragons playing with a ball cast on the doors, and there are three lions playing with a ball engraved on the seat. On the northern side of the vessel is the Great Stele Pavilion with the doors open on each of its four sides. Words by Emperor Qianlong of Qing in the stele inform of the origin and meaning of Lamaism. To the north of this Pavilion is an odd-shaped hill called Xuyu Hill, a sacred place of rich religious meaning which was built in the middle of a pool, and represents a place to which all Buddhists are eager to go.
Hall of Harmony and Peace (Yonghegong) is the main palace and inside three bronze Buddhas are displayed - Sakyamuni in the middle, Kasyapa-matanga on the right and Maitreya on the left. There are 18 Arhats (statues of Buddha disciples) positioned on both sides of the Hall. The picture on the west wall is of Avalokitesvara with its thousands of hands and eyes.
North of the Hall of Harmony and Peace is Yongyoudian (Hall of Everlasting Protection), which was Emperor Yongzheng's living room when he lived there as a young prince and, at the time of his death his coffin was placed there. Now, a statue of Bhaisajya-guru is located there and sacrificial offerings are made to it.
From Yongyoudian continue north to the Falundian (Hall of the Wheel of the Law), which is the location for Lamas reading scriptures and holding Buddhist ceremonies. The Falundian comprises very special features as its structure contains the architectural styles of both Tibetan and Han Nationalities. It was formerly the dwelling of the Emperor's wives. A large statue of Tsong Kha-pa, an ancestor of Lamaism is displayed here in the centre of the Hall and also receives sacrificial offerings. Behind this statue is an Arhat Hill containing 500 Arhats made of five kinds of metals--gold, silver, copper, iron and tin. These Arhats have been shaped in different poses. In front of this Hill is a wooden basin which was said to have been used for washing the body of Emperor Qianlong three days after his birth. Elegant large frescos illustrating the life of Sakyamuni stretch around both the east and west walls.
Wanfuge (Pavilion of Ten Thousand Happinesses) is the last formal palace to be visited in Yonghe Lama Temple. This is the highest palace because it is three stories high. Inside this pavilion there are tens of thousands of Buddhas displayed along every level, and in the centre there is an enormous statue of Maitreya positioned on a white marble base.
Suggestion: Souvenirs may be purchased by negotiation in Yonghe Temple, and the incenses for sale here are perfect.
Admission Fee:
CNY 25; Free for children no taller than 1.2 meters (3.9 feet).
Opening Hours:
Apr. - Oct.: 9:00 to 17:00
Nov. - Mar.: 9:00 to 16:30
Recommended Time for a Visit:
1.5 hours
How to get to Yonghe Temple
By Subway:
Take Subway Line 2 or Line 5 to Yonghegong (Yonghe Temple) Station, get out of the station from Exit F. Walk south for a few meters and turn east and you will arrive after about two minutes of walk.
By Bus:
1. Take bus 13, 116, 117 or 684 and get off at Yonghegong Station.
2. Take bus 13, 18, 44, 75, 116, 684, Te 2 or Te 12, and get off at Yonghegong Qiao Dong Station.
3. Take bus 117 or 125, and get off at Yonghegong Qiao Bei Station.
Beijing Bus / Subway Search



Nearby Attractions:
Temple of Confucius
Guozijian (Imperial Academy)
Guijie Street
Print
- Last updated on May. 17, 2022 -
Questions & Answers on Yonghe Temple
Asked by Denise from USA | Feb. 26, 2021 01:00

Reply
Is Yonghe Temple open Saturday, Feb 27th?
Are reservations needed - or can I buy a ticket on the day I arrive?
Answers (1)
Answered by Andy | Feb. 28, 2021 17:21

0

0

Reply
It opens to the public. But you need to make a reservation in advance.
Asked by Paula from COLOMBIA | May. 31, 2020 03:19

Reply
Is the Yonghe Temple open June 2020?
Has the temple re-opened after coronavirus was controlled in Beijing?
Answers (1)
Answered by Allison from CANADA | May. 31, 2020 23:10

0

0

Reply
Yes, it is reopen nowadays.
Asked by Amy from USA | Oct. 03, 2019 19:44

Reply
I heard that the Yonghe Temple is closed on Mondays. Will it be open Monday, October 7th?
Answers (1)
Answered by Quentus from CANADA | Oct. 05, 2019 18:22

0

0

Reply
Yes, it will open.
Asked by Magda from POLAND | Dec. 20, 2017 01:24

Reply
Will yonghe temple be open in January 1, 2018?
I read somewhere that the temples and museums are closed on Mondays, but this Monday 01.01.2018 will be public holiday so I suppose it will be open then...
Answers (1)
Answered by Lina from CANADA | Dec. 20, 2017 01:51

0

0

Reply
It actually is open all year round, and won't close on Mondays. no worry!