Yonghe Temple Pictures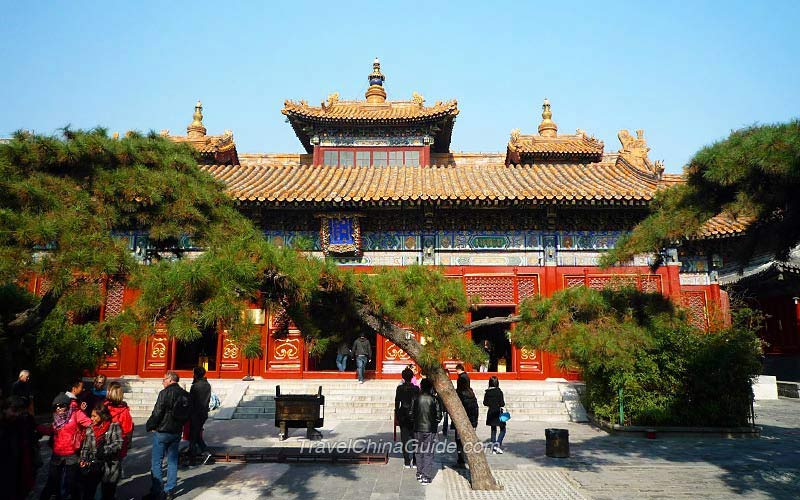 Yonghegong Temple, a renowned lama temple of the Yellow Hat Sect of Lamaism, is in northeastern Beijing, originally built in 1694 as the residence of the Qing Emperor Yongzheng before he ascended the throne and renamed Yonghegong later. Upon his death in 1735, his coffin was placed in the temple. In 1744, it was converted into a lamasery and became a residence for monks from Mongolia and Tibet. Attraction Intro: Yonghe Temple
- Last modified on Nov. 27, 2017 -
Questions & Answers on Yonghe Temple Pictures
Asked by Ms.Ivy | Feb. 18, 2011 00:50

Reply
Hi,

I am planning to visit Beijing end of this June . What is the weather like?
Thanks

Answers (1)
Answered by Mr.Shan | Feb. 18, 2011 21:24

20

0

Reply
Well, most of the daytime is hot and the temperature could over 30C at noon. But, it may be accompanied with cool breeze. The night should be cloudy and cool for sleep, sometime there is rainfall~ Please note that the weather of this month in North China is changeful that it is sunny and hot at daytime but plenty of water at night or the next day.
Asked by Mr.Alvin from INDONESIA | Sep. 08, 2009 04:21

Reply
Dear sirs, madam

It is first time to visit Beijing pls kindly inform in which area the center of the shopping / food.
How about Wang Fu jing Street ?

Thanks
Answers (7)
Answered by Ms.Christine | Sep. 08, 2009 04:57

18

0

Reply
Hi,Alvin. I advise you to read this website through. Very informative and helpful.
Answered by Mr.alvin from INDO | Sep. 13, 2009 10:04

5

0

Reply
Thanks Ms christine, if you dont mind could you inform me little bit it is more helpfull for me than only check from web. secondly how about the weather now ( September) in Beijing and Shanghai ? a lot rainy.
Answered by Ms.Christine | Sep. 13, 2009 21:23

0

0

Reply
Yes, Wang Fu Jing Street is the busiest shopping street in Beijing, if you want to go shopping, don't miss this street. There are many food streets in Beijing, here I list some for you: Wangfujing Food Street, a good place to enjoy food after shopping in Wangfujing Street. It is located to the south of Haoyou Shijie Shopping Mall in Wang Fu Jing Street. Or you can go to Hou Hai (Back Sea)Snack Street, the food there is cheaper and delicious. Or you can go to Ox Street where there are moslem food. Good trip~
Answered by Ms.Christine | Sep. 13, 2009 21:25

0

0

Reply
Oh, about the weather, Beijing is cold in September and has rains, Shanghai is warmer but also getting to cold season for autumn is coming.
Answered by Mr.alvin from INDO | Sep. 14, 2009 10:38

0

0

Reply
Thanks a lot Ms christine God bless U
Answered by Mr.Raks from CHINA | Sep. 14, 2009 21:45

0

0

Reply
I and few other people are visiting Beijing this weekend on 18th September. We have been booked in the Wanfujing hotel. Sorry i dont know the name properly but it is near to the subway station of same name. I have heard there is a special train to come from airport to this place ? Any information on this. Also additional info like fares and timings will be appreciated. Also can you point out any website(s) for related info ?
Answered by Ms.Lynn | Sep. 15, 2009 02:55

0

0

Reply
You can take Capital Airport Shuttle Bus Line 2 and get off at Dongzhimen, take subway line 2 and get off at Jianguomen, and take subway line 1 at Jianguomen to Wangfujing. The whole fare costs about 20 yuan. There is no direct train from airport to wangfujing as far as I know.