Beijing Wangfujing Street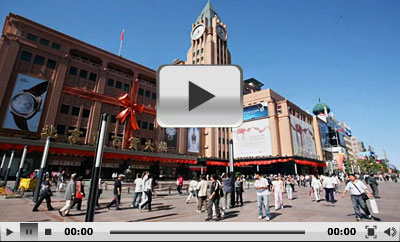 Chinese name: 王府井大街(wáng fǔ jǐng dà jiē)
Beijing Wangfujing Street, as one of the symbols of Beijing's commerce, is the most well-known and prosperous shopping street with modern and fashion trends. Located near the city center in Dongcheng District, the street is one of four most prosperous business zones in Beijing.
It is 1,600 meters (1 mile) long ranging from
Changan Avenue
in the south to
National Art Museum of China
in the north. With a history of 700 years around, it got the name Wangfu (royal mansion) Jing (well) because there used to be eight royal mansions and a well with sweet water on the street. Currently, it is the busiest street in this city and there are 600,000 people every day come and go and on holidays, the number can rise to 1,200,000.
As the first famous business zone in this city, Wangfujing Shopping Street houses a wide variety of shops and boutiques, some of which are of world-famous brands. Apart from that, there are also many time honored stores with traditional commodities standing in the street for hundreds of years. Nowadays Beijing Wangfujing Street is a modern commercial street which can be paralleled with Champs-Elysees in Paris.
| | |
| --- | --- |
| | Gongmei Mansion |
Things to Do at Wangfujing Street
What to buy in Wangfujing? Here list different types of those popular stores or markets for your choice.
Shengxifu Hat Store
Chinese Name: 盛锡福 (shèng xī fú)
Shengxifu, as a Chinese old brand with time-honored reputation, is a store which produces different kinds of hats. Their hats are noted for fine materials, exquisite craftsmanship and good quality. Both Chairman Mao and Premier Zhou had been their customers. The hats are keeping exporting to America, Singapore, Canada and France.
Tongshenghe Shoes Store
Chinese Name: 同升和 (tóng shēng hé)
As a time-honored brand, Tongshenghe is renowned for its cloth shoes and caps. With fine quality and design, the shoes are very popular in Beijing. Many celebrities in China had customized their shoes here. Visitors can also order theit tailor-make shoes here.
Ruifuxiang Silk & Cotton Shop
Chinese Name: 瑞蚨祥 (ruì fú xiáng)
As a time-honored silk shop, it is one of the most popular shopping sites for western visitors. There you can purchase the silk in top quality. There are traditional Chinese clothing available, especially the cheongsam. Visitor can have their clothes tailor-made in the store. Visitors just need to select the style and cloth and get their figure measured. When the clothes are finished, they can be delivered to visitor's home.
Gongmei Mansion
Chinese Name: 工美大厦 (gōng měi dà shà)
Gongmei Mansion is the largest shopping center for crafts in Beijing. Inside the mall one can buy all kinds of jewelry and handicrafts. A dazzling array of Jadeite, agate, silk and embroidery are displayed for sale. Four most great figures in Beijing crafts including cloisonné, ivory carving, jade ware and carved lacquer ware all can be found here. Visitors can enjoy a discount on the Fifth and Sixth floors.
Sun Dong An Plaza (Beijing APM)
Chinese Name: 新东安市场 (xīn dōng ān shì chǎng)
The current Beijing APM in Beijing Wangfujing Street is one of the largest shopping malls in the city, located at the west end of
Jinyu Hutong
. It was built on the site of Dong'an Market, the first comprehensive mall in Beijing. Visitors can buy nearly all the branded stuff, like Apple electronics, Gap, Zara, Longines, Omega, Calvin Klein, M.A.C. There are also great deals of exotic restaurants.
| | | |
| --- | --- | --- |
| Ruifuxiang Silk and Cotton Store | Time-honored Shengxifu Hat Store | Chengguzhai Ancient Artwork Store |
Wuyutai Tea Shop
Chinese Name: 吴裕泰茶庄 (wú yù tài chá zhuāng)
It is a tea shop with a history of over 120 years, which can be traced back to 1887. The most renowned is the jasmine tea, which is quite popular among both old generations and young people. The tea is good for regulating vital energy and soothing the nerves.
Yong'an tang Herb Store
Chinese Name: 永安堂百草药店 (yǒng ān táng bǎi cǎo yào diàn)
The herb store was built in Yongle Reign of Ming Dynasty (1368 - 1644 AD) with a history over 580 years. There are various rare traditional Chinese Medicines, such as ginseng, antler, cordyceps and so on. As for some tricky disease, people in need may find effective cure in this shop.
Chinese Photo Studio
Chinese Name: 中国照相馆 (zhōng guó zhào xiàng guǎn)
Chinese Photo Studio is skilled in shooting personal portraits. With a far-reaching history, this studio enjoys a high reputation for it has served government heads and leaders of generations. Beijing people are willing to choose this studio to take their wedding, family and birthday photos.
Malls at Oriental Plaza
Chinese Name: 东方新天地 (dōng fāng xīn tiān dì)
Stepping on the street, one will find the Malls at Oriental Plaza easily. The mall consists of seven differently themed shopping areas, which meet the demands from different economic status. What to buy here in Beijing Wangfujing Street? Fashion clothes, handbags, perfumes, wrist watches and cosmetics from world famous brands are all in your choice! This mall is quite popular among young people.
Xinhua Bookstore
Chinese Name: 新华书店 (xīn huá shū diàn)
The bookstore is ten storied. It provides a wide selection of books to customers. Every book is original, so they are sold at full price. One can also enjoy reading inside for free. Meanwhile, some crafts and traditional music instruments are displayed for visitors.
Donglaishun Restaurant
Chinese Name: 东来顺 (dōng lái shùn)
The restaurant is first opened in 1903, which was famous for mutton hot pot. Nowadays, it possesses about 200 kind of cuisine style. Just in one restaurant, you can taste authentic food from all over the world.
Quanjude is the most famous roast duck restaurant in China. Once people reach Beijing, they would like to taste the original roast ducks. Therefore, the branch restaurant at the commercial street is a superb choice.
In the south of Haoyou World Mall, one of the most popular Wangfujing shopping malls, there is a street with hundreds of snack stands and shops, which mainly sells nationwide snacks, tourist souvenirs and folk crafts. On the first floor visitors can enjoy over 500 kinds of foods from every corner of China, such as kebab, sugar-coated figurine, tea soup and Tortilla Flat. Foods on the second floor are mainly Muslim-flavored, where the best beef and mutton are provided. On the third floor visitors can enjoy the exquisite tea and wine with Beijing opera for leisure. After the Wangfujing Night Market (Donghuamen Night Market) closed, this street becomes the most popular snack street when night comes.
| | |
| --- | --- |
| Quanjude Roast Duck | Wangfujing Snack Street |
Tips
1. There are davenports every several yards prepared for visitors to have a rest. And one can use the shopping barrows along the street for free.
2. Visitors can take a sightseeing bus at south end of the street which runs through this street and Nanheyan Street. Tourist guide on the bus can introduce the history and main scenic spots along the street in detail. The bus runs 50 minutes altogether with 8 stops. The bus fare is CNY20 per person.
3. Currently, Beijing has adopted
tax refund policy
(Value Added Tax or VAT) among overseas tourists, and there are several designated tax free stores in the commercial street, including Gongmei Mansion, Wangfujing Department Store, Dong'an Department Store, and Wuyutai Tea Shop.
How to get to Beijing Wangfujing Street
1. Take
Subway Line 1
and get off at Wangfujing Station. The Exit A leads to the commercial street.
2. Take bus 41, 52, 120, 140, Night Bus 1 or 17 to Wangfujing; or bus 103, 104, Te 11, Sightseeing Bus 2, Night Bus 18 or 21 to Wangfujing Lukou Bei.
Beijing Bus / Subway Search
Other Famous Shopping Streets & Malls in Beijing

Xidan Commercial Street

Pearl Market

Silk Market

Top 10 Shopping Streets in Beijing

Recommended Guided Tour:
Beijing Two Days Tour Packages from

$119

Recommended Independent Tour:
Modern Beijing Walking Tour
: Wangfujing Street - Jinyu Hutong - Jianguomen North Street - Jianguomen Outer Street - Silk Street

Top 10 Places to Visit in Beijing
- Last modified on Sep. 20, 2018 -