Wangfujing Snack Street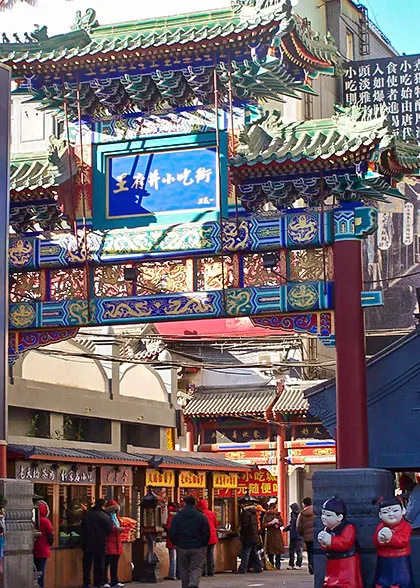 Entrance to
Wangfujing Snack Street
Wangfujing Snack Street, located on the south side of Wangfujing Haoyou Emporium, is the ultimate place for enjoying famous snacks from all over China. There are also many shops and booths in the street specializing in tourist souvenirs, folk crafts and so on.

What to Eat in Wangfujing Food Street
The street showcases traditional Beijing architecture style. At the entrance stands a beautiful antique archway over 10 meters tall (11 yards). Beyond this, shops and booths run along the two sides, each stall displaying flags and signboards. A stage also occupies the street, where passersby can watch drama performances and acrobatic shows. As a kind of traditonal advertising form, the distinctive screams fill the entire street, highlighting the traditional cultural characteristics of old Beijing. The street has three areas (1F, 2F and 3F) and each has its own specialities.

1F: Famous Snacks from all over China
A wide selection of traditional delicacies from all over the country can be found here. This floor is also the most popular place among the three floors. You can taste all kinds of Chinese snacks without leaving Beijing. Have a taste of fermented mung bean juice, steamed rice cakes with sweet stuffing, pea cake, caramel treats, sugar-coated haws of Beijing, stinky tofu of Hunan, coconuts of Hainan, cramel treats and mutton skewers of Xinjiang. If you are brave enough, you can also try roasted delicacies including centipede, grasshopper, scorpion, starfish and spiders at Wangfujing night market.
2F: Muslim Flavor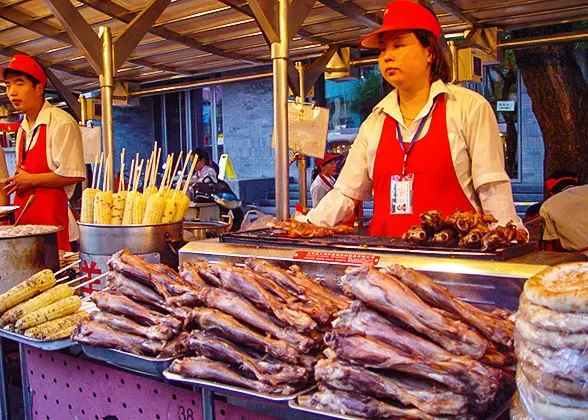 Explore the taste of Muslim food and experience Muslim culture at the same time. Cooked tripe of sheep or swine, tofu pudding, and various cooked mutton and beef are sold here. Xinjiang's famous, special and excellent snacks are also found here, such as Xinjiang style braised chicken, special flavor sautéed mutton with nang (the Xinjiang style bread), Xinjiang style hotchpotch, fried mutton on toothpicks, and Xinjiang style braised tripe.
3F: Nine Specialties of Old Beijing
Drink tea from
Prince Gong's Mansion
and wine from Prince Qing's Mansion, taste the eighteen snacks originated from the Qing Dynasty (1644 - 1911 AD) Palace and enjoy the Beijing-style performances. If you are interested, you can also perform in person, and have fun.
Price references for snacks on Wangfujing Snack Street:
| Food | Price |
| --- | --- |
| Yogurt | CNY 15 a bottle, 180g |
| Sugar-Coated Haws of Beijing | CNY 25 a bunch with 10 big haws |
| Skewer | CNY 15 a bunch, about 100g beef or mutton |
| Beef or Mutton Soup | CNY 60 a bowl, about 600ml |
| Cooked Tripe of Sheep or Swine | CNY 70 a bowl, about 250g |
How to Get to Wangfujing Snack Street
1. Take
subway line 1
, get off at Wangfujing Station, and exit from C2.
2. Take bus line 103, 104, 140, Te11, Night 18, or Night 21, and get off at North of Wangfujing Road Cross Station.
3. Take bus line 82 or 60, get off at Nanheyan Station, and walk about 400 meters (440 yards) east.

See also:
10 Best Beijing Night Markets & Snack Streets

Nearby Attraction:
Wangfujing Street
- Last updated on Apr. 19, 2022 -