Beijing Subway Line 1

Pingguoyuan ↔ Sihuidong
(Identification Color: crimson
)
Beijing subway line 1, also called Line 1, is the first subway in China. With a total length of 30.44km, it has 23 stops with two teminals Pingguoyuan and Sihuidong, taking about 1 hour. After the joining up of Line 1 and Line Batong, the subway line will be the longest in the world.
See
subway maps
for reference.

Time for the first train and last train:
Pingguoyuan: 05:10 - 22:55
Guchenglu (Pingguoyuan to Sihuidong): 04:58 - 22:59
Sihui (Sihuidong to Pingguoyuan): 04:56 - 23:17
Sihuidong: 05:05 - 23:15
For further information, check the following timetable.
Timetable
Station
To Sihuidong
To Pingguoyuan
First Train
Last Train
First Train
Last Train
Pingguoyuan
05:10
22:55
05:40
00:11
Guchenglu
04:58
22:59
05:35
00:06
Bajiao Amusement Park
05:01
23:02
05:32
00:03
Babaoshan
05:04
23:05
05:29
00:00
Yuquanlu
05:06
23:07
05:26
23:57
Wukesong
05:09
23:10
05:23
23:54
Wanshoulu
05:12
23:13
05:20
23:51
Gongzhufen
05:15
23:16
05:17
23:48
Military Museum
05:17
23:18
05:15
23:46
Muxidi
05:19
23:20
05:13
23:44
Nanlishilu
05:22
23:23
05:11
23:42
Fuxingmen
05:15
23:24
05:10
23:40
Xidan
05:17
23:27
05:16
23:37
Tian'anmen West
05:19
23:29
05:14
23:35
Tian'anmen East
05:21
23:31
05:12
23:33
Wangfujing
05:23
23:33
05:10
23:31
Dongdan
05:25
23:35
05:08
23:29
Jianguomen
05:27
23:38
05:05
23:26
Yong'anli
05:30
23:41
05:03
23:24
Guomao
05:32
23:42
05:01
23:22
Dawanglu
05:34
23:45
04:59
23:20
Sihui
05:37
23:48
04:56
23:17
Sihuidong
05:40
23:51
05:05
23:15
Transfers

Gongzhufen and Guomao: Transfer with
Line 10

Dawang Road: Transfer with
Line 14

Military Museum: Transfer with
Line 9

Fuxingmen and Jianguomen: Transfer with
Line 2

Xidan: Transfer with
Line 4

Dongdan: Transfer with
Line 5

Sihui and Sihuidong: Transfer with
Batong Line
Surroundings and Bus Routes near All Stations
('

' Subway Transfer Stations)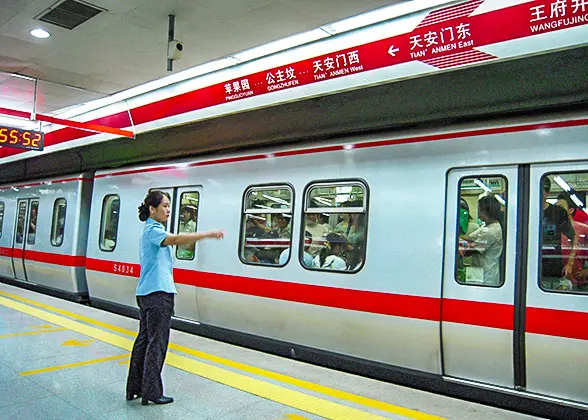 Pingguoyuan
Buses Exchangeable:
A: southwest exit: 929, 326
B: northwest exit: 629, 41, 52, 457, 637, 683, 743
C: northeast exit: 311, 336, 396, 502, 746, 931, 959, 965, 981, 977, 399, 325, 921
D: southeast exit: 968, 973, 977, 311, 366, 396, 502, 746, 931, 959

Guchenglu
Buses Exchangeable:
A: northwest exit: 385, 621, 959, 958, 747 (A1)
B: northeast exit: 337, 399, 728, 51, 318, 354, Tourist Bus 5 (B1)
C: southeast exit: 958, 354, 399, 959, Tourist 5 Branch, 小51, 318, 212, 728, 327, 395, 50
D: southwest exit: 337, 621, 747 (D1)



Bajiao Amusement Park
Surroundings: Shijingshan Gymnasium, Shijingshan Stadium, Songlin Park, Bajiao Park, Shijingshan Amusement Park
Buses Exchangeable
A1: northwest exit: 817, 325, 354, 385, 959, 327
A2: northeast exit: 337, 389, 621, 622, 728, 747, 817, 965
B1: southwest exit: 337, 354, 325, 389, 747
B2: southeast exit: 327, 385, 959, 621, 622, 728, 817, 965, 389

Babaoshan
Surrounding: Babaoshan Revolutionary Cemetery
Buses Exchangeable:
A: northwest exit: 337, 389, 728, 373, 68 (A1)
B: northeast exit: 620 (B1)
C: southeast exit: 620, 373, 337, 389, 728, 68 (C1)
D: southwest exit

Yuquanlu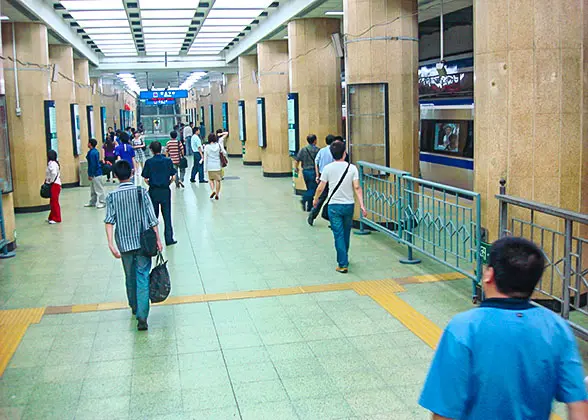 Surrounding: Beijing International Sculpture Park
Buses Exchangeable:
A: northwest exit: 337, 728, 747 (A1)
B: northeast exit: 370, 373, 620, 817 (B1)
C: southeast exit: 370, 373, 620, 817 (C1)
D: southwest exit: 337, 728, 747 (D1), 338, 621 (D2)



Wukesong
Surrounding: Wukesong Culture and Sports Center
Buses Exchangeable:
A: northwest exit: 748, 982, 804, 905, 809, 740, 983, 751
B: northeast exit: 337, 370, 373, 620, 624, 711, 728, 747, 817 (B1), 748, 982, 804, 905, 809, 740, 982, 751 (B2)
C: southeast exit: 370, 373, 620, 817 (C1), 748, 831, 905, 967 (C2)
D: southwest exit: 605 Branch, 740, 748, 804, 905, 982, 809, 751 (D1, D2)

Wanshoulu
Buses Exchangeable:
A: northwest exit: 337, 370, 373, 605 Branch, 609, 620, 624, 728, 747, 817, 711, 212 (A1)
B: northeast exit
C: southeast exit: 308, 335, 605, 728 (C2)
D: southwest exit: 337, 370, 373, 605 Branch, 609, 620, 624, 747, 711, 212 (D1), 308, 335, 605 (D2)

Gongzhufen
Surrounding: Yuyuantan Park, China Century Monument, CCTV Tower
Buses Exchangeable: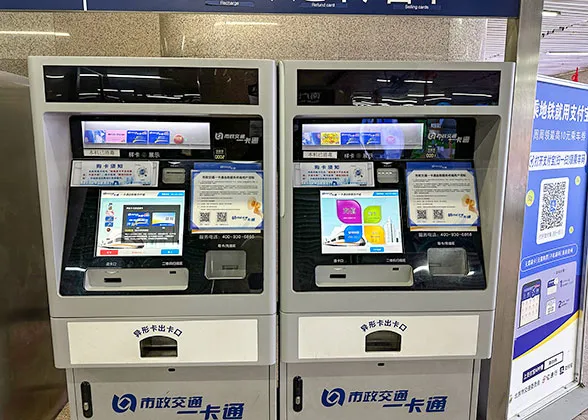 Tickets Service Machine
A: northwest exit: 613, 728, 747, 370, 373 Branch, 607, 68, 373, 620, 624, 605 Branch, 33, 817 Branch, 836, 817, 323, 332 Branch, 901, 817, 811, 624, 711, 944, 833, 968, 733, 854, 40, 724, 704, 347 Branch, 374, 944 Branch, Yuntong 102, 108, 201, 202, 103
B: northeast exit: 332 Branch, 374, 624, 733, 836, 944 Branch, 968, 811, 817, 944, 32, 308, 605, 802, 1, 40, 52, 68, 4, 613, 724, 728, 854, 33, 57, 337, 212, Special Line 1, Yuntong 102, 202, 108
C: southeast exit: 1, 4, 52, 68, 40, 724, 854, Special Line 1, 802, 728, 300, 323, 332 Branch, 613, 830, 836, Special Line 8
D: southwest exit: 68, 212, 337, 624, 308, 373 Branch, 373, 620, 370, 605 Branch, 728, 335, 747, 605, 711, 609, 324, 313, 944 Branch, 374, 944, 901, 836, 4, 620, 977, 1, 57, 52, 836, 747, 332, 609, 368, 830, 300, Special Line 8, and Yuntong 102, 202, 103

Military Museum
Surrounding:
A & B (Northeast Exit): Military Museum, China Century Monument
C1 & C2 (Southeast Exit): Yangfangdian East Road, Residence of Ministry of Railways
D (Southeast Exit): China ENFI Engineering Corporation
E1 & E2 (Northwest Exit): CCTV
G (Southeast Exit): ENFI Science and Technology Mansion, Industrial Bank, China Construction Bank, Yuyuantan Middle School
H (Southwest Exit): Xinhua News Agency Dormitory
Buses Exchangeable: 1, 4, 21, 65, 68, 205, 308, 320, 337, 617, 728, 802, 827, Special Line 1, Special Line 6, Special Line 5



Muxidi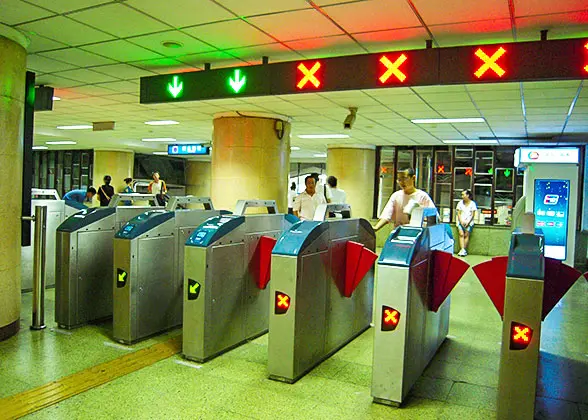 Check-in Counter
Surrounding: Capital Museum, Chinese Academy of Sciences
Buses Exchangeable:
A: northwest exit: 21, 65, 68, 320, 827, Special Line 5, Special Line 6
B: northeast exit: 52, 114, 308, 320 Branch, 717, 727, 728, 802, Special Line 1
C: southeast exit: 52, 320 Branch, 337, 717, 727, 308, 114 (C2/D2)
D: southwest exit

Nanlishilu
Surroundings: Nanlishilu Park, Children's Hospital
Buses Exchangeable:
A exit: Special Line 1, Night 209, 19, 46, 56, 716, 732, 816, 15, 732 Branch, 4, 37, 52, 802, Night205, 728, 1
B exit: 15, 19, 464, 56, 716, 732, 816, 823
C exit: 19, 49, 56, 716, 732, 816, 46, 823
D1 exit: 1, 4, 37, 52, 337, 728, 802, 937, Special Line 1
D2 exit: 46, 732, 816, 19, 56



Fuxingmen
Surrounding: Parkson Shopping Mall, Central Conservatory of Music
Buses Exchangeable:
A: northwest exit: 44, 387, 702, 820, 845, Special Line 4
B: northeast exit: Night205, 728, 337, 802, Special Line 1, 15, 25, 4, 52, 37, 1
C: southeast exit: 15, 25, 4, 52, 37, 1, Night Line 205, 728, 337, 802, Special Line 1
D: southwest exit: 25, 44, 423, 387, 702, 719, 845

Xidan
Surroundings: Xidan Commercial Street, Xidan Cultural Square, Beijing Capital Times Plaza, Beijing Book Building, Cultural Palace of Nationalities
A: northwest exit: 22, 102, 105, 109, 47, 603
B: north exit: 1, 4, 22, 37, 52, 728
C: northeast exit: 10
D: southeast exit: 1, 4, 22, 37, 52, Special Line 1, 728, 10, 802
E: southwest exit: 15, 47, 102, 105, 109, 603, 806, 808, 826, 726

Tian'anmen West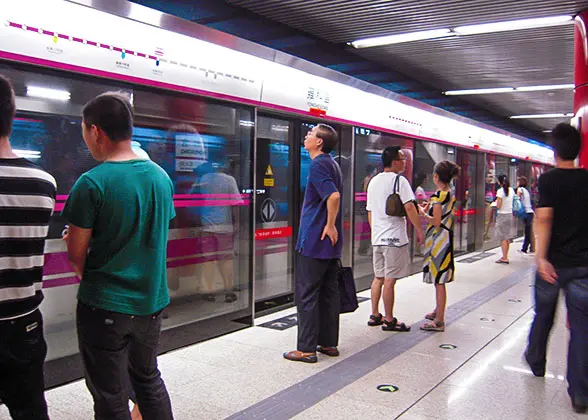 Surroundings: National Center for the Performing Arts, Tiananmen Square, Forbidden City, Beijing Music Hall, Zhongshan Park, Lao She Teahouse
Buses Exchangeable:
A: northwest exit: 10, 22, 721
B: northeast exit: 1, 4, 5, 10, 22, Special Line 1, 728, 726, 52, 37
C: southwest exit: 1, 4, 10, 22, 37, 52, Special Line1, 728

Tian'anmen East
Surroundings: Tiananmen Square, Tiananmen Tower, Great Hall of the People, Monument to the People's Heroes, Memorial Hall of Chairman Mao, National Museum of China ( Museum of Chinese History and Revolution), Forbidden City, Pudu Temple
Buses Exchangeable:
A: northwest exit
B: northeast exit: 1, 2, 4, 10, 20, 37, 52, 120, 728, Special Line 1, 55
C: southeast exit: 37, 52, 54, 120, 728, 802, Night205, Night 203
D: southwest exit: 1, 2, 4, 10, 20, Special Line 2, Special Line 1, 210

Wangfujing
Surroundings: Wangfujing Street, Wangfujing Snack Street, Oriental Plaza
Buses Exchangeable:
A: northeast exit: 20, 37, 120, 420, 1, 4, 52, 728, Special Line 1, 104, 803
B: southeast exit: 10, 20, 37, 54, 120, 420, 1, 4, 52, Special Line 1
C: southwest exit: 103, 802

Dongdan
Surroundings: Dongdan Park, Dongdan Sports Center, China National Children's Art Theatre
Buses Exchangeable:
A: northwest exit: 108, 111, 116, 106, 807, 812, 813, 1, 4, 52, 728, Special Line 1
B: northeast exit: 10, 20, 37
C: southeast exit: 10, 37, 39
D: southwest exit: 110, 117, 807, 812, 813, 41, 1, 4, 52, 728, Special Line 1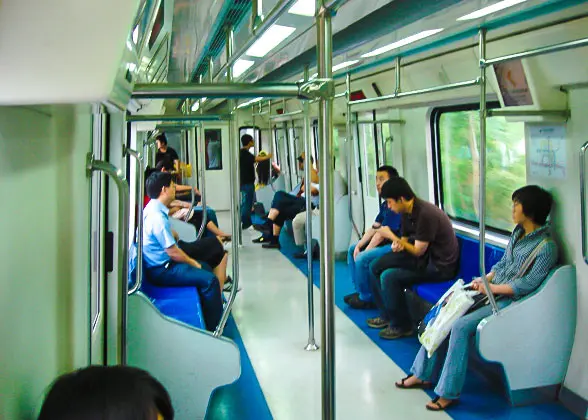 Jianguomen
Surroundings: Ancient Observatory, Chang'an Grand Theater, Ming Dynasty City Wall Relics Park, Ritan Park (Altar of Sun)
Buses Exchangeable:
A: northwest exit: 907, 907 Branch, 1, 4, 37, 908, Special Line 1, 52, 103, 122, 703, 802, 43
B: northeast exit: 1, 4, 43, 120, 802
C: southwest exit: 103, 122, 703, 802, 43, 07, 907 Branch, 1, 4, 37, 908, Special Line 1, 52

Yong'anli
Surroundings: Chaoyang Stadium, Embassy Area of Chaoyang District
Buses Exchangeable:
A: northwest exit: 1, 4, 9, 37, 43, 48, 120, 729, 728, 802, 810, 808, 848, 859
B: northeast exit: 28, 403, 48, 120, 908
C: southeast exit: 37, Special Line 1, 801, 808, 848, 859, 1, 4, 9, 728, 729, 802

Guomao
Surrounding: China International Trade Center
A: northwest exit: 9, 28, 37, 48, 728, 729, 808, 810, 859, 802, 113, 402, 405, 706, 707, 729, 801, 859
B: northeast exit: 113, 402, 405, 421, 703, 705, 707, 729, 801, 975, Special Line 3
C: southwest exit: 1, 4, 9, 28, 37, 57, 728, 810, 859, 48, 808, 729, 802, 848, 938

Dawanglu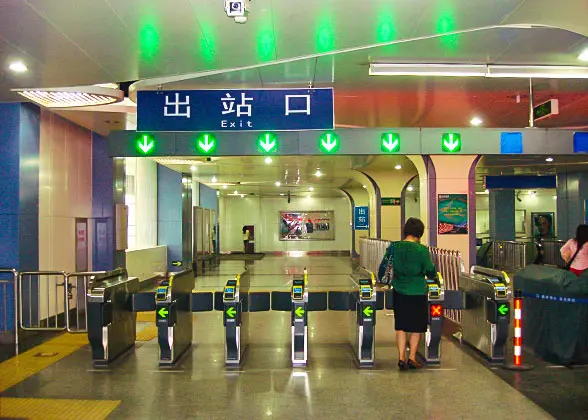 Exit
Buses Exchangeable:
A: northeast exit: 1, 4, 11, 48, 57, 728, 848, 928, 930, 976, Special Line 1, 30, 31, 608, 712, 847, 976
B: southeast exit: 11, 30, 754, 710, 712, 1, 4, 11, 48, 57, 728, 312, 402, 405, 848, 928, 930
C: southwest exit

Sihui
Surrounding: Sihui Long-Distance Bus Station
Buses Exchangeable:
A: southeast exit: 312, 728, 322, 363, 1, 4, 57, 402
B: southwest exit: 725, 825, 847, 808, 912
C: northeast exit



Sihuidong
Surrounding: Hospital of Civil Aviation,China Red Sandalwood Museum
Buses Exchangeable:
A: south exit: 312, 363, 725, 297, 847, 938, 728, 928 Branch, 938 Branch
B: north exit: 115, 718
-