Wuhan Transportation - Getting There
Air

Wuhan Flights (flight search & ticket booking)
By the end of March, 2013, the airport has operated passenger flights to 72 domestic cities and 47 international cities/regions, including Beijing, Shanghai, Guangzhou, Shenzhen, Xi'an, Hong Kong, Macau, Seoul, Bangkok, Los Angeles, San Francisco and Singapore.
A 20-kilometer speedway drive from the Tianhe International Airport (WUH) to the city center takes only twenty minutes. Airport shuttle buses leave for the city following flight arrivals. From the airport to Hankou, the bus will charge CNY per person, and 32 per person for Wuchang; a taxi ride to the city area is CNY 80-120.



Tickets
Within China, air tickets can be booked in advance in hotels, guesthouses, and ticket agencies in the city. Tickets are also available after working hours at the counter in the departure hall in the airport Waiting Building.

Ticket Offices:
Air China: 027-83786780
Southwest Branch of Air China: 027-83619392
Tianhe Airport: 027-83666666 (tickets can be delivered to your hotel room)
Waiting Building of Tianhe Airport: 027- 85818888
Hankou Financial Steet: 027- 85719338 (at No. 901, Jianshe Dadao, Hankou)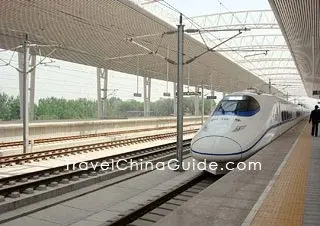 High Speed Train in Wuhan Railway Station

Train Schedule
As the capital city of Hubei province, is a transportation hub for central China. Trains travel between it and the cities within Hubei Province, as well as most major cities in China, including Beijing, Shanghai, Guangzhou, Shenzhen, Xi'an, Chongqing, Chengdu and Nanchang. The operation of high speed trains between Wuhan and Shanghai, Xi'an, Shenzhen and Guangzhou makes the city a widely recognized transportation hub, especially the
high speed trains to Guangzhou
, whose duration time is only 4 hours. Currently, there are three railway stations for passengers in the city:
Wuhan Railway Station
,
Wuchang Railway Station
, and
Hankou Railway Station
.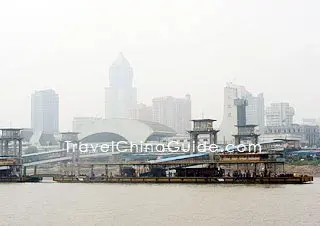 Wuhan Port
Dozens of cruise services offer deluxe cruises to the famous Three Gorges. The Passenger Port is located on the western bank of the Yangtze River, at the right end of the famous Jianghan Road.
Long-Distance Bus
With the rapid development of road construction, China's highway mileage is second in the world with a total of over 30,000 kilometers (1864 miles). Overland buses are the most important means of transport in many parts of the country. Compared to air and trains, buses are the cheapest means of transport.
Travel to other cities
The national and provincial expressways and highways in Hubei Province connect the city with most provinces and cities in Central and Southern China. Travel from Shanghai to the city by train is 1,200 kilometers (746 miles) and will take about 18 hours and the highway travel is 950 kilometers (590 miles), about 12 hours. The Beijing - Zhujiang Expressway enables passengers to take a 1300-kilometers (808 miles) drive direct to Wuhan from the capital city. Below are destination tables of Distance Passenger Stations listing cities you can reach by bus.
Fu Jia Po Passenger Station
Address: No. 262, Wu Luo Road, Wuchang District
Contact: 027- 87274817, 8008809188
Destinations: Buses leave here for Shanghai and major cities in Jiangsu, Anhui, Shandong, Guangxi, Shaanxi, Jiangxi, Hunan, Hubei, Henan and Zhejiang provinces.
Jin Jia Dun Passenger Station
Address: Opposite the Hankou Railway Station
Contact: 85870482
Destination Table: Buses leave here for Shanghai and major cities in Hubei, Jiangxi, Guangdong, Zhejiang and Jiangsu provinces.
- Last modified on Dec. 05, 2018 -
Questions & Answers on Wuhan Transportation
Asked by SAB from UNITED STATES | Aug. 19, 2019 10:59

Reply
SFO to Wuhan ultimate destination Beijing
If I check my luggage through to PEK do I need to collect my luggage and go through customs in Wuhan. my stopover?
Answers (1)
Answered by Alma from DENMARK | Aug. 22, 2019 00:47

0

0

Reply
Yes, you need to collect the luggage and recheck them at PEK during the layover.
Asked by Daleen from CHINA | May. 23, 2019 00:17

Reply
Hello, I will arrive at Wuhan Tianhe airport at 1:40 am.
could I take the shuttle bus to fujiabo station?
Answers (1)
Answered by Judy from AUSTRALIA | May. 27, 2019 23:26

0

0

Reply
You mean Fujiapo? There is no bus available at that time, so you can only take taxi to there. The cab fare is around CNY100.
Asked by Marcellus Duncan Chanayire from SENEGAL | Dec. 05, 2018 09:43

Reply
How easy is it to get to Wuhan from Shenyang city?
Are they direct train transport?
Answers (1)
Answered by Hannah from AUSTRIA | Dec. 05, 2018 19:26

0

0

Reply
There are direct trains and planes between, and you can choose for your convenience.
Asked by Ginny from SINGAPORE | Oct. 08, 2018 23:40

Reply
Is Hankou Railway Station the nearest railway station to Wuhan International Airport?
What is the best and cheapest way to travel from Hankou railway station to the Airport? Tq
Answers (1)
Answered by Arianna from NETHERLANDS | Oct. 10, 2018 23:38

0

0

Reply
Yes, you are correct.
The transportation is quite convenient. Take metro line 2 from Hankou Railway Station to the airport directly. It takes around 35 mins on the way.
Asked by Németh Zoltán from HUNGARY | Oct. 08, 2018 05:35

Reply
Stop in Wuhan Budapest - Beijing - Fukuoka flight
We have a flight from Budapest to Beijing and 3 days later to Fukuoka in Japan with seat reservation. We will do a stop over of 2 hours in WH.
We won't leave the terminals in WH. We need a Visa?
Thank you very much
Answers (1)
Answered by Thomas from SINGAPORE | Oct. 08, 2018 23:54

0

0

Reply
I'm afraid not. You need to apply the visa in advance in your country. :)