Wuhan Train
Wuhan is located in the middle of China and it is a major junction point for China's railway lines. There are many trains shuttling between the city and many others, including Beijing, Shanghai, Guangzhou, Xian, Shenzhen, Chengdu, Chongqing, Changsha, and Xiamen.

See detailed
Wuhan Train Schedule
The city is divided by Yangtze River and Hanjiang River into three parts, namely Wuchang, Hankou and Hanyang, the reputed 'Three Towns of the City'. The three passenger railway stations in the city are located separately, with two in the town of Wuchang, and the other in the town of Hankou.

Major Rail Lines from Wuhan to
It opened on December 26, 2009, with the opening of Wuhan-Guangzhou High Speed Railway. This station relieves the pressure on Hankou and Wuchang Stations and mainly operates the high speed trains and some ordinary ones to Chengdu and Chongqing. Resembling a flying crane, it is reputed as the world's most beautiful railway station. It has one underground floor and three above ground floors. The floors from bottom to top successively contain the subway platform, arrival hall, platforms, and waiting hall . The city bus stop and long-distance bus station are situated at the east square of the station while the west square is a recreation and green belt area.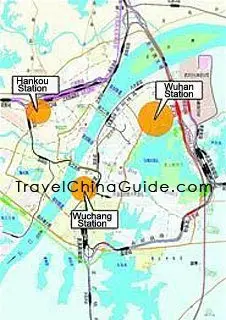 Three Railway Stations in the City

Transportation Connections



Subway
Line 4: Wuhan Railway Station <--> Huangjinkou



Bus
No. 108: to Minquan Rd Wangjiaxiang
No. 297: to Hankou North Ave CBD East
No. 513: to Lumo Rd Optics Valley Square
No. 525: to Qunli Village
No. 540: to Wuchang Railway Station
No. 551: to Taipingyang City Bus Parking Lot
No. 610: to Hankou Railway Station
No. 643: to Lumo Rd Optics Valley Square


Transportation Connections

Trolley
No. 4: to Jiefang Avenue Water Works

Bus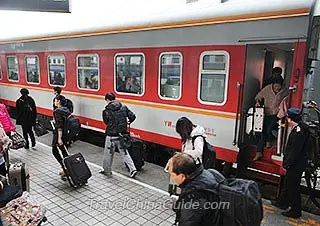 No. 10: to Hankou Railway Station
No. 59: Dingziqiao South Rd Jiangnan Courtyard <--> this station <--> Lumo Rd Nanwangshan
No. 66: to Zhuodaoquan South Rd Fangjiazui
No. 74: Youyi Ave Shahu Lake <--> this station <--> Wunantielu New Village
No. 507: Qiugui St Xingyue City <--> this station <--> Wujindi Highway Wutaizhai
No. 511: to No. 7 Jianshe Rd Linjiang Ave
No. 518: to Luoyu East Rd Wangjiadian
No. 538: to Nanhu Ave Chashanliu
No. 561: this station <--> Nanhu City Bus Lot <--> Hankou Railway Station
No. 564: Wujindi Highway Sitan Rd <--> this station <--> Bayi Rd Donghu New Village
No. 577: to Hanhuang Rd Daijiashan


Transportation Connections

Subway
Line 2: Jinyintan <--> this station <--> Optics Valley Square

Bus
No. 9: to Wuhan Port
No. 10: to Wuchang Railway Station
No. 38: to Dock of Yue Han
No. 519: to Luojiashan Rd Quanye Chang
No. 533: to Minzu Rd Jijiazui
No. 561: this station <--> Wuchang Railway Station <--> Nanhu City Bus Lot
No. 610: to Wuhan Railway Station
No. 536 (night line): to Chuangye St Dahe Village
- Last modified on Aug. 28, 2018 -