Wuhan Travel Guide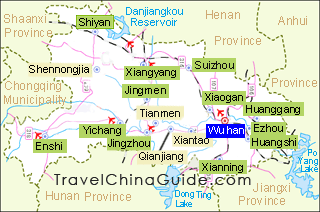 Wuhan, the capital city of Hubei Province in central China, is situated on Jianghan Plain, a river-crossed fertile land created by the Hanjiang River joining the Yangtze River. This is a routine port for a Yangtze River cruise. Divided by the Yangtze, Wuhan is known as the 'Three Towns of Wuhan' with Hankou and Hanyang on the west bank, and Wuchang on the east.

"I like to eat the delicious Re Gan Mian noodles; I like to wear the cotton jacket I bought in Han Zheng Street; I like to live near the flourishing Liuduqiao area; I like to cross each bridge over the Yangtze," writes a local resident in Wuhan. From this, you can see the locals' affection on this charming city.


Pictures

Map
In the Qing Dynasty (1644 - 1911), Hankou became one of the four best-known towns in the country. For centuries, Wuhan has been the center of trade and transportation in central China. Today it is an important hub in central China and a feature of Yangtze River cruises for sightseers and businessmen traveling from Sichuan to Shanghai or Hong Kong.
| | |
| --- | --- |
| Bronze Vessel in Hubei Provincial Museum | Yellow Crane Tower |
Wuhan is the place to find both history and natural wonders. Hubei Provincial Museum and Yellow Crane Tower are two places to appreciate ancient Chinese history and culture. In the museum, chimes excavated from tombs reveal the incredible achievements of ancient people in music, acoustics and metallurgy. The classic poems and inscriptions on the tower, (although unrecognizable to most Westerners) can inspire your spirit as you pretend to be a poet with a bird's-eye view of the river from the tower window. In addition, the famous Villa of Chairman Mao Zedong on the scenic bank of East Lake, Wuchang, is an ideal place for Westerns to learn more about him. Travelers going to Wuhan can also visit these attractions:
Guiyuan Buddhist Temple
Heptachord Terrace
Huangpi Mulan Culture Ecological Tourism Area
Madame Tussauds
National Stone Museum
Wuhan Happy Valley
Yangtze River
Yangtze River Bridge


Hubei Cuisine

Featured Snacks

Western Style Food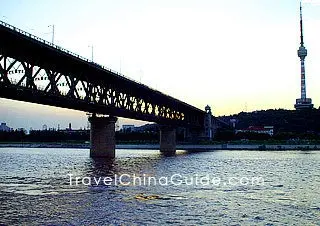 Yangtze River Bridge
Time-honored Han Zheng Street and the bustling walking street near Hanjiang Road are two choices for shopping lovers in Wuhan. Comb through dazzling shops housed in traditional Chinese buildings and find special gifts for friends and family. Even the most fastidious shopper will be satisfied.

72 hours visa-free transit policy has been implemented at Tianhe International Airport since May 1, 2015. Passport holders from eligible countries, such as USA, Russia, United Kingdom, France, Japan, South Korea and Singapore, can enjoy up to 72 hours free transit when they take an international transfer at the airport. Please read details about
72-hour Visa-free Transit
.

Recommended Tour Itineraries of Wuhan:
Hiking Adventure
Golf Vacation
- Last modified on Sep. 11, 2018 -