Wuhan Travel Guide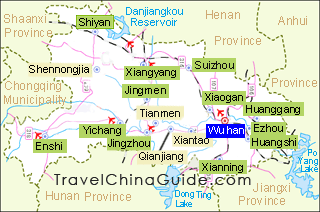 Wuhan Facts
Chinese Name: 武汉 (wǔ hàn )
Population: 12,000,000
Area: 8,596.15 square kilometers (3,318.99 square miles)
Location: in the west of Hubei Province, central China
Administrative Division: 13 districts (Jiang' an, Jianghan, Qiaokou, Hanyang, Wuchang, Qingshan, Hongshan, Caidian, Jiangxia, Huangbei, Xinzhou, Dongxihu, Hannan); 1 county (Suixian); 1 county-level city (Guangshui)
Area Code: 027
Zip Code: 430000
GDP (2019): CNY 1,622.321 billion (USD 235.153 billion)
China's Main Industrial & Transport Center
Wuhan, the capital city of Hubei Province in central China, is situated on Jianghan Plain, a river-crossed fertile land created by the Hanjiang River joining the Yangtze River. This is a routine port for a Yangtze River cruise. Divided by the Yangtze, Wuhan is known as the 'Three Towns of Wuhan' with Hankou and Hanyang on the west bank, and Wuchang on the east.

Being an important industrial base in China, Wuhan has developed a complete industrial system of iron and steel, automobile, optoelectronics, chemical industry, metallurgy, textile, shipbuilding, manufacturing, and medicine. This city is also China's main transport hub as its high-speed rail network radiates most cities of China and flights to the world. It takes about 5 hours to Beijing, Shanghai, Chongqing, Shenzhen and Hong Kong by train while there are 40 direct overseas routes to four continents. Moreover, Wuhan is an important science and education City in China. The number of colleges and universities ranks third in China.

Beautiful cherry blossom, wonderful lake and river views and abundant snacks all add unique charm to Wuhan. In March, cherry blossoms in full bloom in Wuhan University and Mo Mountain attract tourists from all over the country. And the picturesque East Lake and night scenery of Yangtze River will make you intoxicated. All kinds of breakfasts in Hubu Alley are particularly attractive. A bowl of Hot and Dry Noodles is an indispensable delicacy in the life of Wuhan people.
In the Qing Dynasty (1644 - 1911), Hankou became one of the four best-known towns in the country. For centuries, Wuhan has been the center of trade and transportation in central China. Today it is an important hub in central China and a feature of Yangtze River cruises for sightseers and businessmen traveling from Sichuan to Shanghai or Hong Kong.
The uprising voice of the Revolution of 1911 was heard here firstly. The revolution which aimed to overthrow the autocratic monarchy of the Qing Dynasty (1636 - 1912) and establish the Republican government is one of the great events in modern China.
| | |
| --- | --- |
| Bronze Vessel in Hubei Provincial Museum | Yellow Crane Tower |
Wuhan is the place to find both history and natural wonders. Hubei Provincial Museum and Yellow Crane Tower are two places to appreciate ancient Chinese history and culture. In the museum, chimes excavated from tombs reveal the incredible achievements of ancient people in music, acoustics and metallurgy. The classic poems and inscriptions on the tower, (although unrecognizable to most Westerners) can inspire your spirit as you pretend to be a poet with a bird's-eye view of the river from the tower window. In addition, the famous Villa of Chairman Mao Zedong on the scenic bank of East Lake, Wuchang, is an ideal place for Westerns to learn more about him. Travelers going to Wuhan can also visit these attractions:

Hubei Cuisine

Featured Snacks

Western Style Food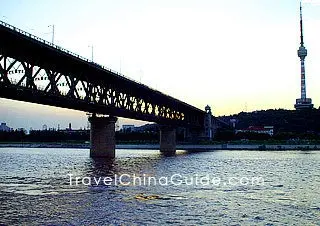 Yangtze River Bridge
Time-honored Han Zheng Street and the bustling walking street near Hanjiang Road are two choices for shopping lovers in Wuhan. Comb through dazzling shops housed in traditional Chinese buildings and find special gifts for friends and family. Even the most fastidious shopper will be satisfied.

144-hour Visa-free Transit in Wuhan
has been implemented at Tianhe International Airport. Passport holders from eligible countries, such as USA, Russia, United Kingdom, France, Japan, South Korea and Singapore, can enjoy up to 144 hours free transit when they take an international transfer at the airport.

See more
Top 10 Things to Do in Wuhan

Recommended Tour Itineraries of Wuhan:
Hiking Adventure
Golf Vacation

Further Reading
9 China Famous Cities for Study Tour
China Population by City: List of 50 Most Populated Cities
- Last updated on Jan. 12, 2023 -
Questions & Answers on Wuhan Travel
Asked by Todd S Hewett from USA | Jan. 12, 2023 07:01

Reply
Trains from HK to Wuhan
Has this train route (HK to Wuhan) started running again?
Answers (1)
Answered by Anna | Jan. 12, 2023 16:46

0

0

Reply
Not yet. But they will soon. Those HK to Guangzhou and Shenzhen will run again since Jan. 15.
Asked by Bimmy from PAKISTAN | Jun. 09, 2021 18:32

Reply
Visit by train
I want to visit Wuhan by train from Beijing for Dragon Boat Festival. Do I need to do anything special? Do I need to get tested for covid before going? Will I have problems going back to Beijing by train? Thanks.
Answers (1)
Answered by ding | Jun. 11, 2021 23:23

0

0

Reply
If you are in china for a long time, you don`t need to get tested for covid except from guangdong province.
Asked by Katherine from SOUTH AFRICA | Dec. 18, 2019 00:06

Reply
I am a South African travelling from Bangkok to New York via Wuhan on China Southern Airlines.
Tianhe airport does not offer checking luggage straight through, so upon arrival in WH we need to collect our luggage and re-check in for the New York flight.

Does anyone have any information regarding transit visa or if they are needed for this kind of travel?

Thanks in advance.
Answers (1)
Answered by ZUPAN | Dec. 22, 2019 16:47

0

0

Reply
If your layover or better to say transit time in Wuhan is less than 24 hours, you will be eligible for 24 hour visa free transit and you don't need any kind of visa.

You will print out your flight tickets and bring those printouts with you. Also, you will declare at check-in in Bangkok that you will travel to New York via Wuhan using 24 hour visa free transit. After a short inspection of your flight tickets, you will be allowed to board the plane.

Upon your arrival, you will approach 24 hour visa free transit counter where you will apply for a temporary entry permit to be allowed to collect your luggage and to recheck for your flight to New York. Basically, this is it.
Asked by Chin wan fong from MALAYSIA | Oct. 19, 2019 22:49

Reply
How to go to yellow crane tower from hankou station by metro?
Answers (1)
Answered by Lanny from ITALY | Oct. 21, 2019 20:54

0

0

Reply
Actually, it is more easy and convenient to take bus 703 to Wuluo Road station, then walk north around 300m to your destination.
Asked by Victoria from RUSSIA | Oct. 11, 2019 22:56

Reply
How to get to Yellow crane tower from HZAU by public transport?
I'm on the Cuizhu Rd, Hongshan, Wuhan, Hubei, could someone help me to explaine, how to get to the Yellow crane tower by public transport and how much it should be? Help me! Thanks!
Answers (1)
Answered by Henry from USA | Oct. 14, 2019 01:39

0

0

Reply
Take bus 570 from Nanhu Avenue station to Heng'an Rd station, and transfer to bus 561 to Wuchang Rd station, and walk west around 700m to it. It costs CNY4 with 1.5 hours.