Hubei Hiking Tours

Now let's introduce one of the most famous mountain in China, Mt. Wudang. It is famous for the home of Martial Arts and a good place for summer resort. It has been called No. 1 Celestial Mountain in China.
Wuhan02: 2 Days Wuhan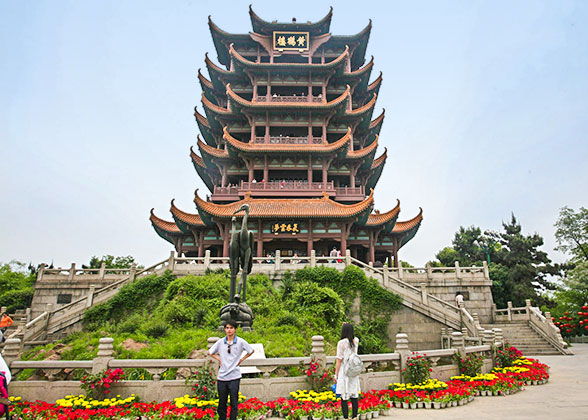 On the first day we will visit Guiyuan Temple, Heptachord Terrace and Yellow Crane Tower. No. 401 tourist special line takes you to all three sites. Since they are not very far from each other, we suggest you walk from place to place.

We will start from Guiyuan Temple which is located at Cuiwei Road, Hanyang District, Wuhan. The temple is well known for its grand architecture, Buddhist scriptures, the statues of Weito, carved of oak, the 500 disciples of Buddha (arhat) with various looks and gestures. Then head north to reach the Heptachord Terrace. After staying there a while, walk eastward along Qintai Road and Guishan Road to Wuhan Yangtze River Bridge. You can see the Yellow Crane Tower after passing over the bridge. The admission fees of Guiyuan Temple, Heptachord Terrace and the Yellow Crane Tower are 15RMB, 20RMB and 50RMB respectively. You can stay at the Home Inns Wuhan (Address: 55 Cuiwei Road, Wuhan) which is quite close to Guiyuan Temple.

On the second day, we will visit Hubei Provincial Museum and some other famous tourist resorts of Wuhan. We suggest you take the No. 402 tourist special line as it stops at most of the scenic areas as well as Hubei Provincial Museum. You can catch the bus at Guiyuan Temple, Heptachord Terrace and the Yellow Crane Tower bus stations.
Wuhan03: 8 Days Wuhan - Jingzhou - Xiangfan - Mt. Wudang - Muyu town - Shennongjia - Muyu Town- Yantian Scenic Spots - Muyu Town - Yichang
Take a bus to Jingzhou from Wuhan on the first day at Fujiapo Bus Terminal (Add: 358 Wuluo Road, Wuchang District, Wuhan) or Hanyang Bus Terminal (Add: 275 Hanyang Avenue, Hanyang District, Wuhan). The distance is 235km and it takes about 3 hours to get there. The fare is 70RMB. Upon arrival, visit the ancient city and Guan Yu Temple.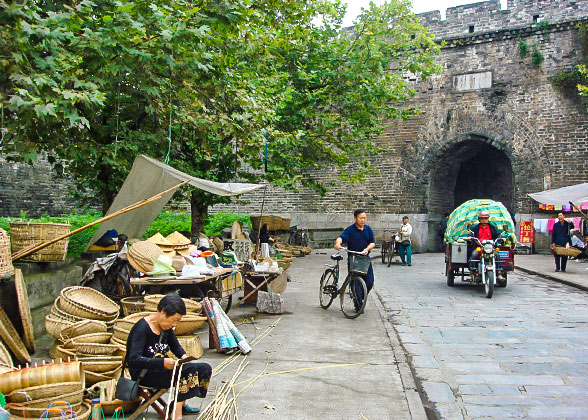 Ancient Jingzhou city, Wuhan
On the second day, take a bus from Shashi Bus Terminal(Address: 4 Gongyuan Road, Shashi District, Jingzhou) to get to Xiangfan. These two cities are about 250km from each other, the journey takes about 3.5 hours. The fare is 70RMB. Visit the famous scenic spot Longzhong (Zhuge Liang's hometown) when you get there.
We will head for Mt. Wudang on the third day. Take a bus (2 hours) heading for Shiyan by way of Mt. Wudang at Xiangfan Bus Terminal. The ticket price is about 40RMB. You should get off at Mt. Wudan. The driver will stop at the exit of Mt. Wudang Highway. Walk towards the mountain for about 200 meters you will reach the gate. The admission fee is 180 RMB. Take a bus to Qiongtai Terrace. Climb up to the Golden Top where the biggest bronze hall and the Golden Hall lie. Take a cable car to return to Qiongtai Tarrace. Take a bus to the Prince Slope where you can view the ancient Osmanthus tree which is around400 years old, the unique red walls and the pillar with 12 beams on makes this a masterpiece of ancient wooden buildings. Stay at a hotel in the mountains.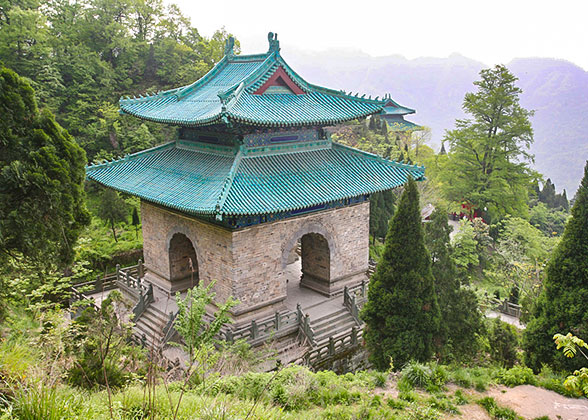 Wudang Mountains
Visit the Southern Grotto Palace - the most beautiful one in Wudang Mountains, Purple Heaven Palace - the biggest Taoist ritual site and Monkey Valley the next day.
On the fifth day, we will move to Shennongjia which is known as the ridge of central China. There are no direct buses to Shennongjia from Mt. Wudang. You have to take a bus to Fang County and then change to a bus to Muyu town located at Shennongjia tourist resort. En route, enjoy the fantastic natural scenery. Upon arrival, find a local hotel and stay overnight there.
On the sixth day, visit Shennongjia Reserve, including Jinhouling Virgin Forest, the highest in Central China - Shennong Peak, Watchtower and Wall Board Rock. Head to Yantian Scenic Spots the next day. Visit Swallow Cave, Rainbow Flying Ferry, Wildman Cave, Shennongtan Scenic Spot and thousand years old fir.
On the eighth day, we will get to Yichang via Badong. Take a bus from Muyu town to Badong. Then take a ferry from Badong to Yichang. It takes about 3.5 hours to reach Yichang from Badong by fast boat. The slow boat takes about 6 hours to get there. On arrival at Yichang, go to see the Three Gorges Dam (the biggest water control project in the world)
Wuhan04: 2 Days Wuhan - Qianshan County - Wuhan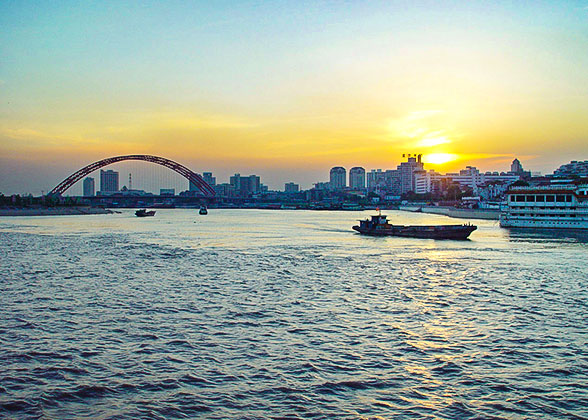 Take a bus from Wuhan to Qianshan County(located in Anhui province) at Fujiapo Bus Terminal (Add: 358 Wuluo Road, Wuchang District, Wuhan) in the morning. It takes about 4 hours to get there. In the afternoon, visit Sanzu Temple and Stone Cow Ancient Cave. You can take a cruise on Qianhe River. Stay overnight at a local hotel.

Climb the mountain to visit Mystical Valley, Fly-over Peak, Heaven Lake Peak, Immortal's Cave, Black Dragon Back and Liandan Lake the next day. Then take a return bus to Wuhan.