Yangtze River Bridge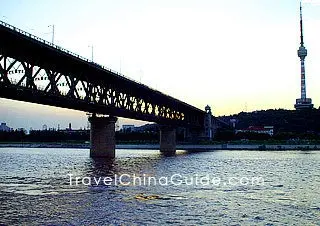 Yangtze River Bridge, Wuhan
Wuhan Yangtze River Bridge is the first highway-railway bridge over the Yangtze River. On the mighty Yangtze with a length of 6,300 kilometers (3,915 miles), there was no bridge for thousands of years. This river seemed an obstacle set by nature, separating Hanyang, Hankou and Wuchang, namely the three towns of Wuhan. Moreover, it blocked the transportation between the north and the south China. Only ship can be used. However, the natural obstacle became accessible for various vehicles due to the finish of the Yangtze River Bridge in 1957.

Started in 1955, the grand bridge project takes about two years. The complete bridge is 1,670.4 meters (5,480.3 feet) long with the main body of 1,156 meters (3,793 feet). It has 8 piers and 9 holes. It is divided into two levels with the upper one for bus transit and the lower for trains. The driveway is 18 meters (59 feet) wide for six buses to run parallel. The bridge is extremely firm. It has not been harmed even during the huge Wenchuan Earthquake in 2008.

Extending from Tortoise Hill (Gui Shan) in Hanyang to Snake Hill (She Shan) in Wuchang, the Wuhan Yangtze River Bridge has not only improved the transportation in the city, but also enhanced the communication between the north and the south of the river. To fully view the splendid bridge and the marvelous river, you can climb up the 7-story tower at either end of the bridge by elevator or staircases. The attached buildings and decorations are harmonious and exquisite, reflecting rich Chinese architectural features. The theme of sculptures on the 143 panes along each side of the bridge is from some Chinese folk stories such as the peacock showing its fine feathers, carp playing among lotus, a magpie singing on blossom tree.

From the Wuhan Yangtze River Bridge, you can see the rolling water run to the east with ships coming and going; on the bank, Hubei TV Tower stands tall on Tortoise Hill (Gui Shan) in Hanyang, while the first tower in southern China, the Yellow Crane Tower (Huang He Lou), stands on Snake Hill (She Shan) in Wuchang.

Related information: Now, there are many grand bridges over the Yangtze River, and the most famous three in Wuhan are Wuhan Yangtze River Bridge described above, the Second Wuhan Yangtze River Bridge established in 1995 and the third one (Baishazhou Bridge) opened in 2000.

How to get to Wuhan Yangtze River Bridge
Take bus 514, 539, 542, 566, 572, 573, 578, 607, 717, 804 or 916 to Linjiang Dadao Pinghumen.
Wuhan Bus / Metro Search
| | |
| --- | --- |
| Admission Fee: | Free; but it charges CNY 2 for the elevator. |