Wuhan Attractions - Things to Do
Historical Sites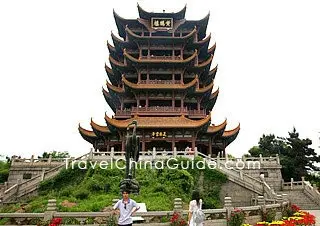 Yellow Crane Tower
The well-known
Yellow Crane Tower
, a Wuhan landmark, is one of the most recommended things to do for travelers. Inscriptions by famous poets and literati from ancient dynasties adorn the tower. A climb to the top nets a bird's view of the entire city.
Second in importance is
Guiyuan Buddhist Temple
(Temple of Original Purity). One of the four important Buddhist temples in China, it is known for its perfect architecture, excellent sculptures, and rich collection of Buddhist doctrine.
In Wuhan, you can go to visit
Chairman Mao Zedong's Villa
. The villa adjacent to the East Lake was built as a retreat house for Chairman Mao and other privileged ruling members of the Politburo. Mao nicknamed it "Home of the White Clouds and Yellow Cranes" where he enjoyed the quiet ambiance and great relief it offered.
Located at Simenkou, Wuchang District, Wuhan City,
Hubu Alley
is a snack street where you are able to enjoy various delicacies such as Hot and Dry Noodles, Rice and Meat Pancake, Hutang Rice Noodles and Soup Dumplings.
Besides, the
Heptachord Terrace
is another quite wonderful site among Wuhan points of interest. Known as Guqin Tai, it is a reminder of the legend of Yu Boya, an expert heptachord player and Zhong Ziqi, a woodcutter, who can understood Boya's music.
| | |
| --- | --- |
| Guiyuan Buddhist Temple | Heptachord Terrace |
Wuhan presents charming scenery for nature lovers. The scenic East Lake area is top on all travel plans for its fascinating lake scenery, charming plum gardens and bamboo forest. There are also some worthy places to visit near Wuhan, such as Gui Shan (Tortoise Hill), Mo Hill, Huangpi Mulan Culture Ecological Tourism Area, and Qingchuan Pavilion.
Modern architecture vies for interest with historic sites. The bund area in Hankou, the famous waterfront along the Han River is a bustling commercial section with colonial style architecture, bars and pubs. At night this is the hub of Wuhan nightlife. Two other shopping streets in Zhongshan Dadao and Jiefang Dadao are also popular.
Yangtze River Bridge
, known as Wuhan Changjiang Daqiao, is the first highway-railway bridge over the
Yangtze River
. It has two levels – the upper one for bus transit and the lower for trains. From the bridge, you can see the rolling water run to the east with ships coming and going.
Madame Tussauds
is located at Chuhehan Street, Wuchang District. Presently, over 50 wax figures are exhibited here for visitors to appreciate.
Wuhan Happy Valley
is a theme amusement park located in the northeast of this city with more than 30 rides and attractions.
Wuhan Zoo
is a semi-natural zoo with beautiful scenery, diverse flora and fauna, and abundant recreational facilities.
Optical Valley
is China's talent-concentrated optoelectronic industry base, covering many famous universities, scientific research institutes and featured tourist attractions.
Travelers interested in China's brilliant historical civilization should not miss Hubei Provincial Museum with its collection of more than 200,000 artifacts excavated from ancient tombs. Among them, the bronze bells are most attractive.

Another popular museum is the Wuhan Chinese Peculiar Stone Museum, famed for its collection of various rare stones. To admire the enchanting unique stones, some 1,300 pieces of stone in the National Stone Museum will virtually broaden your mind.

With modern technology, Wuhan Science and Technology Museum has 8 unique exhibition halls allowing you more closer to experience the application of science in daily life. Due to the interesting Children's Exhibition Hall, it is very suitable for families with children to explore natural science.

Wuhan Museum shows the history of this city from Prehistoric Times to modern times, with a great variety of relics, such as bronze wares, jades, classic paintings, calligraphy, enamel vessels and so on.



See also Top 10 Things to Do in Wuhan
| | |
| --- | --- |
| Hubei Provincial Museum | National Stone Museum |
- Last updated on Apr. 13, 2021 -
Questions & Answers on Wuhan Attractions
Asked by Gerald Burke from AUSTRALIA | Jan. 06, 2020 01:47

Reply
Travel safety for a single male
Hi can someone advise me is it safe for a single male to travel alone in Wuhan Hankou Riverbank District and surrounding areas.

Furthermore what level of medical facilities are available

What is the best time of the year for a visit to the city

Thankyou Gerald
Answers (1)
Answered by Gina from CANADA | Jan. 07, 2020 16:53

0

0

Reply
China is one of the safest countries in the world so you don't need to worry about travel safety at all generally speaking. The best travel time is during spring, March to May.
Asked by alfi from MALAYSIA | Aug. 04, 2019 21:29

Reply
How to go Zhangdu Lake from Wuchang train station/Yellow Crane Tower?
Hi, may i know how to go Zhangdu Lake from Wuchang train station or Yellow Crane Tower by public transport? thanks
Answers (1)
Answered by Diane from USA | Aug. 07, 2019 18:32

0

0

Reply
There is no public transport to go Zhangdu Lake. For your convenience, you can hire a car or take taxi to there directly.
Asked by Vivin from INDIA | Dec. 30, 2018 20:40

Reply
Asking for Wuhan airport to city center and train to Zhangjiajie
Hello..i'm vivin from Indonesia. I have a few questions :
I'll arrived at Tianhe Int'l Airport at midnight, is it safe to take a taxi to the city center or jiangshan area? How far and how much about the cost?
After 3 days in the city, i want go to Zhangjiajie, which a good route to take the train, is it from wuhan direct to Zhangjiajie OR Changsha to Zhangjiajie?
In Zhangjiajie better stay at wulingyuan or near Zhangjiajie train station? I'll stay about 3 days.
Thank you before
Answers (3)
Answered by Allison from USA | Jan. 07, 2019 23:06

0

0

Reply
1. Yes, generally speaking, you don't need to worry about the safety problem.
2. The distance to Jiangshan area is around 45km. The cab fare to Jiangshan area is CNY120 to 130.
3. You are advised to take a train from Wuchang Railway Station to Changsha first. Then transfer to a coach to Zhangjiajie.
4. You can stay one night nearby the Zhangjiajie Railway Station and stay two night inside Wulingyuan Scenic Area.
Answered by Vivin from INDONESIA | Jan. 18, 2019 06:42

0

0

Reply
Thank you Allison,
Btw, why you suggest to take a coach (Changsha to Zhangjiajie) not train?
I found Fenghuang ancient city and i think i want change my route to be like this : wuhan - huaihua - fenghuang - wulingyuan scenic area - Zhangjiajie tianmenshan. Any suggest?
Answered by Allison | Jan. 22, 2019 18:30

0

0

Reply
Yes, it is more convenient for you to take a train from Changsha to Zhangjiajie. Oh, your travel plan is nice!
Asked by richard from SINGAPORE | Sep. 26, 2018 18:47

Reply
Travel route suggestion to Wudang, Shennongjia and Enshi
Hi, i am looking for travel suggestion to visit the three places. My name is richard, singapore
Travel period is Mid may 2019
I am looking to hike up to wudang shan。
Few things
(a) Departure city.. From chengdu or wuhan ? Seems like from chengdu is nearer
(b) Total how many days will be required ?
(c) Estimated cost per head. Stay can be three star and we do not mind stay in homestay for the experiences
(d) Will be travelling in a group and it depends on the cost, we might have more than 15pax
Answers (3)
Answered by Elinor from USA | Sep. 27, 2018 19:12

0

0

Reply
Hi, Richard, from Wuhan to Wudangshan is much nearer. If you take the train to Wudanshan, departing from Chengdu to Wudangshan needs about 11 - 15hours and there are only 2 trains available. Departing from WH to Wudangshan, about 6 trains are operated and it only requires about 5.5 – 7.5 hours.

As for your second question, the recommended travel time is about 7 - 10 days at least.

Two three-star hotels are recommended to you.
Jianguo Hotel Nanyan inn, located at Nanyan Scenic area, next to the Nanyan parking lot. The starting price is about CNY350 – CNY400.
Shanhaotai Holiday Hotel, located at No.20 Yongle Road, near the entrance of Wudangshan. The starting price is about CN150 – CNY200.

If you are traveling in a group and you are advised to book a tour in a travel agency because the transportation to the three places is not very convenient and you can have a good time with the help of the travel agency.
Answered by Richard from SINGAPORE | Sep. 28, 2018 01:08

0

0

Reply
Any reliable travel agency to recommend?
Answered by Elinor | Sep. 28, 2018 18:01

0

0

Reply
Dear, the hotel you live in may help you find one or you can go to the tourist service center in the railway station or the airport.