Wuhan Shopping
Where to buy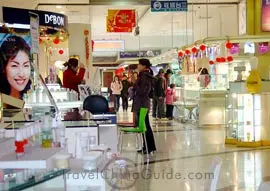 The commercial industry in Wuhan has long been well-known throughout the country. Like other medium cities in China, the commercial industry here is flourishing with shopping malls and centers, super markets, chain stores and shopping streets throughout the city.

Featured Street
Cultural streets offer more traditional Chinese items and buildings, an ideal way to learn more about folk artwork and flavors and to find local specialties

Shopping Malls
Large-scale shopping centers with complete selections of dresses, commodities, food, books, home appliances, furniture, etc.
Features: Quality assured; reasonably priced

Supermarkets
Supermarket chains such as Carrefour, Metro, and Parkson with stores in all three Wuhan towns
Features: low prices with good quality

Recommended


Featured Cultural Street
1. Han Zheng Street (Han Zheng Jie)
In the center of Hankou Town is a century-old street, Han Zheng (Han Zheng Jie). In 2000, the government developed it into a tourist shopping street. Dazzling stores housed in traditional buildings sell various goods. Today it is the largest wholesale distribution center in central China. Tourists are invited to find inexpensive items -- and are cautioned about quality. Learn to bargain.
2. Hanjiang Walking Street
Another featured street is a famous walking street near Hanjiang Lu in the town center. One hundred seventy-seven meters (252 feet) longer than the famous Nanjing Lu walking street in Shanghai, Hanjiang Lu is very popular.
Over 200 stores housed in traditional buildings sell a complete selection of clothes, appliance, food, commodities and other goods. Five squares in different style are arranged along this street with greenery, springs, cafes and bars. Along the street are buildings that housed old banks, stores and statues depicting the everyday life of local people. Everything on the street tells the history of the city. Amenities such as public telephones, electronic screens, mailboxes and car parking are available.
Tip: You can take the tourist special line of Bus 401 from the Wuchang Railway Station or Bus 533 from the Hankou Railway Station.
3. Cultural Street in Xianggang Lu
Located at No. 209 Xianggang Road is a large antique market. An array of stalls and stores sell traditional Chinese folk artwork, chops, curios, Chinese paintings, calligraphy, furniture, jade and other treasures from earlier days. Both locals and travelers enjoy looking for favorites in a sea of choices.

Shopping Malls


Wuhan Mall
No. 690, Jiefang Dadao, Hankou

Wuhan Square
No. 688, Jiefang Dadao, Hankou

Int'l Trade Square
No. 686, Jiefang Dadao, Hankou

Asian Trade Square
No. 628, Wuluo Lu, Wuchang District

Jian Er Mall
No. 955, Heping Dadao, Qingshan District

Zhongshang Shopping Center
No. 9, Zhongnan Lu, Wuchang District

Central Department Store
No. 129, Jianghan Lu

Qingshan Department Store
No. 1542, Heping Dadao, Qingshan District

Hanyang Mall
No. 134, Hanyang Dadao

Xin Wuzhan Shopping Center
No. 372-372, Jiefang Dadao, Hankou

New World Department Store
No. 566, Jianshe Dadao, Hankou

New World Square
No. 118, Jianghan Road, Jiang'an District

Wangfujing Department Store Wuhan
No. 888, Zhongshan Dadao, Hankou

SOGO
No. 374, Jiefang Dadao, Hankou

Xin Minzhong Leyuan
No. 608, Zhongshan Dadao, Hankou

Supermarkets


Zhong Bai Group
Known as the king of supermarkets, Zhongbai has 20 branches in the city.
Branches in
Jiang'an District: No. 1378, Jiefang Dadao
Wuchang Distict: No. 19, Shuiguohu Road
Hanyang District: No. 269, Yingwu Dadao

Parkson
Add: No. 43, Changqing Lu, Hankou

Zhongshang Square
Add: No. 7 Xudong Lu, Wuchang

Hualian Supemarket
Hankou Branch: No. 681, Jiefang Dadao
Hanyang Branch: No. 408, Hanyang Dadao
Wuchang Branch: No. 75 Lianjiang Dadao

Hanshang 21 Shopping Center
Add: No. 687, Hanyang Dadao

Carrefour
Hankou Branch: No. 244, Zhongshan Dadao
Hanyang Branch: No. 687, Hanyang Dadao
Wuchang Branch: No. 1, Zhongbei Lu

Metro
Hankou Branch: No. 144, Jiefang Dadao, Hankou
Wuchang Branch: No. 1, Tiyuguan Lu (Stadium Road), Wuchang

Yi Chu Lian Hua (Lotus)
First Branch: No. 98, Huangxiaohe Lu
Second Branch: at the intersection of Baofeng Lu and Jieshe Dadao, Hankou

Hao You Duo
First Branch: No. 28, Changqing Square, Huangxing Lu, Hankou
Second Branch: at the intersection of Zhongshan Dadao and Minyi Erlu, Hankou

What to Buy

Turquoise
It is a sky blue or bluish green semi-precious stone. The name means "Turkish stone" and is often inlayed on bracelets, rings or necklaces. As the stone is porous, jewelry made with turquoise should be removed before washing your hands.

Jing Wu's Duck Neck
Wuhan people consider duck neck a delicacy. The spicy duck neck is cooked with pepper and spices and stewed in a low fire, resulting in strong taste and a lingering flavor. Jing Wu, the most famous shop that sells it, has been interviewed by several TV stations in China.

Xiaogan Cake
A specialty of Hubei Province, Xiaogan cake is made of sticky rice flour, sesame, sugar, and sweet-scented osmanthus. It is crisp, sweet and nutritious.
Qingshan Mahong Cake is another kind of sweet cake made of rice flour, sugar and sesame. The cake is usually cut into long pieces and tastes soft and crisp.
All of these foods are available on supermarket shelves. If you buy them at street stalls or small stores, read the label information carefully.
- Last modified on Mar. 27, 2019 -
Questions & Answers on Wuhan Shopping
Asked by Sherry from AUSTRALIA | Jul. 12, 2019 06:30

Reply
I want to buy English movie DVDs. Where can I find in Wuhan?
Answers (1)
Answered by Jenifer from USA | Jul. 15, 2019 18:43

0

0

Reply
Nowadays, it is rarely seen DVDs in China. Maybe you can go to Hanzheng Street to have a look. The nearest subway station is Wushenglu Station (Line 6), and the nearest bus station is Yanhe Dadao Station (Line 119/502/737).
Asked by Sheetal from INDIA | Mar. 23, 2019 20:28

Reply
Where is the electronics market in Wuhan where I can buy products at cheap rate?
Answers (1)
Answered by Dylan from FIJI | Mar. 27, 2019 02:40

0

0

Reply
You can go to the Guangbutun (武汉广埠屯), which is located in Hongshan District. You can find many electronic markets there. :)
Asked by Albasron from KAZAKHSTAN | Sep. 20, 2018 05:40

Reply
Where can I find cheap male jackets (like coats for cold weather) in Wuhan?
Answers (3)
Answered by Vida from USA | Sep. 21, 2018 00:52

0

0

Reply
In Hankou North International Commodity Trading Center, there are some large clothing wholesale markets at all price ranges and I think it will meet your demand. Hope to be helpful to you.
Answered by shabnam from AZERBAIJAN | Nov. 19, 2018 16:30

0

0

Reply
how can I find that on internet? in order to show to taxi driver?
Answered by Vida | Nov. 19, 2018 17:19

0

0

Reply
Its location is Hankou North Avenue, Huangpi District. You can show its Chinese name to the driver.
汉口北国际商品交易中心, 地址:湖北省武汉市黄陂区汉口北大道
Asked by Gordon Ramsey from UNITED KINGDOM | Sep. 19, 2018 07:33

Reply
Anybody knows any particular authorised electronic shop in wuhan?
I am planning on buying a smartwatch. I want to go to an authorized electronics seller and buy it. So anybody knows anything like that? I've been to Onezero and I couldn't find the smartwatch I was looking for.
Any help would be appreciated.
Thanks
Answers (1)
Answered by Caes from USA | Sep. 20, 2018 01:48

0

0

Reply
Hi, Gordon, you can go to Wuchang Guanghutun where the Luoyu Road and Guangba Road meet, and it is the largest electronics market in this city