Wuhan Weather
Wuhan Weather
Introduction to Wuhan Climate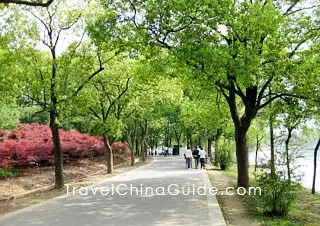 Wuhan has a subtropical monsoon climate with four distinct seasons. The ideal travel months here are March-April, and September-October. Visitors are advised to avoid the scorching summer period of July and August with its 40

C (104

F) heat, and the cold winter time from November to later January with its severe cold. Another weather caution is the summer period from June to August with its heavy rain.
Summer in the city is renowned for its scorching heat and high humidity. Unlike most areas in northern China, which have dry-heat summers, in summer Wuhan is known as an instant 'steam box'. Cotton, rather than nylon clothing is recommended.

Although the temperature in the city's winter is not as low as those in the northern cities in China, the river winds and humidity can make it as cold as ten degrees below zero, and some travelers suffer from chilblains. Moreover, many hotels and guesthouses in the city do not have heaters. For winter travel, bring heavy overcoats, gloves and scarves to protect against the wind and cold.