Wuhan Weather in May
Wuhan weather in May is becoming warmer and damper. It is quite a good time for traveling. The average low temperature is about 18°C (64°F) and average high temperature 26°C (79°F). The weather is cool in the morning and evening for the first 20-day period of May. The highest temperature at noon may rise to 30°C (86°F).
It is advised to use sunscreen cream or wear sunglasses and hats on sunny and cloudy days. The city may encounter moderate and light rain occasionally. The soft and fresh breeze will make visitors feel very comfortable.
Averages for Wuhan Weather in May
Temperature: 22°C / 72°F
High Temperature: 26°C / 79°F
Low Temperature: 18°C / 64°F
Humidity: 77%
Rainfall: 164 mm
Rainy Days: 13 days
Sunrise: 05:21 ~ 05:40
Sunset: 19:01 ~ 19:20
Air Quality in May
Average AQI:71

What to Wear in Wuhan in May
Tourists should bring some waterproof and quick-dry clothes for unexpected rainy days. Breathable clothes such as cotton T-shirts, blouses, long dresses and jeans are good for going out on sunny days. Thin jackets and wind cheaters are recommended for rainy days.


Where to Go in Wuhan in May
If interested in ancient traditional architecture and a tranquil environment, tourists can pay a visit to Qingchuan Pavilion which is facing the famous
Yellow Crane Tower
across the Yangtze River. Standing on the pavilion, tourists can see the
Yangtze River Bridge
over the flowing river and the surrounding beautiful natural scenery. No admission fee is required here. After visiting Qingchuan Pavilion, tourists can soon get to Qingchuan Wharf where they can take a ferry to the opposite bank. Next, they can go to the nearby Hubu Lane to enjoy the delicious local snacks. If it happens to rain, tourists can have a visit in Hubei Provincial Museum where they can see many precious historical and cultural relics including bronze vessels, lacquer works, and the treasured sword of Gou Jian, the king of the Yue State in the Spring and Autumn Period.
Other Tips
Because of the humid climate in Wuhan in May, most locals prefer to spicy and heavy-flavor food. Tourists are advised to bring appropriate medication for possible stomach upsets. Meanwhile, take some desiccant to keep clothes dry. By the way, if possible, it is not advised to visit Wuhan during the Labor Day Holiday which falls around May 1. Many tourists may go there during the three-day short holiday.
What is the temperature in Wuhan in May?
High/Low Temperatures of Wuhan in May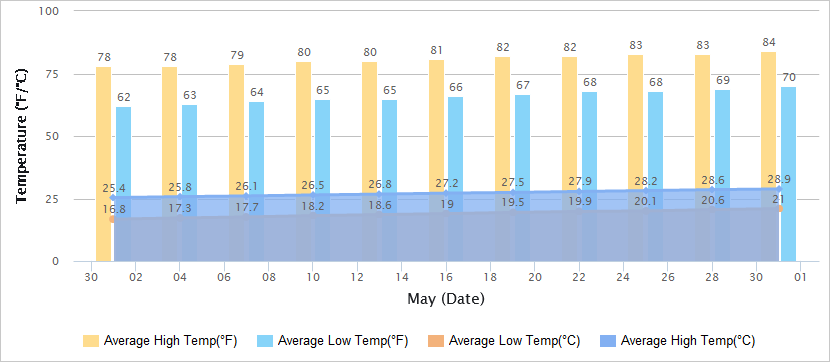 Air Quality of Wuhan in May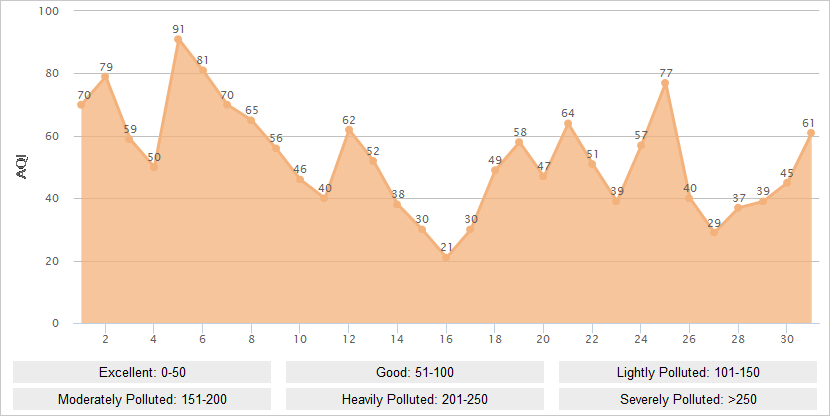 Historical Wuhan Weather in May
May
Temperature
Sunrise / Sunset
Humi-
dity
(%)
High
Low
1
25.4°C / 77.7°F
16.8°C / 62.2°F

05:40

/

19:01

67
2
25.5°C / 77.9°F
16.9°C / 62.4°F

05:39

/

19:01

57
3
25.7°C / 78.3°F
17.1°C / 62.8°F

05:38

/

19:02

77
4
25.8°C / 78.5°F
17.3°C / 63.1°F

05:37

/

19:03

59
5
25.9°C / 78.6°F
17.4°C / 63.3°F

05:36

/

19:04

51
6
26°C / 78.8°F
17.6°C / 63.7°F

05:35

/

19:04

50
7
26.1°C / 79°F
17.7°C / 63.9°F

05:34

/

19:05

65
8
26.3°C / 79.3°F
17.9°C / 64.2°F

05:34

/

19:06

63
9
26.4°C / 79.5°F
18°C / 64.4°F

05:33

/

19:06

55
10
26.5°C / 79.7°F
18.2°C / 64.8°F

05:32

/

19:07

50
11
26.6°C / 79.9°F
18.3°C / 64.9°F

05:31

/

19:08

76
12
26.7°C / 80.1°F
18.5°C / 65.3°F

05:31

/

19:08

55
13
26.8°C / 80.2°F
18.6°C / 65.5°F

05:30

/

19:09

50
14
26.9°C / 80.4°F
18.8°C / 65.8°F

05:29

/

19:10

50
15
27.1°C / 80.8°F
18.9°C / 66°F

05:29

/

19:10

66
16
27.2°C / 81°F
19°C / 66.2°F

05:28

/

19:11

49
17
27.3°C / 81.2°F
19.2°C / 66.6°F

05:27

/

19:12

52
18
27.4°C / 81.3°F
19.3°C / 66.7°F

05:27

/

19:12

49
19
27.5°C / 71.4°F
19.5°C / 67.1°F

05:26

/

19:13

57
20
27.6°C / 81.7°F
19.6°C / 67.3°F

05:26

/

19:13

57
21
27.8°C / 82°F
19.7°C / 67.5°F

05:25

/

19:14

58
22
27.9°C / 82.2°F
19.9°C / 67.8°F

05:25

/

19:15

75
23
28°C / 82.4°F
20°C / 68°F

05:24

/

19:15

68
24
28.1°C / 82.6°F
20.1°C / 68.2°F

05:24

/

19:16

53
25
28.2°C / 82.8°F
20.1°C / 68.2°F
05:23 /

19:17

46
26
28.4°C / 83.1°F
20.4°C / 68.7°F
05:23 /

19:17

42
27
28.5°C / 83.3°F
20.5°C / 68.9°F
05:23 /

19:18

44
28
28.6°C / 83.5°F
20.6°C / 69°F
05:22 /

19:18

47
29
28.7°C / 83.7°F
20.8°C / 69.4°F
05:22 /

19:19

48
30
28.8°C / 83.8°F
20.9°C / 69.6°F
05:22 /

19:20

47
31
28.9°C / 84°F
21°C / 69.8°F
05:21 /

19:20

68
- Last modified on Sep. 20, 2019 -