Wuhan Weather in April
Wuhan weather in April is pleasant and comfortable as spring is in full sway. With an average high temperature of 21°C (70°F) and an average low temperature of 13°C (55°F), all flowers are in full blossom and the whole city is full of vigor. It is a good time for tourists to visit Wuhan because of the good weather condition and warm sunshine. One thing to note is that visitors may encounter frequent rainy days in April. In this case, an umbrella is a must.

The Wuhan Marathon will be held in mid-April. Three races including the 42 km full marathon, the half marathon and the 13 km marathon take place. The full-length course passes by some attractions such as East Lake Scenic Area, Yellow Crane Tower, Yangtze River Bridge, and Xinhai Revolution Museum. Tourists can watch the event or even take part in the exciting race should they wish.
Averages for Wuhan Weather in April
Temperature: 17°C / 63°F
High Temperature: 21°C / 70°F
Low Temperature: 13°C / 55°F
Humidity: 78%
Rainfall: 131 mm
Rainy Days: 13 days
Sunrise: 05:16 ~ 05:59
Sunset: 18:38 ~ 19:08
Air Quality in April
Average AQI:57

What to Wear in Wuhan in April
On sunny days, the climate in Wuhan in April is suitable for visitors to wear long-sleeved T-shirts, thin jeans, long dress, and hoodies. Wind coats, sportswear, thin woolen sweater, jackets, and other warm clothes are recommended for nights and rainy days.


Where to Go in Wuhan in April
When visiting Wuhan, tourists should not miss its landmark, Yangtze River Bridge, which was the first highway-railway bridge over the
Yangtze River
ever following the establishment of the People's Republic of China. Standing on the bridge, tourists can see the rolling water, coming and going ships or boats, as well as the scenery and buildings around. Besides, visitors can pay a visit to
Wuhan Happy Valley
which is a pretty popular tourist destination in the city. There are nine theme parks in the Happy Valley where you can watch some wonderful performances, take part in some exciting activities, and experience thrilling and adventurous amusements. Both children and adults can find their favorite rides and activities here.
Other Tips
It is advised to make travel plans in advance and bring rain gear. If cardiac patients travel to Happy Valley as well, they are advised not to try the adventurous activities. It is also advised to bring some medicine in case of unexpected situations.
What is the temperature in Wuhan in April?
High/Low Temperatures of Wuhan in April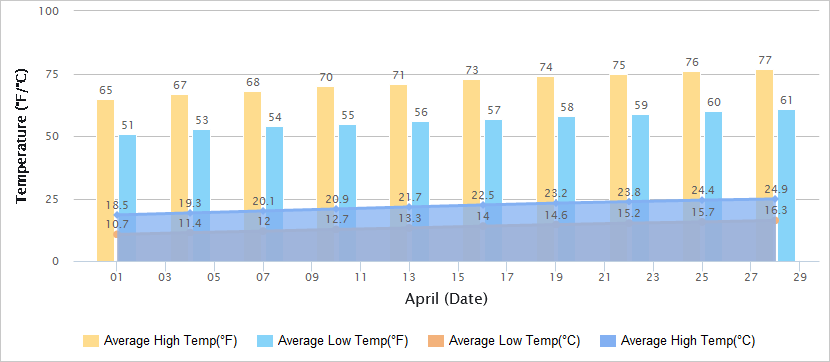 Air Quality of Wuhan in April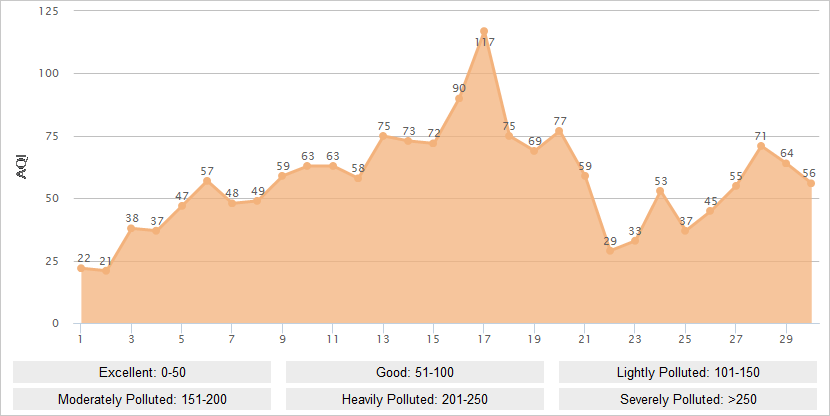 Historical Wuhan Weather in April
Apr
Temperature
Sunrise / Sunset
Humi-
dity
(%)
High
Low
1
18.5°C / 65.3°F
10.7°C / 51.3°F

06:12

/

18:41

51
2
18.8°C / 65.8°F
10.9°C / 51.6°F

06:11

/

18:42

45
3
19°C / 66.2°F
11.1°C / 52°F

06:10

/

18:43

61
4
19.3°C / 66.7°F
11.4°C / 52.5°F

06:08

/

18:43

78
5
19.5°C / 67.1°F
11.6°C / 52.9°F

06:07

/

18:44

87
6
19.8°C / 67.6°F
11.8°C / 53.2°F

06:06

/

18:45

84
7
20.1°C / 68.2°F
12°C / 53.64°F

06:05

/

18:45

71
8
20.3°C / 68.5°F
12.3°C / 54.1°F

06:04

/

18:46

82
9
20.6°C / 69.1°F
12.5°C / 54.5°F

06:02

/

18:46

76
10
20.9°C / 69.6F
12.7°C / 54.9°F

06:01

/

18:47

78
11
21.2°C / 70.2°F
12.9°C / 55.2°F

06:00

/

18:48

60
12
21.2°C / 70.2°F
13.1°C / 55.6°F

05:59

/

18:48

58
13
21.7°C / 71.1°F
13.3°C / 55.9°F

05:58

/

18:49

59
14
22°C / 71.6°F
13.6°C / 56.5°F

05:57

/

18:50

56
15
22.2°C / 72°F
13.8°C / 56.8°F

05:56

/

18:50

63
16
22.5°C / 72.5°F
14°C / 57.2°F

05:55

/

18:51

78
17
22.7°C / 72.9°F
14.2°C / 57.6°F

05:54

/

18:52

51
18
23°C / 73.4°F
14.4°C / 57.9°F

05:52

/

18:52

50
19
23.2°C / 73.8°F
14.6°C / 58.3°F

05:51

/

18:53

68
20
23.4°C / 74.1°F
14.8°C / 58.6°F

05:50

/

18:54

44
21
23.6°C / 74.5°F
15°C / 59°F

05:49

/

18:54

46
22
23.8°C / 74.8°F
15.2°C / 59.4°F

05:48

/

18:55

36
23
24.1°C / 75.4°F
15.4°C / 59.7°F

05:47

/

18:55

77
24
24.2°C / 75.6°F
15.5°C / 59.9°F

05:46

/

18:56

48
25
24.4°C / 75.9°F
15.7°C / 60.3°F

05:45

/

18:57

85
26
24.6°C / 76.3°F
15.9°C / 60.6°F

05:44

/

18:57

73
27
24.8°C / 76.6°F
16.1°C / 61°F

05:43

/

18:58

41
28
24.9°C / 76.8°F
16.3°C / 61.3°F

05:42

/

18:59

41
29
25.1°C / 77.2°F
16.4°C / 61.5°F

05:41

/

18:59

45
30
25.3°C / 77.5°F
16.6°C / 61.9°F

05:40

/

19:00

46
- Last updated on Sep. 20, 2019 -