East Lake Scenic Area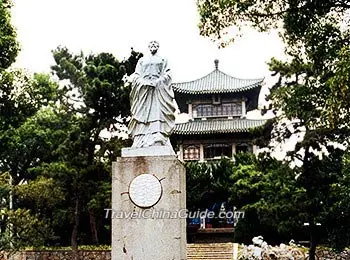 Statue of Qu Yuan
East Lake, the biggest scenery tourist attraction in Wuhan and also the largest lake within a city in China, is located on the south bank of the
Yangtze River
and in the east suburb of Wuchang. It covers an area of 87 square kilometers (33 square kilometers of water area) that is five times greater than the area of the
West Lake
in
Hangzhou
. Because of its winding banks and crisscrossing ponds and brooks, it is called 'a lake with 99 bays'. The East Lake Scenic Area was formed from many famous scenic spots along the bank. The six major ones are Tingtao (Listening to Surging Waves), Mo Hill (Millstone Hill), Luoyan (Diving Wild Goose), Baima (White Horse), Chuidi (Playing Flutes), and Luohong Hills.
Six Major Scenic Spots in East Lake Scenic Area
Among the six scenic areas, Tingtao and Mo Hill scenic areas are the most two notable and are open to visitors.
Tingtao Scenic Area
The lake gate opens to the Tingtao scenic area featuring the rare sequoia especially elegant in late autumn. The Listening-to-the-Waves Tower (Tingtao Xuan), with its classic elegance is one of the famous buildings in this area, along with Land of Water and Cloud (Shuiyun Xiang) which serves as a teahouse, and the Tingtao Inn of Wine, a restaurant offering local fish dishes. On the north, the center of this area, is the Poetry-Reciting Pavilion (Xingyinge), built for memorizing works of Qu Yuan, the great patriotic poet of the State of Chu (one of the seven warring states before Qin (221BC-206BC) in China's first feudal dynasty). Many exhibits about Qu Yuan are featured in this building including his great literary masterpieces. In addition, the first allegory sculpture park in China is here displaying wonderful sculpture and allegories.
Mo Hill Scenic Area
Characterized by beautiful landscape, abundant plants, the customs of the State of Chu and unique gardens, the Mo Hill Scenic Area attracts many tourists. In this area, the Chu cultural theme park displays the Chu culture in China. The Botanical Viewing Garden where more than 360 kinds of plants are nursed in 13 special gardens with flowers blooming all the year round - orchids and cherry blossoms in spring, lotus in summer, osmanthus in autumn, and plum blossoms in winter - is also admirable. Two of the most famous are the East Lake Cherry Blossom Park said to be one of the world's three cherry blossom capitals along with Hirosaki in Japan and Washington in America, and the Plum Blossom Garden which is listed as the top plum garden. For more details about Mo Hill, please click
Mo Hill
.
Other Four Scenic Areas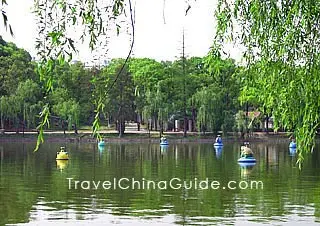 East Lake, Wuhan
Other scenic areas include Luoyan (Diving Wild Goose), known for its serene environment, Baima (White Horse), with the white horse tombs, Chuidi (Playing Flutes), Zhu Zhen (the sixth son of Zhu Yuanzhang, the first emperor of the Ming Dynasty (1368-1644)), and Luohong Hills, where the highly respected Wuhan University is situated.
Bird Forest
Besides these, the Bird Forest with 200 kinds of birds, the mysterious East Lake Ocean Park, the biggest sand beach bathing area in inner China, the Friendship Forest where many other cities' delegates together with local people have planted trees symbolizing friendship are all worth a visit.
Facilties in East Lake
What make the East Lake Scenic Area more incredible are its recreational facilities: the exciting slide way, the ropeway, the yachts, tandem bikes, the skating rink and the pleasure ground for children.
Best Time to Visit East Lake
As Wuhan has a subtropical monsoon climate with four distinct seasons, the ideal months to visit are from March to April and from September to October. Thus you avoid the scorching summer heat of July and August with 40 C (104 F) heat, and the cold winter period from November to late January with its severe cold. The festival periods such as the Wuhan International Tourist Festival (Late September-Mid October), Plum Blossom Festival (February-March) are the highly recommended times to visit the East Lake Scenic Area. For detailed information about the climate, please click
Wuhan Climate
.
How to get to East Lake Scenic Area
1. Take bus 401, 402, 413, or 625 to Wuhan Zhiwuyuan.
2. Take bus 14, 411, 552, 578, 701, 709 or 810 to Donghulu Sheng Bowuguan.
Wuhan Bus / Metro Search
Entrance Fee
Tingtao Scenic Area: Free
Mo Hill Scenic Area: Free
Luoyan Scenic Area: CNY 13
Chuidi Scenic Area: CNY 7
Opening Hours
9:00 - 16:30

You May Like Top 10 Things to Do in Wuhan
- Last updated on Mar. 06, 2020 -
Questions & Answers on East Lake Scenic Area
Asked by Chan Lai Fun from MALAYSIA | Mar. 27, 2019 23:34

Reply
Can you recommend affordable hotels around the Wuhan East Lake area?
Answers (1)
Answered by Hill from USA | Apr. 02, 2019 20:58

0

0

Reply
The Hanting Hotel located in No. 25, Dongting Road, Wuchang District is available. It takes about CNY200 to 300 for a standard room. Hope helpful!
Asked by brahim from ALGERIA | Jan. 07, 2019 09:47

Reply
how can i get from hubei university of technology to east lake by metro or bus?
Answers (1)
Answered by Sadie from SINGAPORE | Jan. 07, 2019 21:50

0

0

Reply
Take metro line 7 to Xiaodongmen Station, Exit B2. Then transfer to bus no.14 to Huanhu Road Donghu Bus Stop. Then walk to the scenic area directly.
Asked by Laly from CHINAS | Feb. 13, 2018 00:43

Reply
if i want to take 402 bus, which station is nearest to Wuhan East Lake?
Answers (1)
Answered by Edgar | Feb. 13, 2018 00:52

0

0

Reply
You can get off at Lumo Road Moshan, which is the terminal station, then walk to the Plum Garden of East Lake Scenic Area within no more than 10min.
Asked by Rick Darling from AUSTRALIA | Dec. 15, 2016 06:12

Reply
Which metro station is nearest to Wuhan East Lake? Is there any entrance fee?
How much time would you suggest to visit the lake? Any other attraction nearby? Thanks all .
Answers (1)
Answered by George from USA | Dec. 16, 2016 01:00

0

0

Reply
The nearest metro station is Yuejiazui Station, Metro line 4. Leave from Exit B, and walk east for about 0.6 mile to the lake.

The lake is quite large, including many scenic spots. You need to pay CNY 55 for Mo Hill; CNY 10 for Luoyan Scenic Spot; CNY 18 for Chuidi Maanshan Forest Park. You may spend four or five hours there.

The nearby attractions are Hubei Provincial Museum and Happy Valley.
Asked by eva from MALAYSIA | May. 14, 2015 09:51

Reply
i am going to zhajiajie,fenghuang village then to changsha, is there any train to wuhan fr changsha?
Answers (1)
Answered by Fred | May. 15, 2015 22:18

0

0

Reply
Yes, of course. Actually, there are 76 bullet trains from Changsha to Wu Han per day with a duration of about 1.5 hours and 52 ordinary ones with a duration of about 3.5-4.5 hours. You may check the detailed schedule and ticket fare on this website on your own.