Wuhan Zoo
Surrounded by Mo Shui Lake in three sides, the Wuhan Zoo in Hubei Province is a semi-natural zoo integrating animals, plants and amusement. The zoo covers an area of 42 hectares (103.8 acres), among which the lake area is nearly 26.7 hectares (66 acres). The front area of Wuhan Zoo is built for recreations; the middle area is wildlife exhibition area and landscape; the rear area is not open to visitors.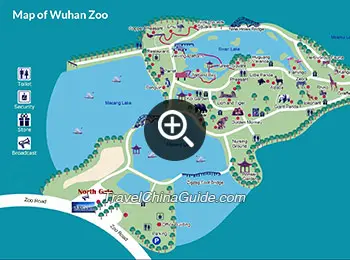 Map of Wuhan Zoo
There are over 300 species of rare animals in Wuhan Zoo, among which the giant panda, golden monkey, albino bear and red-crowned crane are the most worthwhile animals in the zoo. In addition, you can also enjoy the lion, tiger, sea lion, parrot and other smart animals' skills display, and participate in some animal science popularization. With beautiful scenery, diverse flora and fauna, and abundant recreational facilities, Wuhan Zoo has been an enjoyable and popular attraction.
What to See in the Middle Area – Animals and Landscape
Wetland Birds
Located at the southeast corner of the zoo, the wetland bird zone covers more than 120 thousand square meters (29.7 acres), displaying about 1,400 rare birds of 60 species. Black swans are a feature of the wetland bird zone. The Swan Lake dotted with a flock of black swans in the sunset is a beautiful scene perfect for photography. Besides, the peacock, flamingo, red-crowned crane are also big attractions.

The penguin house is also a must-see in Wuhan Zoo. Penguins are supposed to live in Antarctica, but the penguins here are native to the sweltering African continent - the Ringed Penguin. It differs from other penguins in that it has a black stripe on its upper chest that forms a large ring, extending to the lower part of its belly. That makes it look like a pot-bellied gentleman in a fashionable tuxedo. Hence, it is also known as "Knight Penguin".

Land Animals
Ferocious animals: Panthers, leopards, jackals, tigers and other beasts let you witness their prestige. You can also see the black bear lazy lounging on hillsides dreaming. Here the albino bear is the best animal to see.
Primate animals: You can appreciate the national treasure animal - golden monkey, smart gibbons showing visitors their professional gymnastics and various species of lovely and naughty monkeys.
Grazing animals: Fluffy alpacas, herds of zebras, giraffes eating leaves, flexible kangaroos and chubby hippos can be seen in the zoo. Also, you can see two heavyweight animals - elephants and white rhinos.
Bird Sounds House
The house shows more than 50 species and 800 rare birds such as macaw, sunflower parrot, hornbill, myna, acacia, magpie, thrush and canary. Here you can also enjoy more than 30 kinds of birds' wonderful sounds performance.

Panda House
On July 11, 2019, it welcomed two pandas from Sichuan named Chun Qiao and Pang Niu. Chun Qiao likes to sit on the tree quietly and enjoy the sunshine, while Pang Niu is active and loves to play with toys. Besides, you can visit the exhibition hall of science knowledge of pandas.
Bonsai Garden
Across the lake from the gate of Wuhan Zoo, the garden is a large-scale comprehensive bonsai garden integrating bonsai, stone, root carving. Huguang Building is the main building here, with 7 exhibition halls showing various bonsai of different posture.
Koi Garden
Here you can enjoy the mountainous rockeries, walk on the man-made bridge, and listen to the gurgling stream. All kinds of colorful flowers are in full bloom, which constitute a beautiful scenery that perfect for photography. Numerous koi fish is the highlight here. You can feed these fish and watch them swarming for the food.

What to Do in the Front Amusement Area
There are "Water World", "Children's Playground", "World of Ice and Snow" and other commercial amusement facilities. Sightseeing boat is also a very leisure recreation to enjoy the charming scenery in the zoo.

How to Get to Wuhan Zoo
1. Take bus line 42, 273, 361, 413, 553, 580, 622, 646 and get off at the Wuhan Zoo Station.
2. Take bus line 711 and get off at Zoo Bus Parking Station.
3. Take metro line 4 to Wulidun Station. After, go east along Hanyang Road and turn right at the first crossing, then turn left and walk along Mo Shui Lake Road to get there. The walking takes about 10 minutes.
Entrance Fee
CNY 20 for an adult.
Free for Children below 6 years old or under 1.2 meters (3.9 feet) tall.
Opening Hours
08:00 ~ 20:00, tickets are available before 17:00.
Recommended Visiting Time
3 ~ 6 hours
- Last updated on Jun. 20, 2022 -