China Weather
Tip:
Click the city names to see the weather forecast for the coming three days.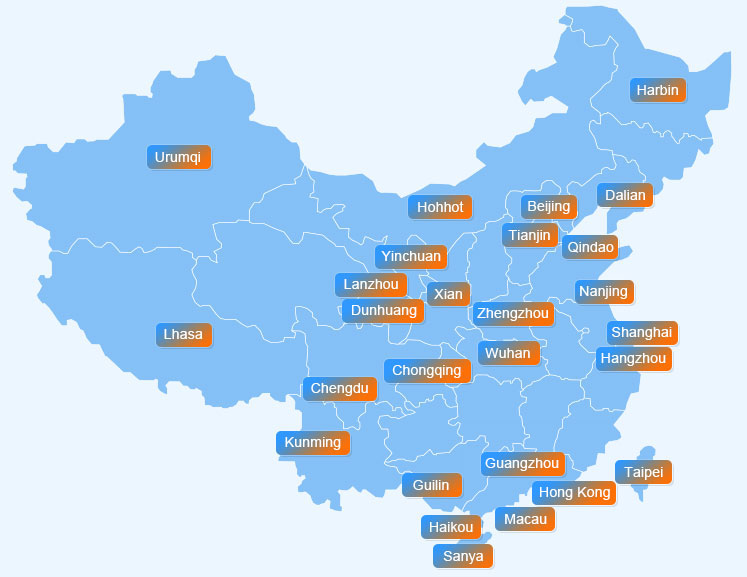 China Weather by Month
Introduction to China Climate
In China, a vast land spanning many degrees of latitude with complicated terrain, climate varies radically. China has a variety of temperature and rainfall zones, including continental monsoon areas. In winter most areas become cold and dry, in summer hot and rainy.
Temperatures vary a great deal. Influenced by latitude and monsoon activities, in winter, an isotherm of zero degrees traverses the Huaihe River,
Qinling Mountains
, and southeast Qinghai-Tibet Plateau. Areas north of the isotherm have temperatures below zero degrees and south of it, above zero. Mohe in Heilongjiang can hit an average of 30 degrees centigrade below zero, while the temperature of Sanya in Hainan Province is above 20 degrees. In summer, most of areas are above 20 degrees centigrade despite the high Qinghai-Tibet Plateau and other mountains such as Tianshan. Among these hot places, Turpan Basin in Xinjiang is the center for intense heat at 32 centigrade on average.

Cold-Temperate Zone: north part of Heilongjiang Province and Inner Mongolia (Representative city: Harbin)

Mid-Temperate Zone: Jilin, northern Xinjiang, and most of Heilongjiang, Liaoning, and Inner Mongolia (Representative cities: Beijing, Shenyang, Dalian, Urumqi, Hohhot, Dunhuang, Lanzhou)

Warm-Temperate Zone: area of the middle and lower reaches of the Yellow River, Shandong, Shanxi, Shaanxi, and Hebei Province (Representative cities: Xi'an, Taiyuan, Luoyang, Jinan, Qingdao, Zhengzhou)

Subtropical Zone: South of isotherm of Qinling Mountain-Huaihe River, east of Qinghai-Tibet Plateau (Representative cities: Shanghai, Guangzhou, Hong Kong, Macau, Guilin, Hangzhou, Suzhou, Kunming, Dali, Lijiang, Chengdu)

Tropical Zone: Hainan province, southern Taiwan, Guangdong, and Yunnan Province (Representative cities: Haikou, Sanya)

Plateau Climate Zone: Qinghai-Tibet Plateau (Representative city: Lhasa)
Precipitation in China is basically regular each year. From the spatial angle, the distribution shows that the rainfall is increasing from southeast to northwest, because the eastern seashores are influenced more than inland areas by the summer monsoon. In the place with the most rainfall, Huoshaoliao in Taipei, the average annual precipitation can reach over 6,000mm. The rainy seasons are mainly May to September. In some areas, especially in the dry northwest, changes in precipitation every year are greater than in the coastal area. Based on precipitation, the area divides into four parts: wet area, semi-wet area, semi-dry area and dry area.

In summer, a southeast monsoon from the western Pacific Ocean and a southwest monsoon from the equatorial Indian Ocean blow onto the Chinese mainland. These monsoons are the main cause of rainfall. Starting in April and May, the summer rainy season monsoons hit the southern provinces of Guangdong, Guangxi, and Hainan. In June, the rains blow northward, and South China gets more rainfall with the poetic name, plum-rain weather, since this is the moment when plums mellow. North part of the country greets its rainy season in July and August, says farewell in September; gradually in October the summer monsoons retreat from Chinese land. Eastern China experiences many climate changes, while the northwest area is a non-monsoon region.
Terracotta Warriors, Xi'an

Our Group in Forbidden City
- Last modified on Apr. 18, 2019 -
Questions & Answers on China Weather
Asked by Nayan G Chede from INDIA | Apr. 17, 2019 21:15

Reply
Can i carry betel leaf containing chewing tobacco and betel nut to Switzerland?
Answers (1)
Answered by Nelly from SINGAPORE | Apr. 18, 2019 18:45

0

0

Reply
Oh, you need to contact the Switzerland customs for more information.
Asked by Mr.SHAHADAT530 | Mar. 12, 2019 02:06

Reply
What are the lowest temperatures in Ningbo, China at the end of March?
Ningbo is a city in China. I want to know about Ningbo. If you leave valuable comments, I will be very happy. Thank you
Answers (1)
Answered by Cindy from AUSTRALIA | Mar. 12, 2019 18:32

0

0

Reply
The temperature ranges from 5-20C and it may be windy and rainy during the period. You are suggested to wear a warm coat and an umbrella.
Asked by Huwon from S. KOREA | Dec. 19, 2018 05:58

Reply
Our family are supposed to stay at the hotel on the summit of the huangshan on 23th Dec.
Is there snow already or any forecast?
And how about the temperature?
Looking forward to any information.
Answers (2)
Answered by Leah from CANADA | Dec. 20, 2018 17:37

0

0

Reply
The weather shows that there is no snow on that day. But snowed a few days ago. Thus maybe you can see the snow scenery on the top of the mountain. The temperature may range from -5C to 0C. You need to bring enough winter clothes to keep warm.
Answered by Huwon from S.KOREA | Dec. 21, 2018 05:09

0

0

Reply
Thank you for the kind reply, Leah.

Asked by Lilly from THAILAND | Oct. 21, 2018 05:07

Reply
I will be arrived in Kunming on Friday and proceed to Jiaozi Mountain the following day.
We are leaving with a tour group which they organize the cable car to go up for a half day trip. Will it be very cold there ? What clothes we should prepare? AFTER that, we will go to Dongchuan in the afternoon. How is the altitude and for someone who is susceptible for altitude sickness? Anything to prepare?
Answers (1)
Answered by Helen from CANADA | Oct. 21, 2018 20:35

0

0

Reply
Yes, it would be very cold at that time and you need to prepare some warm clothes like a down jacket. On the snow mountain, the altitude is more than 4000m, so you need to prepare some drugs and functional foods for preventing altitude sickness. The altitude in Dongchuan is from 1800m to 2600, so you don'y need worry too much about the altitude sickness there.
Asked by Belle from USA | Oct. 08, 2018 12:56

Reply
What temperature is the Taklamakan Desert?
Answers (1)
Answered by Chris from SPAIN | Oct. 08, 2018 18:07

0

0

Reply
Well, based on the previous statistics, the highest temperature in the Taklamakan Desert is above 45C and the highest surface temperature is close to 70C. The lowest temperature in winter is below 20C. The temperature is also very different in different periods.