Changsha Weather
The scorching summer and cold winter are two distinctive seasons in Changsha. The summer comes around the later May with high heat and heavy humidity. The sweltering climate of July and August is particularly stifling. Changsha's winter comes around November bringing little sunlight and heavy fogs. Although it is reported that the average temperature in winter is about five degrees, the winter weather in Changsha can be severely cold as those in the northern China cities due to the great humidity carried by the river winds from Xiangjiang River. Like Wuhan, the city has no heaters and we suggest travelers bring cotton and packed clothes, gloves and scarves and a hat for the windy days. Most of the rest days in a year are misty and cloudy.
Changsha Seasons & Travel Advice
Spring, during the months from March through May, is the best time to travel to the city. Likewise, September is a good time to visit, during the short but pleasant autumn period when the red maples on Long Island (Juzizhou) are in full blossom and the temperatures in this period are around 15

C (59

F) to 20

C (68

F).

One thing a traveler should bear in mind is that Changsha weather changes greatly during the transit period between spring and summer or summer and autumn. An unexpected summer rainstorm could arrive suddenly on a sunny day, so make sure to bring an umbrella with you. The long rain period starts in October and continues for one or two months, therefore one should plan indoor tourist activities during the latter part of a year.
7-Day Changsha Weather Forecast
Averages for Changsha Weather
High/Low Temperatures of Changsha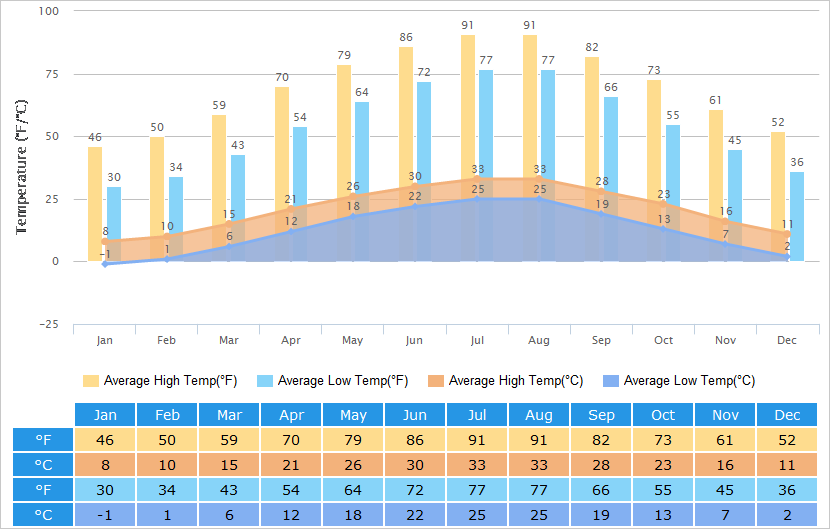 Average Temperatures of Changsha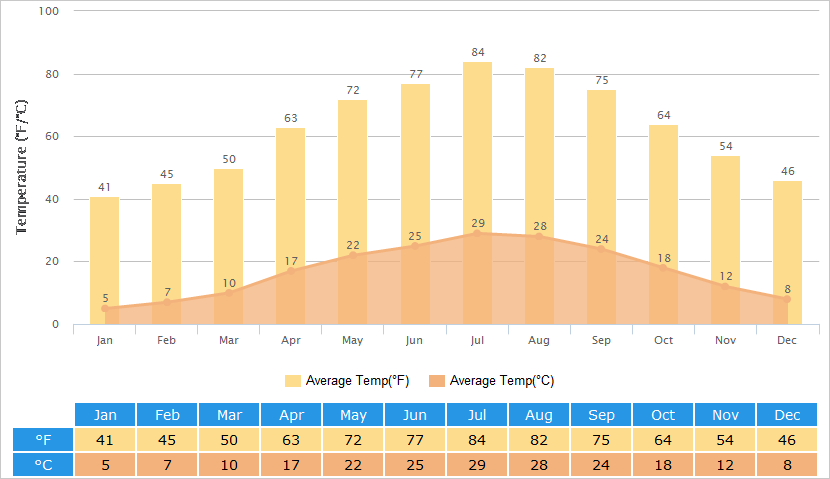 Humidity Graph of Changsha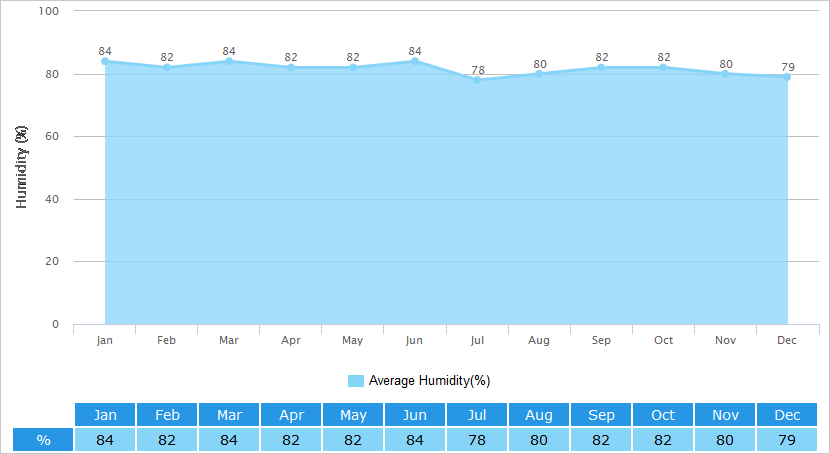 Average Rainfall of Changsha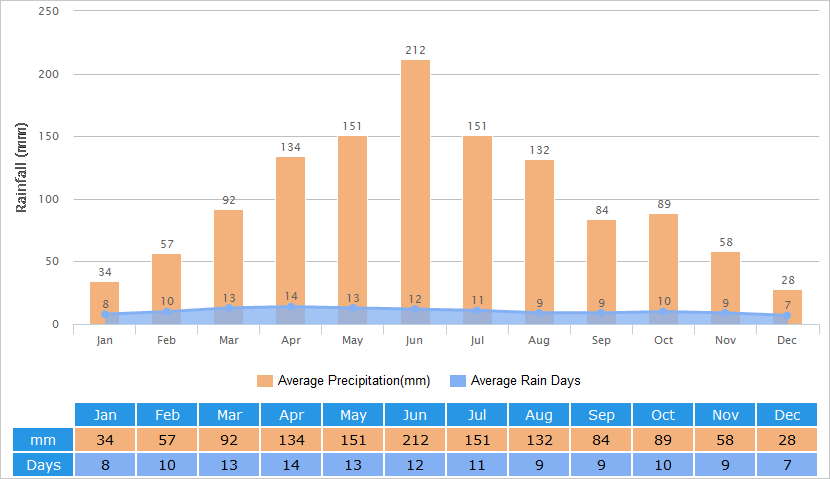 Air Quality of Changsha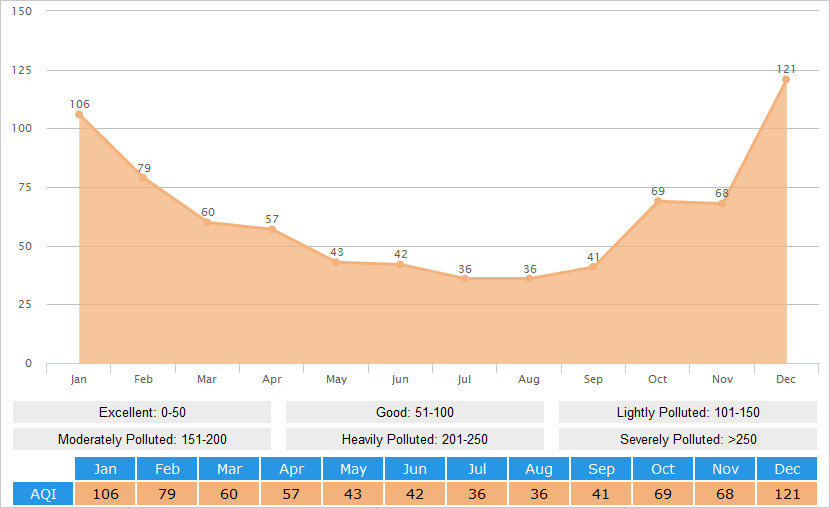 - Last updated on Aug. 24, 2023 -
Questions & Answers on Changsha Weather
Asked by ELHC from MALAYSIA | Nov. 22, 2023 20:00

Reply
Changsha Hunan Temp
What is the weather in Changsha and Hunan on 26th - 10th December
Answers (1)
Answered by Hailey | Nov. 23, 2023 23:35

0

0

Reply
Most of days will be cloudy and the temp range from 5-15C during the period.
Asked by calvin from BRUNEI | Nov. 08, 2023 20:00

Reply
RE:Changsha ground temperature
Dear sirs/madam,I am planning to visit changsha on 3 march 2023 to 10 march 2023 can anyone tell me what type of clothing need to be prepare during that period.thank you
Answers (1)
Answered by Emily | Nov. 09, 2023 18:37

0

0

Reply
I guess you mean March in 2024. Generally, the temperature in March keeps about 7-17C, still a little cold. It is better to prepare some warm clothes like sweaters and jackets.
Asked by Liena from MALAYSIA | Dec. 04, 2019 19:41

Reply
What is the weather in Changsha and Zhangjiajie on 7th - 12th December 2019?
Answers (1)
Answered by Molly from AUSTRALIA | Dec. 08, 2019 18:36

0

0

Reply
Temperatures are basically the same in both cities, with around 5C-10C in December. I think you need to bring warm clothes like down jacket, thick coat, etc.
Asked by SY from MALAYSIA | Nov. 19, 2019 16:49

Reply
What shoes to wear in Changsha in end Nov/early Dec?
Answers (1)
Answered by Bridget from CANADA | Nov. 20, 2019 23:30

0

0

Reply
It will be cold during that period of time. You are suggested wear boots.
Asked by Suwito Liemoh from INDONESIA | Nov. 06, 2019 07:15

Reply
Hi.. what about to travel Changsha during April? Will it be rainy? Thanks
Answers (2)
Answered by Liam from UNITED KINGDOM | Nov. 08, 2019 00:07

0

0

Reply
Based on the previous weather statistics, the temperature may range from 20C to 30C during that period of time. There would have several rainy days. But it won't influence the sightseeing a lot.
Answered by Suwito from INDONESIA | Nov. 09, 2019 15:53

0

0

Reply
Thank you