Best Zhangjiajie Tours
Top Zhangjiajie Attractions
More Things to Do
Top 10 City Tours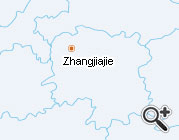 4 Days Private Zhangjiajie In-depth Tour
Code: ZJJ02
From
$599
per person
Free Inquiry


Day 1
Arrival in Zhangjiajie
Airport pick-up & airport-hotel transfer.
Welcome to this enchanting city, Zhangjiajie. Your guide and driver will pick you up at the airport and transfer you to the hotel we booked for you in advance. The rest time of the day remains free for you to relax.
Accommodation: Pullman Zhangjiajie Hotel





Zhangjiajie Grand Canyon with the Glass Bridge, Boat ride on the Baofeng Lake. (B+L)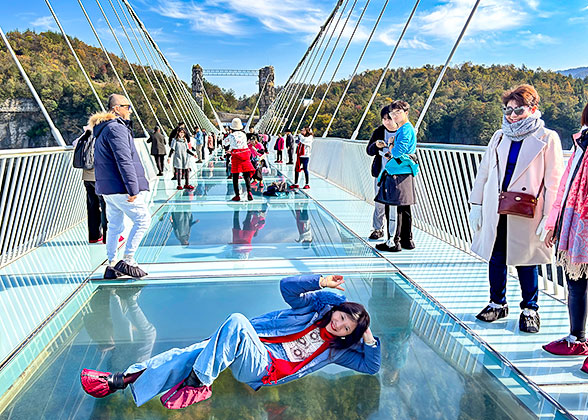 Glass Bridge at Zhangjiajie Grand Canyon
Today, your private Zhangjiajie tour will start with a visit to the
Zhangjiajie Grand Canyon
, where you will have a chance to experience the world's longest and highest glass bridge,
Zhangjiajie Glass Bridge
. In addition to an unforgettable experience, it will also give you a special angel to appreciate the beauty of the Grand Valley.
Afterwards, your guide will accompany you to the Baofeng Lake where you will take a scenic boat ride. When you finish visiting the scenic area, the driver will escort you back to the hotel.
Meals: Breakfast, Lunch
Accommodation: Pullman Zhangjiajie Hotel





Yuanjiajie Scenic Area, Tianzi Mountain Nature Reserve, Golden Whip Stream, Ten-mile gallery. (B+L)
Stunning scenery of Zhangjiajie
After breakfast, your guide will take you to visit the Yuanjiajie Scenic Area, a big highlight of your private Zhangjiajie tour. Notably, we will take the Bailong Elevator, which is the highest and fastest outdoor elevator with the largest capacity in the world, to reach the top with only 66 seconds. You will see the naturally-formed "First Stone Bridge in the World" which stretches across two peaks; numerous mountains rising straight from the ground, some clustering with each other, some towering separately; and other amazing and fantastic natural sceneries. Among them, the "Mihun Platform", and the "Back Garden" are not to be missed. Here, your mind and body will also be refreshed by the grand mountains, lush plants as well as the fresh air.
Then, we will take a sightseeing car to the
Tianzi Mountain Nature Reserve
, which mainly includes grand valleys, mountains, forests, as well as various animals. Moreover, the sea of clouds, sunrise, sunset and winter snow there are also pretty worth seeing. Afterwards, you will visit the Golden Whip Stream, along which you can listen to the voice of the nature. The stream glides through the valley with a murmur, while birds are twittering on the branches. The Golden Whip Rock, which gleams like gold under the sun, is a highlight along the stream. In the distance, there is a stone in the shape of an eagle guarding the rock. In addition, peaks resembling Mount Huaguo, Water Curtain Cave, and Drunk Arhat will brighten your eyes. Then the guide will accompany you to take a sightseeing train to the Ten-mile Gallery. Diverse shapes of stones stand on both sides of the valley, which will make you feel like traveling along a beautiful natural gallery.
Meals: Breakfast, Lunch
Accommodation: Pullman Zhangjiajie Hotel





Day 4
Departure from Zhangjiajie
Tian Men Mountain. Hotel-airport transfer & see you off. A nice onward trip! (B+L)
Today your Zhangjiajie tour will continue to the
Tianmen Mountain
, known as the most beautiful "Hanging Garden" in the world. Tianmen Mountain is named after a natural wonder, Tianmen Cave which is a naturally-formed hollow among thousand-meter high cliffs. In addition to this wonder, you may also see diverse old trees, green vines, lush moss, firm stalagmite, and rare animals there.
Your 4 days Zhangjiajie tour package will draw to an end here. You will then be transferred to the airport and we will say goodbye there. If you want to extend your China tour itinerary further, we will be glad to provide detailed information. Bon voyage.
Meals: Breakfast, Lunch
B-- Breakfast
L-- Lunch
D-- Dinner
Tour Prices
| 2-3 travelers | 4-5 travelers | 6-9 travelers |
| --- | --- | --- |
| $689 | $599 | $549 |
Prices are per person in US Dollars based on double occupancy.
Any part of the itinerary e.g. tour length, activities & hotels can be tailored to your individual interests.

Price Includes
Hotel accommodation with breakfasts
Lunches as itinerary specifies
Private English-speaking guide
Private driver & air-conditioned vehicle
Entrance fees to tourist sites
Price Excludes
Airfares of arrival and departure
Entry visa fees
Personal expenses
Tips or gratuities for guides and drivers
Itineraries you may also like: