Best Zhangjiajie Tours
Top Zhangjiajie Attractions
More Things to Do
Top 10 City Tours
ZJJ03: 5 Days Private Zhangjiajie & Fenghuang Tour
From
$749
per person
Free Inquiry


Day 1
Arrival in Zhangjiajie
Airport pick-up & airport-hotel transfer.
Welcome to Zhangjiajie, one of the most popular tourist destinations of China. After landing at the airport, you will be picked up by your private guide, and then transferred to the hotel directly by a clean and comfortable vehicle.
Accommodation: Pullman Zhangjiajie Hotel





Yuanjiajie Scenic Area, Tianzi Mountain Nature Reserve, Jinbian Stream, Ten-mile gallery. (B+L)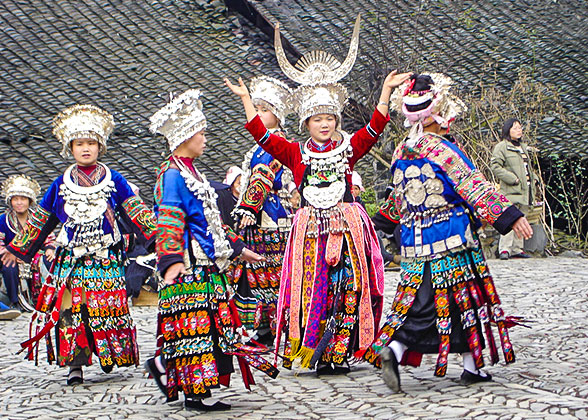 Zhangjiajie scenery
Today, your Zhangjiajie Fenghuang tour will begin with a visit to the
Zhangjiajie National Forest Park
. As the first national park of China, it consists of many splendid highlight attractions, including Yuanjiajie, Tianzi Mountain, Huangshi Stockage Village and Jinbian Stream.
After breakfast, you will be guided to the Bailong Elevator, whose vertical height is up to 326 meters (1,070 feet) and it takes around 66 seconds to reach the top. The three cabins are all made of transparent glasses, which makes the experience more exciting. The elevator has been included in the tour and it will take you to the Yuanjiajie Scenic Area directly to admire the grand sight of dozens of independent stone peaks towering into the clouds.
After that, your guide will lead you to the
Tianzi Mountain Nature Reserve
by taking a sightseeing car. Here you can have a chance to enjoy the scenery of the sea of clouds and the peak forests. Then you will be led to the Jinbian Stream. The gurgling stream is shaded by dense trees, and flows through valleys and lofty cliffs. Sometimes, you can even see wild monkeys on the treetops.
Then we will take a sightseeing train to the Ten-mile Gallery. On both sides of the 5-kilometer long valley dot wild flowers and green trees. Seeing from afar, you will be shocked by the rocks which are shaped like an old man collecting herbs, a peacock showing its tail, a growling tiger and etc.
Meals: Breakfast, Lunch
Accommodation: Pullman Zhangjiajie Hotel





Zhangjiajie Grand Canyon with the Glass Bridge, Boat ride on Baofeng Lake. (B+L)
Local folk performance
Today we will continue this private Zhangjiajie Fenghuang tour to the
Grand Canyon Glass Bridge
. The bridge, with over 400 meters (1,300 feet) high and 370 meters (1,200 feet) long, is the highest and longest glass bridge in the world. Walking on it will be a special and challenging experience. Next, we will head for the Baofeng Lake to take a scenic boat ride to enjoy the picturesque scenery.
Meals: Breakfast, Lunch
Accommodation: Pullman Zhangjiajie Hotel





Day 4
Zhangjiajie - Fenghuang
Zhangjiajie-Fenghuang transfer. Free time in the afternoon. (B+L)
After breakfast, we will drive for about 5 hours to the
Fenghuang Ancient Town
, also known as the Phoenix Town. The town, built in 1704, was granted as a
national
famous cultural and historical city. The blue flagstone streets, stilt houses and Miao nationality customs constitute its unique charm. For the rest of day, you can wander around the ancient town freely.
Meals: Breakfast, Lunch
Accommodation: Grand Phoenix Hotel





Day 5
Fenghuang - Zhangjiajie, See off
Tuojiang River, Wanming Pagoda, Rainbow Bridge, Tiaotiao Rock. Hotel-airport transfer & see you off. A nice journey home! (B+L)
Fenghuang Ancient Town
Today we will have a full exploration of the Fenghuang Ancient Town. After breakfast, we will take a boat along the Tuojiang River, the mother river of the town. The clean river flows slowly along the city walls and you can see water plants swaying in the gentle waves. In addition, the mist sometimes rises from the quiet green water, making it a fairyland. Then you will be guided to the Wanming Pagoda on the north bank of the river. The hexagonal pagoda of around 21 meters (69 feet) high has seven layers. There are copper wind bells hanging at each corner of the eaves. The body of the pagoda are also decorated by colored paintings and sculptures.

After appreciating the elegant pagoda, we will cruise down to the Rainbow Bridge. Looking out of the window on its second floor, you can have a good view of the green hills, blue water, city walls, red slates, and stilt houses. Besides, you can also see several boats moving quietly through the river.

Finally, we will conclude this private Fenghuang tour with the Tiaotiao Rock, one of the landmarks of the town. The total length of the rock is about 100 meters (110 yards) with 15 stone piers crossing the Tuojiang River. Standing in the middle of the Tiaotiao Rock, you will definitely take nice shots of the traditional stilt houses and the Rainbow Bridge.

The whole private tour to Zhangjiajie and Fenghuang is over here. We will drive you back to Zhangjiajie and see you off at the airport. Have a nice trip!

Meals: Breakfast, Lunch
B-- Breakfast
L-- Lunch
D-- Dinner
Price Includes
Hotel accommodation with breakfasts
Lunches as itinerary specifies
Private English-speaking guide
Private driver & air-conditioned vehicle
Entrance fees to tourist sites
Price Excludes
Airfares of arrival and departure
Entry visa fees
Personal expenses
Tips or gratuities for guides and drivers
Itineraries you may also like: