Best Zhangjiajie Tours
Top Zhangjiajie Attractions
More Things to Do
Top 10 City Tours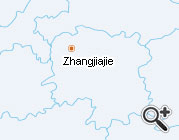 ZJJ05: 2 Days Private Zhangjiajie Tour without Hotel
From
$257
per person
Free Inquiry


Day 1
Zhangjiajie National Forest Park
Zhangjiajie Forest Park
Our guide will pick you up at around 08:00 from the hotel you booked inside the Wulingyuan Scenic Area, and then transport you to
Zhangjiajie National Forest Park
, where thousands of sword-like peaks rise abruptly out of the ground. Several waterfalls and gurgling streams can also be encountered in the park, injecting gentleness into the scenery.
Upon arrival, we will take a sightseeing bus for about 20 minutes to the Bailong Sightseeing Elevator. With a vertical height of 335 meters (1,099 feet), it takes less than 2 minutes to reach the hilltop by elevator. After that, you will walk with our guide for about 10 minutes to the bus stop for a ride to the Enchanting Terrace. This is the best viewing platform to capture the supreme natural scenery and the starting point for touring the Yuanjiajie Scenic Area. During our two-hour of sightseeing in Yuanjiajie, you will be able to marvel at the Hallelujah Mountain appearing in the movie "Avatar", the First Bridge Under the Sun - a naturally formed stone bridge connecting two peaks, and other extraordinary sights.
After lunch, we will hop on a sightseeing bus for a 40-minute ride to the
Tianzi Mountain Nature Reserve
. During our one hour visit there, our guide will show you the most significant spots including He Long Park where five viewing platforms offer an all-round view of the Imperial Brushes Peaks forest named because of its similar appearance to brushes, and the West Sea brimming with thousands of pine-like peaks towering into the sky.
Then, we will take a cable car downhill and transfer to a sightseeing bus for a 20-minute trip to the Golden Whip Stream. We will walk about 40 minutes along the stream to enjoy an eyeful of green plants and listen to the gurgle of streams and singing of birds. After that, the bus will take us to the Ten-Mile Gallery where peculiar peaks in various shapes, like an old man, a conch, a tiger and a peacock, make up a long scroll like a landscape painting. After a 40-minute visit, we will take you back to your hotel.
Meals: Lunch
Day 2
Zhangjiajie Grand Canyon & Baofeng Lake
Glass Bridge at Zhangjiajie Grand Canyon
Our guide and private driver will meet you in your hotel lobby at around 09:00. After a 30-minute drive, we will arrival at the
Zhangjiajie Grand Canyon
. Upon alighting from the vehicle, you will feel the fresh cool air and see the heavily forested scenery with its clear streams and waterfalls, as well as verdant lakes. While there, you can challenge yourself by walking on the world's longest and highest
Glass Bridge
and take a relaxing cruise along the floor of the valley giving you a memorable experience in this Zhangjiajie 2 days tour.
We will spend 3-4 hours in the Grand Canyon. After lunch, our guide and driver will chauffeur you to the
Baofeng Lake Scenic Area
, about a 20-minute drive. With 2 hours to visit there, you will be able to enjoy a cruise on this jade-like lake embraced by lush mountains.
This memorable 2 days Zhangjiajie tour package will come to an end at this point. Our guide and driver will escort you back to your hotel and say goodbye.
Meals: Lunch

Friendly Tips
Most visitors would like to live in hotels inside the Wulingyuan Scenic Area for a convenient access to major attractions in Zhangjiajie, based on which we specially design this itinerary. If staying in downtown area, you need to set out a little bit earlier in the morning and an extra transfer fee will be charged. Please feel free to contact our travel consultant for detailed information.
Prices (US$ Per Person)
1 person

$469

2 persons

$321

3 persons

$281

4 persons

$257

5 persons

$255

6 persons

$229

7 persons

$224

8 persons

$221

9 persons

$218

10+

$193
Remark: We can also assist you to book the hotel and offer you a preferential price.

Price Includes
Private English-speaking guide
Private driver & air-conditioned vehicle
Lunches as itinerary specifies
Entrance fees to tourist sites
Price Excludes
Airfares of arrival and departure
Hotel accommodation with breakfasts
Entry visa fees
Tips or gratuities for guide and driver
Itineraries you may also like:
The above routes do not meet your requirements? Please click
Tailor My Trip