Chongqing Weather
In brief, Chongqing climate is as follows: early spring, hot summer, cool autumn and warm winter, with a long frost-free period and abundant rainfall. Every year when spring is yielding to summer there is a great amount of night rain, and thus the city is famous for its 'night rain in the Ba Mountains'. On average, it has about 100 foggy days annually, so it is also famous as the 'capital of fog'.



Best Time to Visit Chongqing
Spring from March to May and autumn from September to October are the optimum time for travel. Chongqing together with
Nanjing
and
Wuhan
are known as the 'three furnace cities' in China, so if possible, avoid the summer months when the weather is blistering and the temperature can reach up to 40

C (104

F).
7-Day Chongqing Weather Forecast
Chongqing Weather by Month
Averages for Chongqing Weather
High/Low Temperatures of Chongqing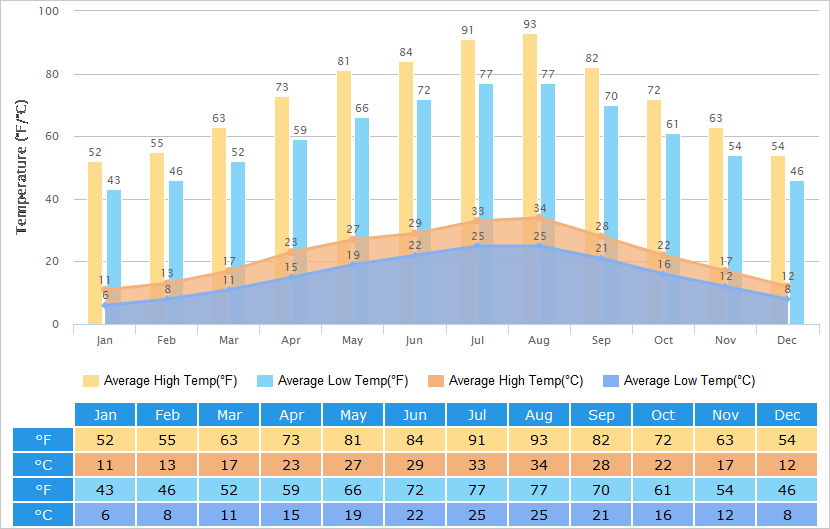 Average Temperatures of Chongqing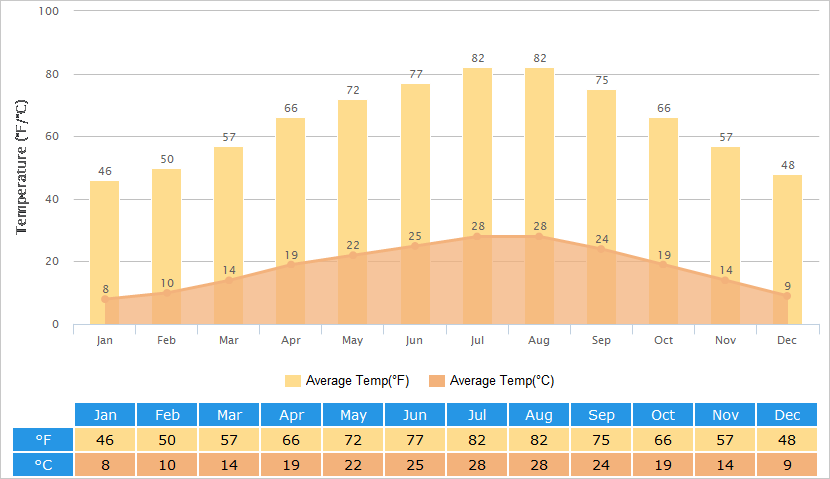 Humidity Graph of Chongqing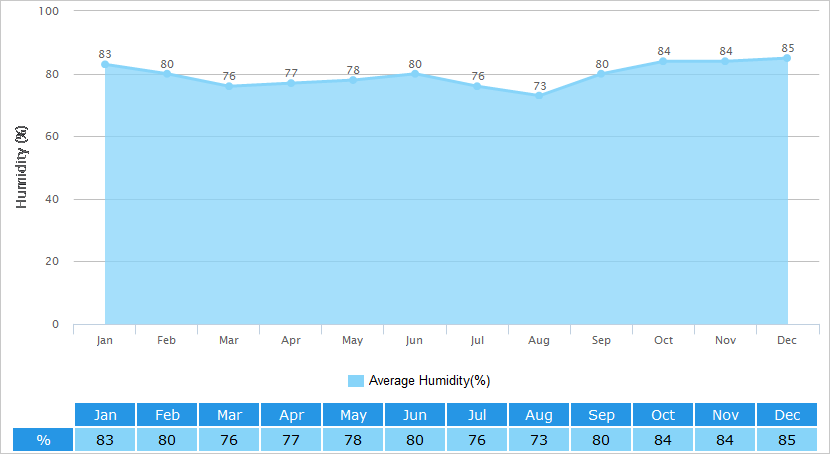 Average Rainfall of Chongqing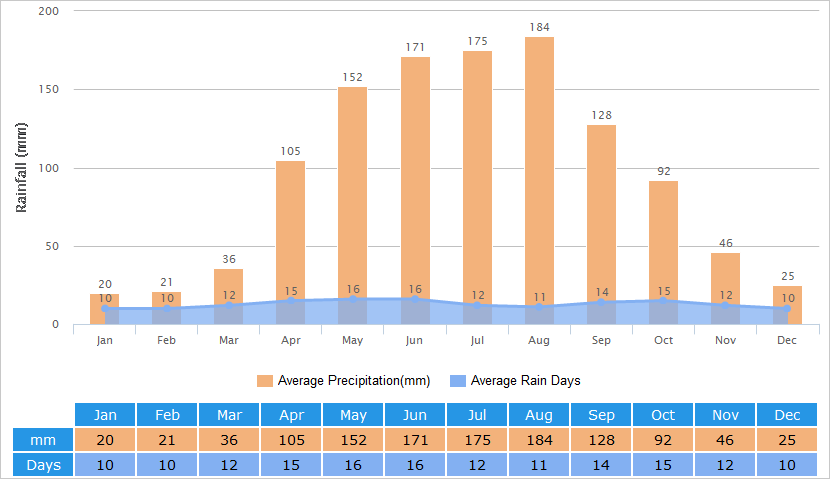 Air Quality of Chongqing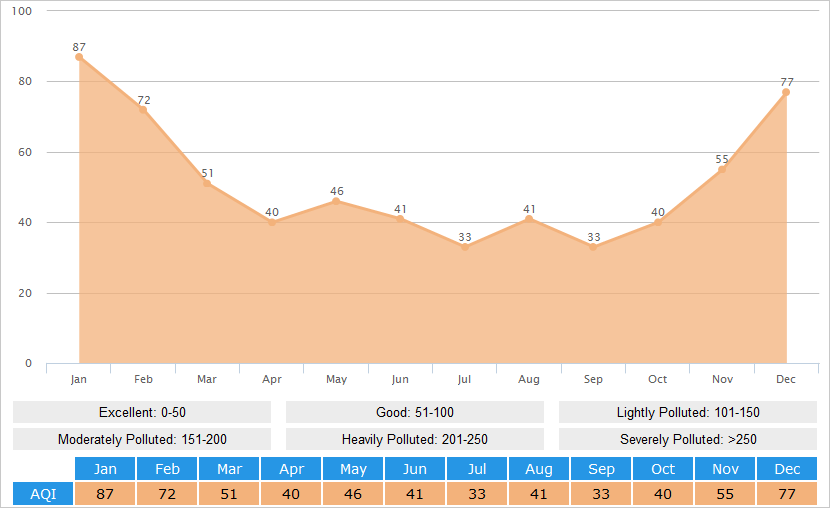 Chongqing Climate - Seasons & Travel Advice
Situated in the humid sub-tropical monsoon climate belt, the city is characterized by mild weather , with an annual average temperature of 18

C (64

F). it receives abundant rainfall, averaging about 1,000 to 1,400 millimeters (39 to 55 inches) annually. However, it has the lowest annual sunshine in China, mainly because of fog and mist.
Spring
Spring comes towards the end of February or early March and lasts till early May. The temperature rises quickly, but is not stable. There are frequent cold spells and strong winds. Thus, a thin overcoat should be carried for a trip to this city in early spring. It's a good time to enjoy the flowers - the golden rape flowers and peony in Dianjiang County, peach blossom in Zouma Town and azaleas in Golden Buddha Mountain (Jinfo Mountain).
Summer
Summer is relatively long - some 120 - 140 days, from middle May to the end of September. It is incredibly hot and muggy, with an average temperature around 26

C (79

F). However, an abundance of summer resorts will make it possible for you to enjoy your stay in this city. You will have a choice of savouring Yangtze River Cruise, Wushan Three Little Gorges, Wansheng Heishan Valley, Furong Cave, Snow Jade Cave and Yutai Mountain. Bring light clothing such as T-shirts, shorts and sandals if you come in summer. Also, remember to bring your umbrella, sunglasses, and suntan lotion to to protect yourself from the heat of this 'furnace city'.
Autumn
From October to late November is autumn. It is mostly cloudy and rainy, and the temperature drops gradually. A light jacket and long-sleeved T-shirt are needed at this time. There is a period of time called 'Indian Summer' from late October to middle of November when one has a golden opportunity to feast one's eyes on the red leaves in Garden Expo Park.
Winter
The city has a low temperature of 4

C (39

F) in winter, about 1-5

C (34 - 41

F) warmer than Wuhan and Nanjing at roughly the same latitude. There is little frost or snow, but a lot of fog and mist. A short-sleeved T-shirt and a warm jacket are enough for the winter. A visit to Northern Hot Springs Park and Southern Hot Spring Park is of course a 'must' if you are in the area at this time.
- Last updated on Jan. 13, 2021 -
Questions & Answers on Chongqing Weather
Asked by Poh khee tong from MALAYSIA | Apr. 05, 2020 22:15

Reply
What must see in Chongqing?
Answers (1)
Answered by Samantha from AUSTRALIA | Apr. 06, 2020 20:49

0

0

Reply
The city has many must-sees attractions, including Jiefangbei CBD, Hongya Cave, Ci Qi Kou Village, Chongqing Zoo and Chaotianmen Dock. Have a nice journey!
Asked by Jing Song from AUSTRALIA | Sep. 11, 2019 06:42

Reply
I am going to Chongqing 17-25 September 2019. How is the weather there?
Do I need to bring a jacket?
Answers (1)
Answered by Ryder from USA | Sep. 12, 2019 02:50

0

0

Reply
The temperature may range from 20-30C in September. I think summer clothes will be enough, but it doesn't hurt if you take a thin jacket.
Asked by Monica from AUSTRALIA | Aug. 10, 2019 22:45

Reply
I"m in China the first 2 weeks in November. Is this a good time to take a Yangtze river cruise?
Answers (1)
Answered by Skyler from POLAND | Aug. 12, 2019 23:31

0

0

Reply
Yes, generally speaking, it will be an appropriate time to tour around Yangtze River. Have a nice journey!
Asked by Rachel Lee from MALAYSIA | Dec. 07, 2018 06:54

Reply
Family travel to Chongqing on 10 Jan
Will it be too cold? What's d temperature in °c? Will it rain often? Need to bring long John & down jacket? Thanks a lot for answering.
Answers (1)
Answered by Grace from USA | Dec. 09, 2018 23:48

0

0

Reply
Yes, it would be very cold with average temperature of -5 ~ 5C. It would have less rainy days. You need to bring long john and down jacket.
Asked by Regina from U.K. | Mar. 03, 2018 13:10

Reply
When is the most foggy in Chongqing please? s April a good time to go on the Yangtze cruise please?
Answers (1)
Answered by Lisa from GERMANY | Mar. 05, 2018 00:04

0

0

Reply
It's most foggy in fall and winter. It's great to take the cruise in April! Have a nice trip!