Chongqing Weather in February
Compared with January, the weather of Chongqing in February is a little warmer with an average temperature of 8°C ~ 13°C (46°F ~ 55°F). It is obvious that the temperature difference between day and night is big, so you should dress properly. Even though the average precipitation in this month is only 21mm, the average humidity is up to 80% due to the special topography and climate of Chongqing.
It seldom snows in February, but foggy days are very common. The sunlight is insufficient due to frequent fogs and mists, so the air is humid. The air quality in this month is good, and you can appreciate the beautiful night scene of the city on a clear night.
Averages for Chongqing Weather in February
Temperature: 10°C / 50°F
High Temperature: 13°C / 55°F
Low Temperature: 8°C / 46°F
Humidity: 80%
Rainfall: 21 mm
Rainy Days: 10 days
Sunrise: 07:22 ~ 07:44
Sunset: 18:31 ~ 18:52
Air Quality in February
Average AQI:72

What to Wear in Chongqing in February
The weather in Chongqing this time changes a lot with the big temperature difference, so you have to wear a thin down jacket plus thick pants, or thick stockings, short skirts with an overcoat to keep you warm if going outside at night, but in daytime, suits, jackets and light sweaters are enough.


Things to Do in Chongqing in February
As the daytime temperature is not very low, indoor and outdoor activities are all OK. Taking a hot spring bath is a good choice, which is relaxing and beneficial to your health. The
Northern Hot Springs Park
and the
Southern Hot Springs Park
are two famous resorts, where you can not only take a bath, but also appreciate the beautiful scenery. The Northern Hot Springs Park is the representative of landscape gardens in Chongqing, which brings together temples, hills, water, forests, springs, gorges and caves, forming fascinating views. The Southern Hot Springs Park is only 18 km (11 mi) from downtown area. After taking a hot spring bath, you can go to the famous Bayi Food Street in the city center to taste local snacks.
Top 10 Things to Do in Chongqing
Other Tips
The weather is humid in Chongqing in February and washed clothes can't dry quickly, hence you need to take more clothes. The food in Chongqing is mostly spicy, so you need to prepare some medicines to protect your intestines and stomach and to prevent non-acclimatization. Most attractions of Chongqing are in mountainous areas, so a pair of skidproof shoes is necessary. For the convenience of travel, you are advised to book a hotel online in advance.
What is the temperature in Chongqing in February?
High/Low Temperatures of Chongqing in February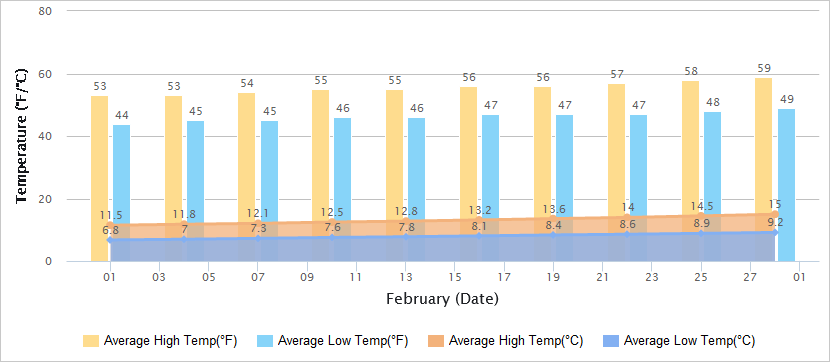 Air Quality of Chongqing in February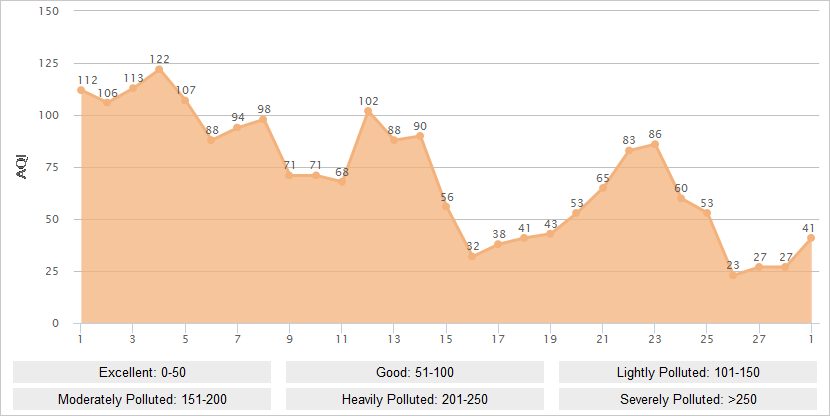 Historical Chongqing Weather in Feburary
Feb
Temperature
Sunrise / Sunset
Humi-
dity
(%)
High
Low
1
11.5°C / 52.7°F
6.8°C / 44.2°F

07:44

/

18:31

71
2
11.6°C / 52.9°F
6.9°C / 44.4°F

07:44

/

18:32

55
3
11.7°C / 53°F
7°C / 44.6°F

07:43

/

18:32

48
4
11.8°C / 53.2°F
7°C / 44.6°F

07:42

/

18:33

54
5
11.9°C / 53.4°F
7.1°C / 44.8°F

07:42

/

18:34

49
6
12°C / 53.6°F
7.2°C / 45°F

07:41

/

18:35

45
7
12.1°C / 53.8°F
7.3°C / 45.1°F

07:40

/

18:36

34
8
12.2°C / 54°F
7.4°C / 45.3°F

07:40

/

18:37

33
9
12.3°C / 54.1°F
7.5°C / 45.5°F

07:39

/

18:37

41
10
12.5°C / 54.5°F
7.6°C / 45.7°F

07:38

/

18:38

41
11
12.6°C / 54.7°F
7.6°C / 45.7°F

07:38

/

18:39

57
12
12.7°C / 54.9°F
7.7°C / 45.9°F

07:37

/

18:40

71
13
12.8°C / 55°F
7.8°C / 46°F

07:36

/

18:41

51
14
12.9°C / 55.2°F
7.9°C / 46.2°F

07:35

/

18:41

69
15
13.1°C / 55.6°F
8°C / 46.4°F

07:34

/

18:42

47
16
13.2°C / 55.8°F
8.1°C / 46.6°F

07:33

/

18:43

55
17
13.3°C / 55.6°F
8.2°C / 46.8°F

07:33

/

18:44

52
18
13.4°C / 56.1°F
8.3°C / 47°F

07:32

/

18:44

44
19
13.6°C / 56.5°F
8.4°C / 47.1°F

07:31

/

18:45

49
20
13.7°C / 56.7°F
8.4°C / 47.1°F

07:30

/

18:46

44
21
13.9°C / 57°F
8.5°C / 47.3°F

07:29

/

18:47

37
22
14°C / 57.2°F
8.6°C / 47.5°F

07:28

/

18:47

59
23
14.1°C / 57.4°F
8.7°C / 47.7°F

07:27

/

18:48

76
24
14.3°C / 57.8°F
8.8°C / 47.9°F

07:26

/

18:49

47
25
14.5°C / 58.1°F
8.9°C / 48°F

07:25

/

18:50

50
26
14.6°C / 58.3°F
9°C / 48.2°F

07:24

/

18:50

52
27
14.8°C / 58.7°F
9.1°C / 48.4°F

07:23

/

18:51

40
28
15°C / 59°F
9.2°C / 48.6°F

07:22

/

18:52

39
- Last updated on Aug. 27, 2019 -