Chongqing Attractions
Renowned as the Mountain City, Chongqing attracts visitors from home and abroad for its cultural heritage and tourist attractions. Its landform is uneven and the buildings there distribute in an intriguing way. In the city, there are many karst caves, hot springs and gorges. Picturesque landscapes are so enchanting as to make tourists forget to return.
Top Attractions

Ci Qi Kou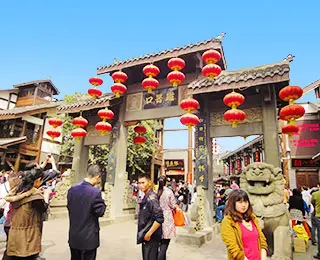 14 kilometers to the west of Chongqing Municipality lies the ancient village of Ci Qi Kou (Porcelain Village) situated on the bank of the Jialing River. It was recognized as a protected cultural site by the State Council in 1998. There are many shops lining the twelve flag stoned paved lanes that form the main routes. Tourists will find many outlets for craftwork, groceries, teashops and the like as well as a horologist, photography supplies, drugstore and a tempting supply of roasted nuts and seeds. This city attracts visitors from home and abroad.

Dazu Rock Carvings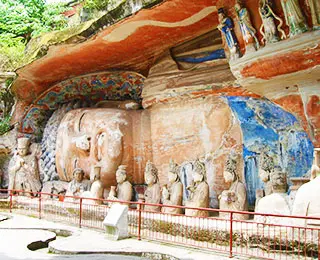 Carved during the ninth century, the rock carvings are un-missable works of art of the Gold Buddhist Mountain, itself reputed as a rich repository of diverse animal and plant species. Work on the Dazu Rock Carvings began in the first year of Yonghui in the Tang Dynasty (650A.D.), and continued until the Ming and Qing dynasties. Now, it is as popular as the Yungang and Longmen Grottoes.

General Joseph W. Stilwell Museum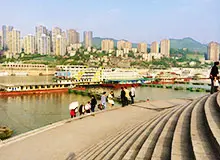 General Joseph Warren Stilwell (1883-1946) was chief commander of US forces in the China-Burma-India Theatre during World War II. In 1942, ranked as a major general, he was dispatched to CBI and was regarded as the best field commander in the entire United States Army. General Stilwell was a true friend of the Chinese people as well as a Chinese linguist.

Yangtze River Cruise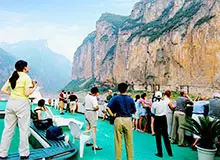 Yangtze River Cruise will be the highlight of your Chongqing tour. Upon arrival at the Chaotianmen Port, you can see many ships on the river. Some of them are used for cargo transportation; some are intended for the river cruise passengers. The cruise ships provide three to eight days' voyage. During the trip, you can see the famous Three Gorges, Fengdu Ghost City, and Shennong Stream and so on.

See more about
Top 10 Things to Do in Chongqing
More Attractions

Black Mountain Valley is located in Black Mountain Town (Heishan Town) of Chongqing. With high mountains, deep valleys, steep cliffs, grand waterfalls, winding plank roads and floating bridges, as well as various animals and plants, it is a good place for rafting, mountain climbing, camping, hunting and hiking.



Chaotianmen Dock, an important port and must-see attraction in Chongqing, is located at the junction point of Jialing River and the Yangtze River.



China Three Gorges Museum, which was founded in 1951 on the summit of Pipa Mountain, is the best place to find out about local history and culture. Covering an area of 5,500 square meters (1.36 acres), the museum has over 40 exhibiting halls with about 100,000 pieces of relics, which spans 3000 years from the ancient Kingdom of Ba and the near-mythical Three Kingdoms Period to World War Two and the Chinese Revolution.



Chongqing Happy Valley, the 7th Happy Valley amusement park in China, is located in Lijia Town, north of Chongqing. Owning many high-tech facilities, the park offers plenty of ways of amusement for children, couples, and families.



Chongqing Zoo at the west suburb of the city presents visitors many animals in the Tiger Hill, Bear Hill, Orangutan House, Deer Park, Kangaroo Park, Elephant House, Panda House, Goldfish House and Birds Paradise.



Hongya Cave, an 11-storey stilt house leaning against a sharp cliff with a height of 75 meters (245 feet) at the bank of Jialing River, is a popular destination for visitors to feel ancient Bayu culture, overlook the river view, and taste delicious food.



Jiefangbei CBD is the busiest business district of West China, where visitors could go shopping, taste delicious foods and enjoy downtown views.



Jinfo Mountain, or Mount Jinfo is located in Nanchuan District. Literally, it means "Golden Buddha Mountain" in Chinese. The mountain gained its name because it will look like a giant shining Buddha when the sun shines upon. You can see green trees, clear streams and splendid waterfalls as well as plank roads there.



Madame Tussauds Chongqing, which is the first Madame Tussauds in southwest China, exhibites life like charicatures of famous people in the fields of politics, entertainment, and sports in different periods around the world.



Northern Hot Springs Park is situated at the foot of Jinyun Mountain, fifty kilometers northeast of the city. Here, you can enjoy a beautiful scenic area comprising temples, hills, water, woods, springs, gorges, caves and much else besides.



People's Assembly Hall, built in the architectural style of Ming and Qing Dynasties, was used to accommodate important guests from home and abroad. Now standing prominently in Renmin Road, it provides brilliant night scenery for visitors to take photos.



People's Liberation Monument is a famouse landmark of Chongqing and the only monument in China to memorate the victory of Sino-Japanese War with a history of over 50 years.



Shenlong George, located in Nanping Town of Nanchuan District, is home to thick forests, diverse animals, plunging waterfalls, rippling waters, steep cliffs and high mountains. The mild weather there makes it a great summer resort; visitors going there can breathe fresh air, relax, as well as enjoy rafting and camping.



Simian Mountain, located in Jiangjin District, is made up of five major scenic areas including Dragon Pool, Danxia Landform, Wangxiangtai Waterfall, Pearl Lake, and Honghai Lake. Also, couples going there shouldn't miss the Chinese Love Ladder to have a romantic experience. Visitors can not only enjoy the beautiful natural sceneries there, but also taste local specialties.



Southern Hot Spring Park is located twenty-six kilometers to the south of the city. It has about 110 bathrooms and three swimming pools - outdoor and indoor swimming pools with one for children. The spring water is used as a treatment for a number of diseases including Dermatitis, Rheumatism, Arthritis and Muscular Pain.



Wansheng Stone Forest is the oldest stone forest in China shaped 465 million to 600 million years ago . It is also famous for underground Karst caves, various fossils, and distinctive customs of local Miao people.



Wulong Karst, located on the lower reaches of the Wujiang River, is a cluster of several karst landscapes, including natural bridges, gorges, caves, eroded dolines, shafts and underground streams. It mainly consists of Lotus Cave, Three Natural Bridges, and Houping Giant Doline.



Youyang Taohuayuan Scenic Area is a fairyland in Youyang Autonomous County in the southeast of Chongqing. It enjoys strikingly beautiful Peach Blossom Land, kaleidoscopic Fuxi Grotto, and Youzhou Ancient Town with the rich culture of local Tujia and Miao ethnic minorities.

Further Reading: Attractions along Yangtze River
- Last modified on Oct. 29, 2019 -
Questions & Answers on Chongqing Attractions
Asked by Khim from SWITZERLAND | Jan. 04, 2020 23:20

Reply
Where to take the train from Chongqing to Zhuo Shui Ancient town? how much is that?
Or what is the best and cheap way to go to Zhuo Shui?
Answers (1)
Answered by Gina from CANADA | Jan. 06, 2020 01:43

0

0

Reply
Take bus from Xiushan Bus Station to Qianshan Bus Station, then take tourist bus to the ancient town.
Asked by Vivian from MALAYSIA | Oct. 25, 2019 10:58

Reply
How much is Chongqing night river cruise ticket ?
Which wharf does the night river cruise start ? Where can I buy those night cruise tickets ? Address of the ticket counter for the cruise ?
Answers (1)
Answered by Sally from USA | Oct. 29, 2019 17:56

0

0

Reply
You can take bus No.503/871/349 to Chaotianmen station, and take cruise from Chaotianmen wharf. You can buy the ticket on the spot and I'm pretty sure the ticket counter is easy to find. The price varies differently so you can choose one according to your need.
Asked by Rick Darling from AUSTRIA | Oct. 20, 2019 02:34

Reply
What is the cheapest way to get to Yikeshu Viewing Platform from Jiefangbei downtown street?
Thanks
Answers (1)
Answered by Ben from CANADA | Oct. 22, 2019 19:00

0

0

Reply
You can take rail transit line 6 from Xiaoshizi station to Shangxin street station (Exit 1) with CNY2, then take taxi to your destination with around CNY5.
Asked by Rick Darling from AUSTRIA | Oct. 09, 2019 03:16

Reply
Please let me know how to get to Chongqing foreign street ?
What is the name of the closet metro station ? or the cheapest way to get there ?
I have been informed that the street is closed for renovation. Will it be open in the first week of November 2019?

Regards
Answers (3)
Answered by Collins from CANADA | Oct. 09, 2019 23:49

0

0

Reply
Sorry, I didn't find foreign street on map. Would you mind provide the detailed information?
Answered by Rick from AUSTRIA | Oct. 10, 2019 03:23

0

0

Reply
Perhaps, it is also called Mexing foreign street and one of the attractions there is an upside down building.
Answered by Jill from USA | Oct. 10, 2019 20:49

0

0

Reply
From March this year, Foreign Street had been demolished gradually and moved to Meixin Hongjiu Town. You can take bus No.116 to it.