Chongqing Happy Valley
Chongqing Happy Valley aims to provide diverse ways of leisure and recreation for people of all ages. It is the seventh Happy Valley amusement park in China and is located in Liangjiang New Area, north of Chongqing. The park covers an area of 550,000 square meters (658,000 square yards) and has a large number of rides and shows with high and advanced technology. Due to the unique terrain, the park has become the first "mountain happy valley" in China.
Recommended Recreation Facilities in Chongqing Happy Valley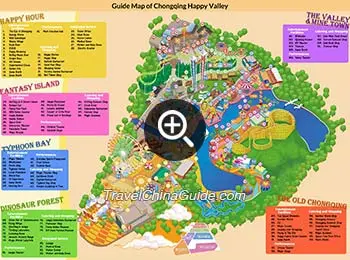 Map of Chongqing Happy Valley
The Chongqing Happy Valley theme park has 6 theme zones: Happy Hour, Fantasy Island, Typhoon Bay, Dinosaur Forest, the Old Chongqing and the Valley and Mine Town. Different entertainment needs can be met in different zones. The theme park has many of China's top amusement rides bringing visitors extraordinary experiences: the biggest Ferris wheel in southwest China, one of the only two wide-wing roller coasters in China, the longest wooden roller coaster in southwest China, and so on.

The Eye of Chongqing:
This Ferris wheel reaches up to 120 meters (400 feet) high, equivalent to a 40-story building. As the Ferris wheel turns to the top slowly, people can enjoy the beauty of the whole Jialing River and Lijia Town nearby.

Wide-wing Roller Coaster:
It was made for the terrain with a 1 kilometer (0.62 miles) long pathway and 3 minutes running time. It is one of only two wide-wing roller coasters in China. Passengers will experience the strong feelings of rising, rolling, diving, shuttling, reversing and centrifuging in a short time.

Wooden Roller Coaster:
This is the most ancient and classical roller coaster. It was also made especially for the terrain of Chongqing Happy Valley. The design of this roller coaster perfectly combines the hillsides, circles and bends, forming a fantastic layout and bringing novel experiences to riders.

Wild Gunslinger:
The newest 7D technology will bring people the fun of acting in a movie. The rocking seats and special effects give visitors a feeling of actually being there. In the interactive shoots, visitors become wild gunners and fight with simulated enemies, feeling happy and stimulated.

Merry-go-round:
This ride is decorated with colorful lamplights and gorgeous tint, making it a beautiful dream world. When sitting on the wooden horses, people seem to be in a fairyland.

Magic Theater:
This project uses the technology of "space imaging" which brings a strong sense of three dimensions. Sometimes the image seems to be close enough to touch, other times it is in a remote starry sky. The plot is exciting and the pictures are delightful. The experiences of lightning, starlight, bonfire and smog give variety to the show.

Shuttling in Jungle:
This ride can help people to realize the dream of flying. When it launches, people fly, rotate, rise and dive, enjoying the joy of flying and the stimulation of weightlessness and overweight.

Leaping over Chongqing:
When the seats rise to the top slowly, a giant dome-screen encircles the 100 visitors and exhibits the magnificent scenery. With a change of viewpoint, you can enjoy the splendid mountains and rivers and feel the shock of looking into the sky.

Wildwater:
Diving from the height of 27 meters (9 feet) with waves will be an unprecedented experience. Visitors board a ship at the platform and slowly rise to the top, then they glide down the curved rail and surf quickly, finally they drift back to the platform with the stream. Visitors can enjoy surfing while appreciating the waves and water curtain.

Best Performances to Enjoy in Chongqing Happy Valley
The Welcome Carnival: In this carnival, all cartoon stars in Chongqing Happy Valley gather together and welcome the visitors from far and near, letting people feel the enthusiasm and charm of happy valley.
Happy Party of Dream Cruise: The swimming pool party is the most anticipated event for ocean elves. All children and adults can enjoy the great party with ocean elves.
Memory of Mountain City: Watching this performance brings you to an old Chongqing filming site in 1990s. You can witness how dangerous and stirring it is to make a movie.
In addition to the above, there are many other wonderful performances. Below is the detailed performance schedule:
Area
Site
Content
Ordinary Days
Weekends
Days Off
Happy Hour
Inside Square
Welcome Carnival
9:00
9:00
Tuesday
Cartoon Stars Farewell
17:30
17:30
Tuesday
Happy Stars Appearances
10:30
10:30
Tuesday
The Eye of Chongqing
Happy Stars Appearances
14:00
14:00
Tuesday
Fancy Trip
11:00/ 14:30
11:00/ 14:30
Monday
Victoria Restaurant
Percussion Music
14:00
14:00
Wednesday
Fantasy Island
Seashell Stage
Happy Party of Dream Cruise
11:30/ 14:30
11:30/ 14:30
Monday
Submarine Restaurant
Percussion Music
15:30
15:30
Wednesday
Typhoon Bay
Tideway Stage
International Variety Awards
11:00/ 15:00
11:00/ 15:00
Monday
Square
Happy Stars Appearances
10:30/ 15:10
10:30/ 15:10
Tuesday
Dinosaur Forest
Forest Adventure Stage
Rainforest Experience Show
14:00/ 15:30
14:00/ 15:30
Tuesday
Wide Wing Square
Happy Master Show
13:30/ 15:00
13:30/ 15:00
Tuesday
Old Chongqing
Square
Memory of Mountain City
13:00/ 15:00
13:00/ 15:00
Tuesday
Valley and Mine Town
Special Performance Stage
Music House
13:30
13:30
Wednesday
Cowboy
11:00/ 14:30
11:00/ 14:30
Monday
Main Beltway in the Park
Main Beltway
Heartbeat with Music
10:40
10:40
Wednesday
Colorful Cruise
16:00
Youthful Fire Dance
13:30
13:30
Monday
How to Get to Chongqing Happy Valley
Subway: Take
metro line 6
to Pingchang Station, use exit 3A and walk eastward for about 800 meters (900 yards).
Bus: Take bus 848, 849 or 850 and get off at Happy Valley Station.
Opening Hours
09:00~18:00
Ticket Fare
CNY200/ person
Children ≥1.2 meters (3.9 feet) but <1.5 meters (4.9 feet): CNY 130/ person
Children < 1.2 meters (3.9 feet): Free of charge, but should be accompanied by an adult.

Nearby Attration

Maya Beach Water Park:
Maya Beach has nearly 20 imported water-play equipments and facilities including the world's biggest wave pool, the newest and most complete slides, the exciting water roller coaster, and other types of water entertainment.
- Last updated on May. 31, 2020 -
Questions & Answers on Chongqing Happy Valley
Asked by LinhLinh from VIETNAM | May. 27, 2020 04:53

Reply
200CNY just entrance ticket of Chongqing Happy Valley right?
If I want to play the game, i have to buy a separate ticket? And foreigners ought to bring passport, Shouldn't they?
Answers (1)
Answered by Caroline from AUSTRALIA | May. 31, 2020 23:41

0

0

Reply
The entrance ticket fare includes almost games inside the theme park. Thus don't worry. Besides, yes, foreigners need to bring passports.
Asked by Shafiq from PAKISTAN | May. 17, 2020 11:16

Reply
is there any necessary things to bring when visiting Chongqing Happy Valley?
if some foreigner want to visit there, is there any necessary things to bring with him like Passport, special costume etc. please reply soon.. may be I will visit next month.
Answers (1)
Answered by Estelle from FINLAND | May. 18, 2020 01:46

0

0

Reply
As I know, you only need to bring the passport.
Asked by Luca from UNITED KINGDOM | Mar. 01, 2020 01:55

Reply
I was thinking of going Chongqing Happy Valley in the summer in either July or August.
Around that time how long do the lines get?
Answers (1)
Answered by Edward from UKRAINE | Mar. 03, 2020 16:54

0

0

Reply
Well, generally speaking, there will have crowded tourists during that period of time because of students summer vacation in China.
Asked by Rick Darling from AUSTRIA | Oct. 20, 2019 01:39

Reply
Please let me know if Happy valley Chongqing and Meixin Foreigner' Street are still in operation ?
Thanks
Answers (1)
Answered by Ada from NEW ZEALAND | Oct. 22, 2019 18:45

0

0

Reply
Happy valley is in operation as usual. But Meixin foreigner street has been moved to Hongjiu town, Linshi county, Fuling district.